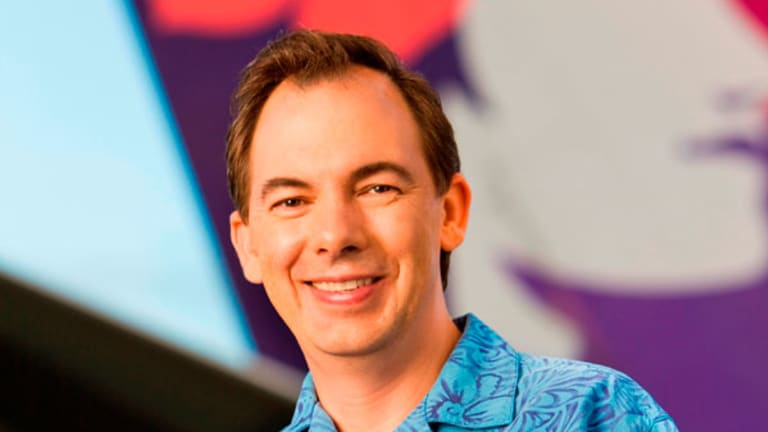 Hawaiian Air's Routes, Margins Grow but Flat Share Price Bugs CEO
Hawaiian CEO Mark Dunkerley says the airline 'would like to see the share price reflect the good things that have happened to us."
Hawaiian CEO Mark Dunkerley says the airline 'would like to see the share price reflect the good things that have happened to us."
HONOLULU -- (
) -- You wouldn't know it from the share price but 2012 has been a big year for
Hawaiian
(HA) - Get Report
.
The carrier expanded capacity 25%, including the addition of a daily Honolulu-New York flight, opened a new hub in Maui, and increased its net income margin to3.8% from 2.2%. A week ago, CEO Mark Dunkerley signed a three-year contract extension with the carrier and next Monday he will seek to lay out the case for the company's stock at an investor day in New York.
Additionally, Dunkerley made a brief appearance in September on the TV show "Hawaii Five-O," an indication of Hawaiian's importance to the state and its tourist economy.
The share price, which began the year at $5.91, closed Friday at $5.94.
"Clearly it's a source of some frustration," Durkerley said, in an interview. "The business has had a pretty good year, the company continues to execute its strategy, and margins are expanding. We've seen good demand across all of the segments of our business, and while fuel prices are up, we have recaptured that with increases in revenue."
Perhaps the biggest negative for Hawaiian this year has been the buildup of competitors' Hawaii flying, particularly in the San Francisco Bay Area.
Alaska
(ALK) - Get Report
now operates 27 daily flights to four Hawaii airports from seven mainland cities. It competes with Hawaiian in Oakland, Calif., San Francisco, San Jose, Sacramento, Seattle and Portland, Ore. Meanwhile, low-fare
Allegiant
(ALGT) - Get Report
serves Hawaii from smaller cities including California's Fresno, Stockton and Monterrey and Bellingham, Wash.
In an October report, following Hawaiian's third-quarter earnings release, Imperial Capital analyst Bob McAdoo wrote that Hawaiian faces "swelling capacity in a few Hawaiian markets, stifling revenue growth." McAdoo said industry capacity between Hawaii and North America is up 13% this year, including 25% growth in the Bay Area and 15% growth in Southern California. He also said that "competitors added capacity on two of Hawaiian's eight international routes." In both mainland and international markets, Hawaiian saw declines in revenue per available seat mile. In the third quarter, RASM fell 5.7% from the same period a year earlier.
McAdoo, who has a $9 price target on Hawaiian, noted that "these capacity challenges will ease in 2013 as schedules are optimized for seasonal changes in demand." Said Dunkerley: "I don't see anything wrong with the way we are situated in the Bay Area, but it will take time until capacity rationalizes or demand grows to fill it."
RASM has also been impacted by new Hawaiian service in three long-haul markets. When a carrier adds long flights, revenue is spread over more miles, so RASM declines (cost per mile also declines.) This year, Hawaiian has added service from Hawaii to Fukuoka and Sapporo in Japan and to New York. Capacity has also expanded within Hawaii, chiefly because of Hawaiian itself, which added a Maui hub. Hawaiian capacity is 25% intra-island, 47% mainland and 28% in Asia.
An October report on Hawaiian by Wolfe Trahan analyst Hunter Keay was titled "Something Isn't Working." Keay said that typically "when airlines grow capacity and report good results, their P/E multiples tend to expand," and yet the opposite is happening for Hawaiian.
"Network expansion into Asia has seemingly fallen on deaf ears amongst investors, who we believe are focusing more on competitive capacity incursions from Allegiant and Alaska on the west coast," Keay wrote. With Hawaiian trading at $5.37 a share when he issued his report, Keay said that it is "now the cheapest stock we cover on nearly all metrics." With investors so unresponsive, Keay suggested that the cash-rich company could go private. Dunkerley declined to comment. Since Keay's report, shares have gained 10%.
For New York, Hawaiian's most visible 2012 accomplishment was the June start of Kennedy service in June, aboard an A330 seating 294 passengers. The flight competes with
United's
(UAL) - Get Report
Newark-Honolulu flight. "We're happy with New York," Dunkerley said. Advantages in competing with United are that "we've got an unsurpassed level of connections throughout the islands, our schedule is well-timed for the market and we've got a code share with
JetBlue
(JBLU) - Get Report
and use their terminal at JFK."
Dunkerley foresees more expansion. Hawaiian will begin service to Brisbane, Australia on Tuesday. It will take delivery of five more A330s in 2013. The strong yen means more travelers from Japan to Hawaii and better pricing ability, since most Hawaiian expenses are paid in dollars, while Japanese revenue is in yen. "Long term we are bullish about Asia, given the growing middle-class, which translates into a greater propensity to travel," he said.
As for Durkerley's TV career, consisting entirely of the "Hawaii Five-O" appearance, which lasted about 15 seconds, the story line concerned a murder on a Hawaiian aircraft. "I pledged the support of our organization in bringing the perpetrator to justice," he said. "That little segment fully exploited all of my acting capacity."
-- Written by Ted Reed in Charlotte, N.C.
>To contact the writer of this article, click here:
Ted Reed