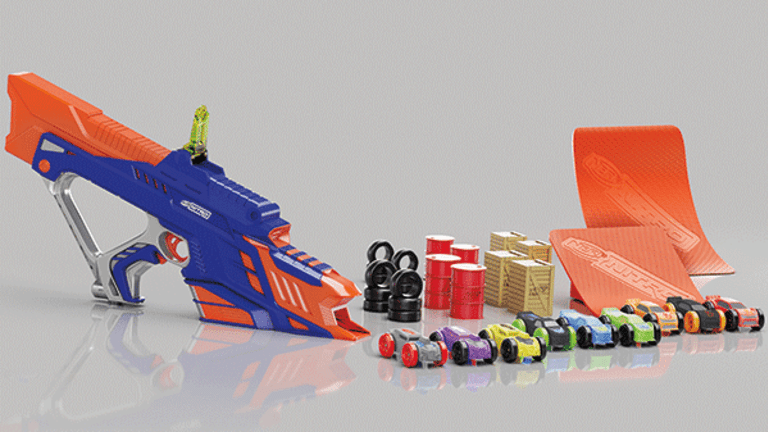 Hasbro's Nerf Car Blasters Takes On Mattel's Hot Wheels
Hasbro (HAS) is set to release a new Nerf blaster that shoots cars, not darts, and looks a lot like Mattel's Hot Wheels.
Editors' pick: Originally published Jan. 27.
Hasbro (HAS) - Get Free Report will be releasing a new line of Nerf blasters this summer but this time the toy guns will shoot foam cars not darts, which is seen as a direct challenge to Mattel's (MAT) - Get Free Report Hot Wheels, as if the Barbie maker needs another reason to target its competitor.
Hasbro snaked the Disney (DIS) - Get Free Report Princess manufacturing contract from Mattel in 2016 and now it seems the toy company is trying to gain market share in the vehicle toy space, which has largely been dominated by Hot Wheels.
The new toy line, Nerf Nitro, offers five different sets complete with guns, foam cars, ramps and obstacles and will be released to most U.S. retailers sometime this summer. The most expensive set, the Motofury Rapid Rally, will be sold for $49.99 and includes a high-jump ramp, a long-jump ramp, nine foam cars and twelve obstacles, Hasbro said in an email to TheStreet today.
The most affordable Nitro set is the Throttleshot Blitz, a single blaster with one car and two obstacles, to be sold for $9.99. There are 48 different cars and consumers will also be able to buy sets of vehicles only for $5.99, according to Hasbro.
When Hasbro announced the launch of Nitro on Tuesday, the Internet quickly took notice of the toys' resemblance to Hot Wheels, with its tiny cars flying up ramps and through obstacles.
"Very clever Hasbro. Add a new toy car line to compete with Mattel's Hot Wheels," Twitter (TWTR) - Get Free Report user @MATT1111_Site wrote yesterday.
Nerf is the largest brand for Hasbro today. The toy brand represents about $600 million of the company's annual sales compared to the $30 million it generated when it was established, UBS Securities analyst Arpine Kocharyan said.
In the first half of 2016, vehicle toy sales rose by about $25 million. Also during that period, Nerf was the second-most popular toy, while Hot Wheels came in ninth, according to data compiled by market research group NPD.
The top selling toy brand in the first half of 2016 was Star Wars, also owned by Hasbro, NPD said.
Kocharyan said Nitro, geared toward children ages 5 and up, will serve as a "great catalyst" for Nerf which is Hasbro's "power house."
Shares of Hasbro were up 1.40% to $86.65 in today's afternoon trading.