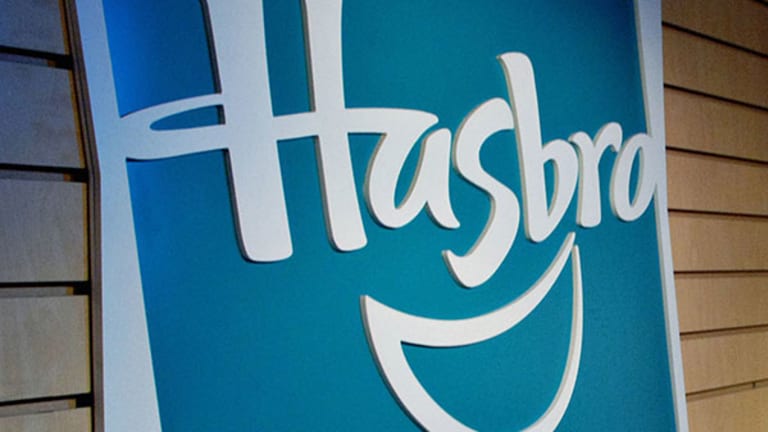 Hasbro Needs a Blockbuster Movie From Someone
BMO sees some bumps in the road but Jefferies says Hasbro is a buy.
Hasbro Inc (HAS) - Get Hasbro, Inc. Report fell short of "very, very high" expectations in second quarter earnings released Monday, leaving analysts somewhat mixed on the Rhode Island-based toy and entertainment company. 
Hasbro reported earnings of 52 cents, up from 41 cents at the same time last year and beating analysts' consensus of 45 cents. But analysts from Jefferies and BMO Capital said lofty expectations led risk-averse investors to focus on lower gross margins and closeout sales instead of the earnings beat.
Hasbro stock closed down over 9% Monday.
Jefferies analyst Stephanie Wissink said Monday's pullback was "more extreme" than was warranted, suggesting perceived misses are "timing related and not signs of systemic weakness."
Wissink sees Hasbro's Aug. 3 analyst day as a source of confidence in earnings potential and rates Hasbro "buy" with a $105 price target.
Analysts from BMO Capital weren't quite so optimistic, rating Hasbro a "hold" with a $95 price target. BMO said even though "the quarter was strong, the results weren't quite enough to satisfy lofty expectations and a peak valuation."
Hasbro must contend with a notably challenging retail environment. The company will also have to deal with slowing blockbuster movie performance, which suggests difficulty for the toy programs Hasbro has tied to films.
Hasbro suggested a revenue shift between the third and fourth quarter as retailers gravitate to more just-in-time inventory management. BMO said this retailer decision implies a weaker overall toy market and inventory risk for Hasbro.
Hasbro stock traded up over 1% premarket Tuesday.
Watch More with TheStreet:
5 Outrageously Expensive Jimmy Choo Shoes and Bags That Should Scare Coach