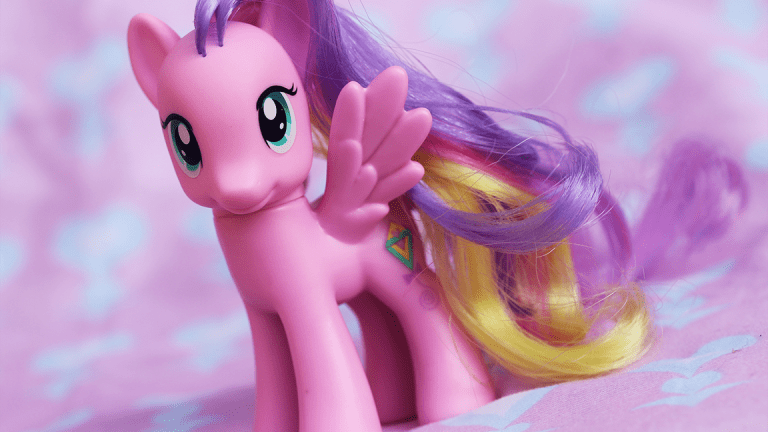 Hasbro, Inc. (HAS) - Get Hasbro, Inc. (HAS) Report is ready to brush its shoulders off. 
Although the toymaker lowered its fourth-quarter profit projection in the wake of the Toys 'R' Us bankruptcy filing, Hasbro CEO Brian Golder said in an earnings call Monday, Oct. 23, that it's only a "short-term disruption" for the company.
"It wouldn't have been an issue had it happened earlier this year," Goldner said. "The current situation will not be an issue for us in 2018. We have increasingly found great homes for our great products."
Hasbro posted Monday earnings of $2.09 per share in the third quarter, above Wall Street estimates of $1.94. It reported $269.6 million in profit and a revenue of $1.79 billion, citing the success of the My Little Pony toy line, as well as that of Magic: The Gathering and Marvel products. Its adjusted fourth-quarter growth estimate is 4% to 7% over last year's profit of $1.63 billion. Third-quarter profit penciled out to be a 3% uptick, and revenue went up 7% year over year.
The Pawtucket, Rhode Island-based company reached terms of agreement with Toys 'R' Us in dealing with its Chapter 11 filing just last week, according to Goldner.
"We paused shipment for a short period as we gain clarity," he said. Our finance and Toys 'R' Us commercial teams worked on an agreement we signed a few days ago... We just need to determine what Toys 'R' Us can receive in the next few months."
Toys 'R' Us filed for bankruptcy in September, with Hasbro as one of its creditors. The toy retail chain, the largest in the U.S., accounts for about 9% of Hasbro's inventory. Toys, owned by two private equity firms and a real estate company, will receive a $3 billion in loan financing from JPMorgan Chase & Co.
(JPM) - Get JPMorgan Chase & Co. (JPM) Report
and other lenders to help the retailer handle its $5 billion in total debt and continue operations.
The loan package, TheStreet reported last week, could be the largest-ever financing package for a retailer. If Goldner is unfazed about the fate of Toys 'R' Us, he's not alone.
Its loan is a " huge vote of confidence in Toys" by not just JPMorgan but the market as well, according to Marshall Huebner, head of restructuring at Davis Polk & Wardwell LLP, which represented JPMorgan in the loan.
Despite its third-quarter triumph in earnings, Hasbro's stock is down 8% Monday morning, at about $90 per share.

More of What's Trending on TheStreet: