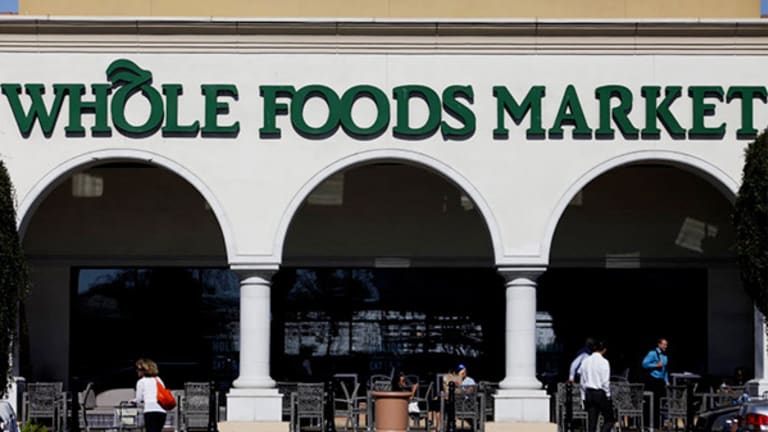 Has Whole Foods Become a Half-Baked Stock?
As organic food goes mainstream, the grocery chain just can't get its act together. Should investors steer clear?
On Wednesday, Whole Foods Market (WFM)  reported its sixth straight quarter of falling same-store sales. The comeback that many analysts had been expecting appears to have been a pipe dream.
For its fiscal first quarter, which ended on Jan. 15, Whole Foods Market said sales fell 2.4% year over year at stores that had been open at least a year. Although adjusted earnings per share were in line with analysts' estimates, revenue of $4.92 billion was weaker than Wall Street's $4.98 billion consensus.
The company was a pioneer, a national supermarket chain devoted to whole and organic foods, a space in which only the occasional smaller local player had previously thrived. But when Whole Foods was the only game in town for, say, organic beets or kale-flavored ice cream (yes, that's apparently a thing), the store could get away with charging an arm and a leg, earning it the "Whole Paycheck" nickname. And being a Whole Foods shopper held a foodie cachet of its own.
But now organic food has gone mainstream. And Whole Foods has been losing this piece of the gourmet pie, as grocery chains such as Kroger, mega-retailers including Walmart, and even e-commerce sites like Amazon have added steadily growing organic and all-natural food portfolios to their businesses.
In November 2015, Whole Foods scrambled to tackle these competitive pressures by reinstating co-founder John Mackey as the company's sole CEO (for six years he had shared the helm with co-CEO Walter Robb). Mackey was charged with the Herculean task of setting Whole Food's slumping sales aright.
The company has made several strategic moves, most recently opening a line of 365 by Whole Foods Market sister-stores. These shops target millennial consumers by offering a smaller selection of lower-cost, store-branded products. The company has also been striving to cut costs by outsourcing prepared food production (or moving the process in-store).
But it looks like so far, these efforts have fallen flat. And Mackey is abandoning his ambitious goal for expanding to a total of 1,200 locations. (The company has about 440 stores in the U.S., according to Bloomberg.)
Not only that, but the company has announced it will shutter nine underperforming stores in the current quarter. Investors are not pleased.
Many observers had hoped that Whole Foods would be able to pull its business around. The 365 by Whole Foods Market concept seemed rather promising, especially since the millennial market holds enormous promise for the organic food trade.
However, it looks like the market has become oversaturated with competition. Although Whole Foods Market might thrive as a very long-term play, for the short to medium terms, investors shouldn't expect much from this once-healthy grocery chain.
---
But what if you want juicy profits right now? There is a way you could see $67,548 per year - or more - in profitable trades just by following this simple step-by-step process. The trader who is sharing this secret has been right more than eight out of 10 times, turning $5,000 into more than $5 million for himself. Click here to see how easy it is to follow his lead and collect thousands of dollars in "Free Money" every month.
This article is commentary by an independent contributor. At the time of publication, the author held no positions in the stocks mentioned.