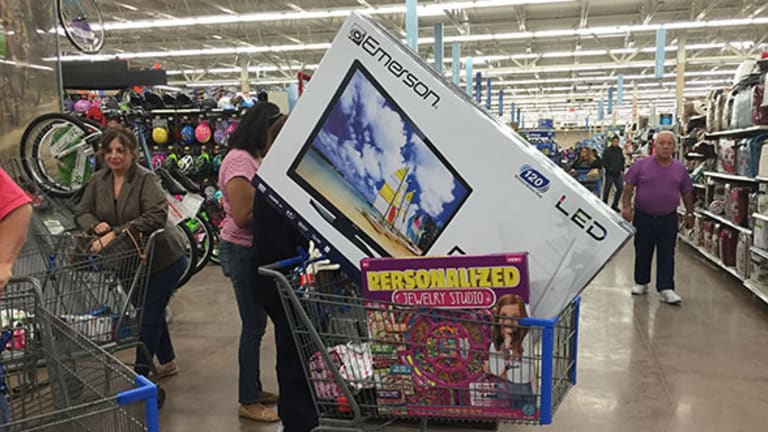 Publish date:
Has Walmart Finally Created the Endless Shopping Aisle? If So, Amazon Should Be Worried
Walmart just got cooler, and Amazon should take note.
Walmart just got cooler, and Amazon should take note.
Editors' pick: Originally published March 7.
Walmart (WMT) - Get Report  is getting savvier at creating ways to shop in its stores and online at the same time, and Amazon (AMZN) - Get Report should be worried.
The world's largest retailer is testing a touchscreen monitor in its toy aisle at certain stores in Texas that helps parents and children alike find exactly what they are looking for. And if they don't find it in the store, they're only a click away from ordering online, Walmart CFO Brett Briggs said at the Raymond James Investor Conference on Wednesday.
"We're testing how to interact with the customer differently, understanding better how they want to shop," Briggs said.
Briggs said the toy aisle touchscreen is big, "and some of these touchscreens, I really haven't liked in the past. I think they're a little clunky (but) this one is really good."
He called the screen an "endless aisle-type concept." For example, if you are a customer shopping for a niece, nephew, friend's kid and you are really clueless as to what to buy, the device can help.
"It asked me some questions: 'Do you want a gift?' 'Yes, I want a gift.' 'Is it for a boy or girl, or it could be either.' 'Choose either.' 'Pick the age you want.' It chooses the best sellers for that age," Briggs said.
But then, he said customers can select from a list of toys currently in the store or, if they don't see what they're looking for, order it from the Walmart website and have it delivered to their home.
Also, at the stores, Briggs said Walmart is testing devices with its Scan and Go technology and eliminated most of its full-service checkouts. At one of its test stores, the company only has six full checkouts, "everything else is self checkout" either with express lanes or through Scan and Go, which allows customers to pay via smartphones.
"I'm not going to talk about our roll out, but we're trying, we're testing," Briggs said.
The test is the latest in a series of moves by Walmart recently focused on fighting back Amazon and others online. 
Last week, Walmart unveiled its new app for its money services and pharmacy customers, creating an even faster, easier and cashless option. While customers will still have to come into the store to pickup prescriptions and verify payments made through money services, express lanes will be set up, reducing wait times to as little as 40 seconds compared to six to 11 minutes, according to the company.
Allegedly, too, Walmart launched a new price-comparison test at about 1,200 stores in 11 Midwest and Southeastern states to better compete with rivals like discount food retailer ALDI and food and drug retailer Kroger (KR) - Get Report .