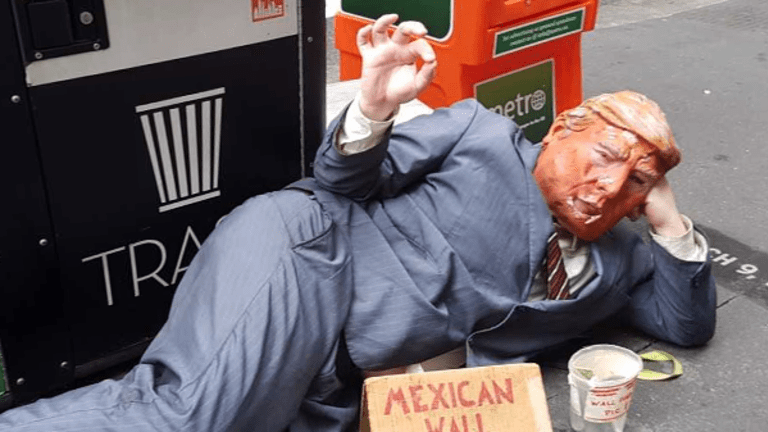 Has Donald Trump Returned to New York City? Sure Looks Like It
Anything seems possible coming from this president.
Anything seems possible coming from this president.
TheStreet found a Donald J. Trump impersonator lying on the sidewalk in New York City's financial district on Friday, Aug. 18.
Or, perhaps, it was the real president of the United States, taking a break in a familiar spot after fleeing the mess in Washington.
The man, although speaking with a foreign accent, certainly looked like Trump in the plastic full-face mask of orange. And when I asked his name, he said, "I'm Donald J. Trump."
Well, there you have it. Case solved.
Steve Bannon Is Out as White House Chief Strategist
The "Donald Trump," reclined on one arm near trash bins on lower Broadway, declined to be interviewed "because I'm lazy," he said sarcastically.
But he did urge me to take a photo of him, for $1, or $2 for a selfie. Any earnings for his so-called Mexican Wall Fund would be put to his beer tab later, he explained.
"I'm just out here making fun of the guy [Trump]," the man added, a bit more seriously.
With Trump's Washington experiencing an exodus—on Friday, White House chief strategist Steve Bannon resigned and then later financier Carl Icahn left Trump's financial advisory council—maybe it was the president.
Read More of What's Trending on TheStreet:
Mylan Can Focus on New Generics After EpiPen Medicaid Settlement
Facebook's Mark Zuckerberg to Spend Two Months Away After Daughter's Birth
If You Still Don't Believe Foot Locker Stinks, This Ugly Chart Should Do It