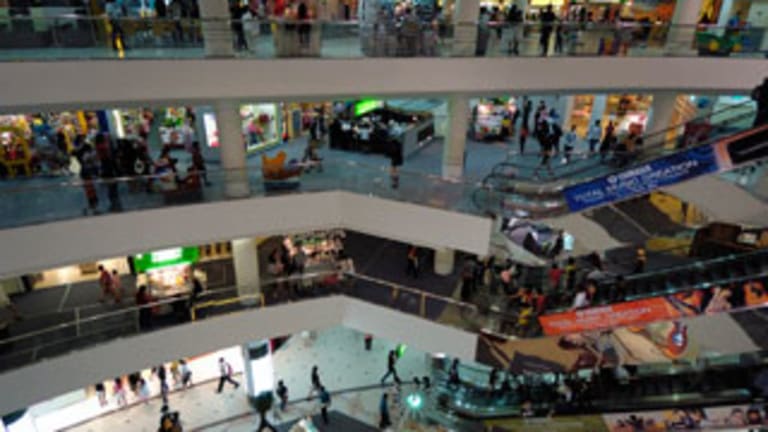 Has Barbie Lost Her Sparkle?
Mattel's Barbie is a cultural icon, the queen of all dolls everywhere. But there's another doll gaining fast, keen to topple Barbie from the throne.
NEW YORK (TheStreet) -- You may not have heard, but Barbie is kind of a big deal. She's confident, aspirational, she has a job (multiple!), and a steady, if slightly effeminate, boyfriend.
But shy of her 55th birthday, Mattel's (MAT) - Get Mattel, Inc. Report Barbie might have to consider refinancing her million-dollar mansion. And the convertible? A little too flashy in these economic times. Face it: Her shine is looking a little lackluster. She just doesn't pull a crowd the way she used to.
To be fair, Barbie still reigns supreme in the fashion doll market, according to NDP, but another doll is gaining fast. And she has claws. And fangs. And scales.
Monster High, the second-highest-ranked NDP fashion doll and another Mattel property, has seen explosive growth since its debut in 2010. Where Barbie is all modern chic, the Monster High range is modeled after the monsters of horror movie lore. From Frankie Stein, the granddaughter of Frankenstein, to Draculaura, the daughter of Count Dracula, the supernaturally themed dolls are pink, punk and glittery, and a must-have among tweenage girls.
The numbers show a tight race. Although Mattel does not parse its financials doll by doll, Reuters put Barbie's annual sales at around $1.3 billion. A Mattel spokesperson confirmed Monster High is a more than $1 billion brand at retail. That's one close popularity contest.
Although Barbie's sales are higher than they were at Monster High's launch, it has been a bumpy ride. In Mattel's recent third quarter, Barbie saw the first increase in sales in 12 months and even then only 3% growth. In Mattel's "Other Girls Brands," sales exploded 28%, primarily driven by the popularity of Monster High.
Looking back to the second quarter, the numbers are grimmer. Barbie sales were down a massive 12%, while "Other Girls Brands" were up 23% (again, thanks to Monster High).
So what's behind Monster High's out-of-this-world growth?
One factor is Mattel's identification of a more mature doll consumer. Where Barbie used to be marketed to any girl before her teenage years, the doll now has greater appeal among those under 6. What Mattel saw, and took advantage of, was a niche in the market -- a doll for the girl who had outgrown Barbie but not yet grown into Twilight.
Then, Mattel created a world. It realized the way children consume had changed and adapted to suit. Where the physical product used to be enough to garner sales, now it's about creating a rich tapestry, a backstory to kick-start the imagination.
As a Mattel spokesperson put it, "Fish where the fish are feeding." If children are on social media, watching YouTube and playing online games, upload branded content, have them chomp at the bit to play with the next big toy and then introduce it to shelves. Rinse and repeat.
"Storytelling is and will always be the anchor of Monster High's connection with girls. We continue to engage with fans through our entertainment and content initiatives," Stephanie Cota, Mattel senior vice president of global marketing, told TheStreet.
Mattel's Monster High-branded online content has garnered more than 540 million video views (both via Monsterhigh.com and YouTube). Monster High's theme song, Fright Song, has been downloaded more than 1 million times (for 69 cents, no less). Then there are the branded backpacks, costumes, books, video games. This is a formidable empire.
"We're able to reach girls everywhere they are today -- online and offline," said Cota.
There's also its extendibility. Monster High attended the Pokemon school of marketing: "Gotta Catch 'Em All!". With no foreseeable limit to how many monsters and legends Mattel can appropriate (you've got to assume werewolves have a litter of at least five), it's an unlimited supply of future sales.
Of course, Mattel isn't slowing down in its complete domination of the fashion doll category. Recently launched Ever After High has a similar strategy to Monster High. Where the latter is all spooky and scary, the former borrows from Disney-fied Grimm Brothers stories, with dolls such as Apple White, daughter of Snow White, and Madeline Hatter, daughter of Lewis Carroll's Mad Hatter. The line had a strong debut at Justice stores in the U.S. during the third quarter and Mattel is currently rolling the brand out to major retailers in 14 markets globally.
While Barbie has seen declining sales for the majority of the year, don't count her out yet. As Cota said, Barbie is an icon, an institution.
"With any brand that has been around as long as Barbie, there are going to be some ebbs in flows from quarter to quarter, but overall she remains the No. 1 doll brand in the world and continues to deliver strong sales year over year," explained Cota. "More than just a doll, she is a franchise, a global entertainment powerhouse property, and a digital sensation well connected to millions and millions of devoted brand fans. Barbie created the fashion doll category and has been refreshing and reinventing it for many decades."
All things considered, whether Monster High cannibalizes Barbie sales matters little to the company's bottom line. Mattel's Girls portfolio features the top four bestselling doll brands in the world: Barbie, American Girl, Monster High and Disney Princess. Overall, the third quarter was the 16th consecutive quarter of growth for the portfolio.
"We work very hard, as you would expect being the leading doll company in the world, to understand what girls are doing and where white space exists," said CEO Bryan Stockton in a third-quarter conference call. "That's the objective. We look for white space and try to fill it."
"We want to grow the portfolio. Ideally, we like to have all brands grow, but there could be at any given moment some movement of sales between brands," he said.
Mattel has made a smart bet by investing in the dolls category. Dolls are one of the fastest-growing segments of the toy industry. Through the year to May, dolls grew 11% in the U.S. and 4% in Europe, according to NPD data, and as the No. 1 player in the segment, Mattel is well-positioned to reap the benefits.
"We don't believe in a "one doll fits all" approach. Rather, we aim to offer girls a broad and diverse doll portfolio that appeals to their varied interests each with unique points of differentiation," explained Cota. "Our goal is to engage girls by offering them franchises with unique reasons for being that will grow with them as they grow."
"Christmas will once again arrive on Dec. 25, and this year there will be more presents under the tree from Mattel than from any other toy company in the world," said Stockton during a conference call.
So whether or not Barbie is under the tree this Christmas, Mattel remains the one having a very, very merry Christmas.
--Written by Keris Alison Lahiff.