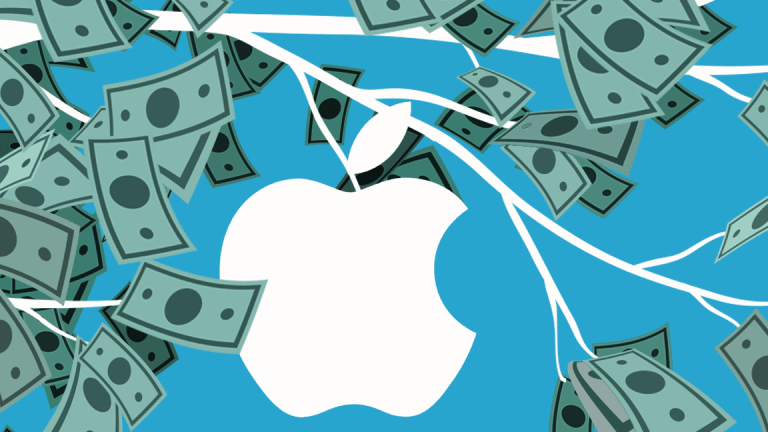 Apple Should Really Buy Netflix and Tesla With $250 Billion in Repatriated Cash
Hopefully for Apple investors, the tech giant will go out and buy a really large company in 2018. Meanwhile, Tesla shares have quietly skyrocketed.
Just sayin', Apple: In case you've been living under a rock, here's a quick recap: Action Alerts Plus holding Apple (AAPL) - Get Report said Wednesday that it will repatriate about $250 billion in cash thanks to Trump's tax law overhaul. With that cash, Apple will build a shiny new campus and hire lots of techies. Great PR day for Apple. Wall Street also expects Apple to buy back stock and hike its dividend -- the former could be especially lucrative. "Assuming Apple does the buyback at an average price of $190, this could add an incremental $3 to $11 in estimated earnings," said Amit Daryanani, who was quick to point out that Wall Street was only estimating Apple's earnings this year at $11.61 a share. Having said that, nowhere in Apple's press release did it say it would pursue game-changing acquisitions with its overseas cash being parked at home. Maybe it wasn't the right time and place, but investors should be a little worried that Apple will squander this opportunity to move beyond the iPhone. I am talking about spending $130 billion to buy Netflix (NFLX) - Get Report (market cap now $94 billion) or $75 billion on Tesla (TSLA) - Get Report (market cap currently $58 billion). It's great Apple is betting on itself with its cash but part of that should include making bets on the future with other companies.
Speaking of Tesla: Shares of the money-losing electric carmaker have perked back up of late, as wrote TheStreet's Eric Jhonsa wrote. After dipping slightly in early January due to disappointing Model 3 delivery figures and commentary, Tesla (TSLA) - Get Reportshares have risen about 11% since the Jan. 4 close. That has easily outpaced the Nasdaq's 3% gain over that time. The gains have been fueled mostly by favorable early reviews of the Model 3 (I don't get it, but hey I am a muscle car junkie). Before Tesla bulls get too excited, they should keep something in mind: Rival companies are coming to destroy Tesla. Look no further than the supercar makers such as Ferrari (RACE) - Get Report and Lamborghini which want to stomp out the new $200,000 Tesla Roadster before it even goes on sale. Ferrari CEO Sergio Marchionne (who is often critical of Tesla's Elon Musk) reportedly said this week Ferrari will have an electric supercar. Lamborghini's CEO Stefano Domenicali told me this week his company is nearing a hybrid supercar, with the goal after that being a fully electric one. In talking with Domenicali, my sense was that Lambo's electric supercar is less than five years away. And this competition is just in the supercar space -- Tesla will face big-time competitive threats in the luxury sedan and SUV space over the next three years from Mercedes and BMW. You have been warned, Tesla bulls. 
Receive the free daily "Morning Jolt" newsletter by heading here.
Food for thought: Intel (INTC) - Get Report may be reeling from its chip flaw debacle, but its shiny new Mobileye toy seems to be rocking. Mobileye grew 45% year over year in 2017 to ship nearly 9 million chips and now has 24 million chips in cars on the road. The stats come via a new RBC report, which cited a presentation by Mobileye Chief Communications Officer Dan Galves at this week's Detroit Auto Show. Galves said Mobileye was awarded 30 design wins in 2017 vs. 12 in 2016, with a "big uptick" in China. In 2018, Galves said Mobileye "ill launch 15 programs vs. six in 2017 with 14 manufacturers. Looks like $15.3 billion well spent, Intel.
What's Hot
Wendy's Stops By
Hot interview below with Wendy's (WEN) - Get Report CEO Todd Penegor. 
More of What's Trending on TheStreet: