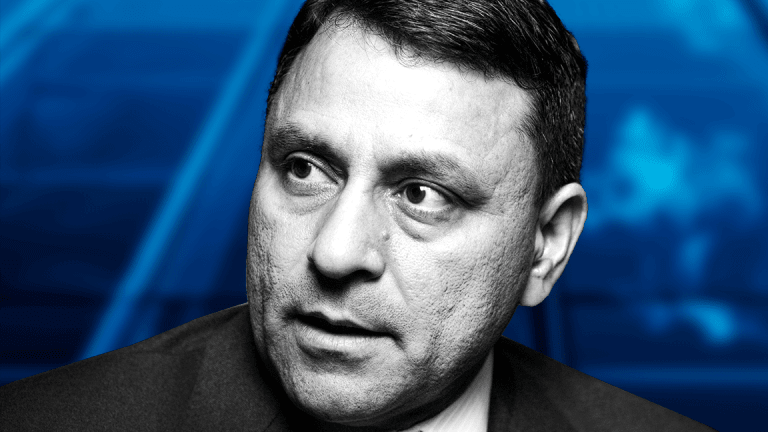 Harman CEO Tells Us How Parent Samsung Creates Synergies With Connected Cars
Dinesh Paliwal envisions Harman and Samsung eventually crafting solutions that enable 'personalized sound zones' for passengers in self-driving cars.
Last March, Samsung (SSNLF) closed its $8 billion purchase of infotainment hardware/software, home speaker and headphone maker Harman. At CES, the two companies began making good on their promise to leverage each company's resources to roll out joint connected-car offerings, including ones for autonomous vehicles.
These offerings include DRVLINE, a hardware/software platform for partly or fully autonomous cars that leverages Samsung silicon, features a forward-facing ADAS (driver-assistance) camera system and is open to third-party developers. They also include a "digital cockpit" platform for vehicles in general that supports Android and can power four displays, as well as a telematics solution promised to support 5G networks when they arrive.
In addition, Harman unveiled a revamp of its popular Ignite platform, which provides back-end cloud services that help automakers deliver in-vehicle apps and services. And though the jury is still out on how much consumers will adopt it, Harman showed off new solutions meant to personalize a user's in-vehicle audio experience (including on Uber/Lyft rides) based on profile data that can be automatically shared through a mobile app.
At CES this week, I had a chance to talk with Harman CEO Dinesh Paliwal about Harman and Samsung's joint projects, as well as the company's relationships with other partners and how it sees the auto industry's infotainment and connectivity needs evolving.
Just before speaking with Paliwal, I was shown a demo vehicle (a Mini car) containing Harman's Linux-based Dione infotainment platform. Though meant for low-end and mid-range cars, Dione was pretty sleek, with a large display placed in the center of the car's dashboard that was able to handle both instrument-cluster and infotainment functions. Harman stressed that the solution relied on just one processor (supplied by Taiwan's MediaTek rather than Samsung) to handle functions that typically required two, and that (as is the case for Tesla's proprietary touchscreen interfaces) this enabled a fully-integrated view of cluster and infotainment content.
On the subject of Harman's collaboration with its parent company, Paliwal talked up the breadth of Samsung's product line, from system-on-chips (SoCs) to memory to micro controllers (MCUs) to 5G modems. Harman, he added, greatly boosted Samsung's standing with top automakers thanks to its history as a tier-1 supplier to them.
DRVLINE aims to play catch-up in the fledgling market to supply computing platforms for partly and fully autonomous cars where for now, Nvidia (NVDA) - Get Report and Intel (INTC) - Get Report have sizable leads. Paliwal noted that Harman and Samsung have a deal with an unnamed "leading German car company" to implement DRVLINE, and suggested its open nature would help it differentiate from Mobileye in the ADAS space. "The current offering by Mobileye is by far the best [ADAS] offering on the market, but also totally closed...[the] auto industry is just not happy with it. The auto industry wants open architectures," he said, while adding Harman/Samsung are hoping developers will "come and build applications" to help it deliver a total end-to-end solution.
Of note: Mobileye says its next-gen EyeQ5 SoC, which it claims is powerful enough to support full autonomy, features an open software platform. The Intel subsidiary is aiming to put EyeQ5 into production cars by 2020.
Though clearly not ignoring autonomous driving, Paliwal indicated Harman is focusing plenty of resources on cheaper solutions that provide more limited driver-assistance features. In China, for instance, Harman is conducting research with local institutions to help it craft solutions tailored for the Middle Kingdom. "China needs these things, but China cannot afford to $1,000 in per-car content," he said.
When I asked Paliwal about how willing Harman remains to partner with third-party chipmakers, he insisted the company still has "no problem" doing so. "Our customers will decide what hardware they want to use...Harman will integrate any hardware." In addition to citing the MediaTek-powered Dione system, Paliwal mentioned that Harman also uses NXP and Renesas chips to power its hardware. And last June, NXP and Harman expanded their connected-car partnership. 
Like others, Paliwal expects fully-driverless cars -- vehicles in which seats could potentially face each other and be moved around -- yielding big changes in how cars are used for entertainment and productivity. "I can use a car as a living room, as my office...I could be watching a live Kennedy Center performance...I could be using a Bloomberg terminal inside...the interior will completely transform," he predicted.
And here as well, Paliwal expects Samsung to provide major synergies. Not just thanks to its silicon, but also to its quantum LED and OLED displays, which could potentially be used to convert windows into screens. He also envisioned Harman and Samsung crafting solutions that enabled personalized sound zones for passengers.
"You cannot think of any other company that brings all of that together," he asserted. 
More of What's Trending on TheStreet: