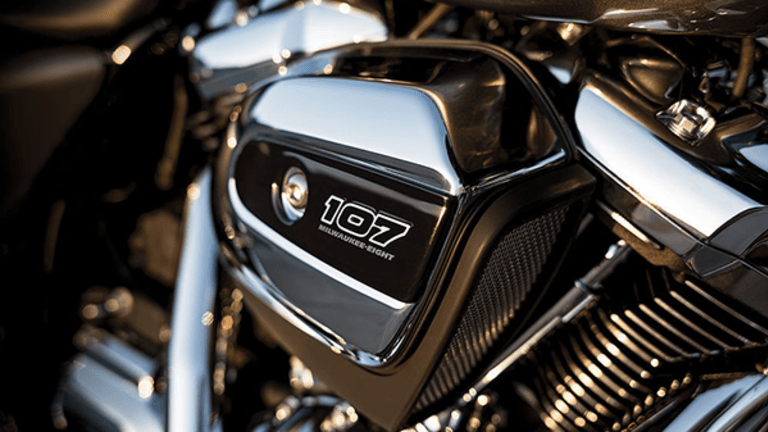 Harley-Davidson CEO: Yes, Millennials Are Riding Motorcycles
Matt Levatich knows that motorcycles aren't for everyone, but then not everyone is a thrill seeker.
Harley-Davidson (HOG) - Get Harley-Davidson, Inc. Report has a lot on its plate.
Shares of the motorcycle maker fell 5.9% to $48.93 on Tuesday after the company lowered its full year shipments guidance as the iconic American brand battles to gain a foothold with younger consumers.
The Milwaukee-based manufacturer now expects to ship between 241,000 and 246,000 vehicles in 2017, down from the 262,221 vehicles it shipped in 2016. The company had previously forecast that shipments would be "flat to down modestly" from the year before.
TheStreet talked with Harley-Davidson CEO Matt Levatich about the quarter and outlook for the rest of the year. What follows is a condensed and edited version of our conversation.
Question: In the quarter, what took you by surprise?
A. We expected it to be down, but it was much worse than we thought. In addition, sequentially through the quarter the trends were worsening. One of the things that we like is the year to date propping up of used-bike prices and stability in that market space, which accrues over to the new bike market.
We are pulling down shipment guidance to what we think U.S. demand will be. As we look forward, we are moving to shipment guidance with inventory significantly lower than 2016, setting up for a more healthy 2018.
Everything internationally is tracking according to plan.
Q. It's said that millennials aren't riding motorcycles, but I see them everywhere on bikes. Why are people wrong?
A. Number one, the ability to research this is difficult. There was an analyst report that referenced millennial ownership trends in new bike sales. You can't just look at new bikes. The used bike marketplace has 2 1/2 times the turnover of the new bike marketplace. There are plenty of millennials riding motorcycles. It's up to us to inspire them to ride and engage with Harley-Davidson.
As we look at an increased level of sophistication of our outreach, we look at psychological, life-stage and demographic trends to surgically grow riders, and Harley riders. We have to understand and meet customers where they are, whether they are millennials, Gen X, Gen Y, or babyboomers or generations yet to come. We have to shift from we build bikes to we build riders.
Q. Who is the motorcycle rider right now?
A. In general, 2.8% of adults ride motorcycles of any brand. It's not as if it has mass market appeal to begin with. We have to find riders who are freedom- and adventure-seekers, who want to live for real, get out from under their smartphones and be out on the open road. 
Q. How do you get to the next level?
A. Product has a very important role in inspiring ridership, not just new, but ongoing ridership. For example, with the Milwaukee 8 engine and the new touring suspension, I am blown away by how much of a better experience that represents for me as a rider. Among the new models we launched this year, the Roadster special is a touring bike with packaging that is a more youth- and outreach-oriented. Street Rod is a global smash that is more financially and physically accessible.
As we look forward to 2018 and the model year launch, that's what 100 new high-impact motorcycles in the next decade is all about. It's about the impact we have and who is riding and thinking about riding.
Q: Can you comment on Harley-Davidson reportedly being interested in buying Ducatti?
A: It's a rumor and speculation, we don't comment on it. I went as far as I did on the earnings call today by saying there is a lot yet to be appropriately leveraged in the Harley-Davidson brand. We are firmly committed to the Harley-Davidson brand and to do the things we need to build ridership. 
More of What's Trending on TheStreet: