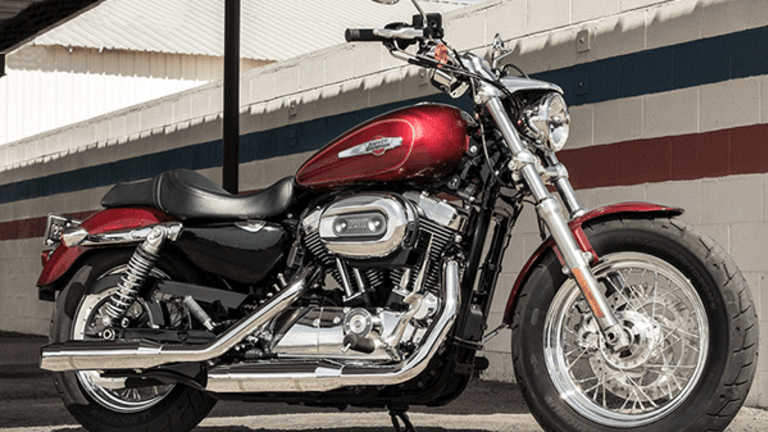 Harley-Davidson CEO: This Is How the Trump Administration Impressed Me
The iconic bike maker has had a whirlwind few weeks.
Editors' pick: Originally published Feb. 8.
The relationship between legendary motorcycle maker Harley-Davidson (HOG) - Get Harley-Davidson, Inc. Report and the new Trump administration looks to have started on the right foot. 
To be sure, being known as an iconic American brand that still mostly makes its prized products in the U.S.A. -- unlike the car guys such as Ford (F) - Get Ford Motor Company Report and General Motors (GM) - Get General Motors Company Report that are under siege by President Trump -- probably helped kick things off well.
"I think it was a wonderful opportunity to engage with the administration. What I was most impressed with is how engaged they were with what we had to say as a great invested American manufacturer, they really wanted to know what we thought," Harley-Davidson CEO Matt Levatich told TheStreet in an interview. Levatich, who has his two-year anniversary leading Harley-Davidson this May, is now focused on the administration's new trade deals in the wake of its recent executive order that squashed the Trans-Pacific Partnership (TPP). 
"TPP was important to us, but now of course we are turning our attention to whatever bilateral trade agreements that could help level the playing field for Harley-Davidson," Levatich said.
Harley-Davidson could use whatever pro-growth policies President Trump has in mind.
The company has faced challenging conditions in the U.S. the last two years due primarily to Japanese bike makers using currency fluctuations to discount their bikes. Further, a plunge in oil prices has weighed on Harley as it derives about 15% of its sales from oil dependent states. Couple those factors with the aging of the babyboomers, which has long been a cash cow for Harley, and it's easy to explain the company's latest results. 
Harley, which commands about half the U.S. large bike market, saw fourth quarter motorcycle shipments fall 11.9% to 42,414 units. The company shipped 262,221 motorcycles in 2016, below its plans for 264,000-269,000 units.
It did see several encouraging trends in its business toward the latter part of 2016, however. One is that it gained two points of market share in the U.S. big bike market in the quarter amid strong interest for products with the powerful new Milwaukee Eight engine. Harley also managed to train 65,000 people to ride a bike last year due to what it calls outreach efforts to young adults and minorities. 
Shares have gained about 44% over the past year despite the sluggish results, out-performing the S&P 500's 23% advance. 
In addition to having one eye on the Trump administration, Levatich is moving forward with an aggressive roll-out of 50 new "high impact" bikes over the next five years. He declined to say whether those plans included production of Harley's first-ever electric bike called Livewire (pictured below), which was originally unveiled in 2014.