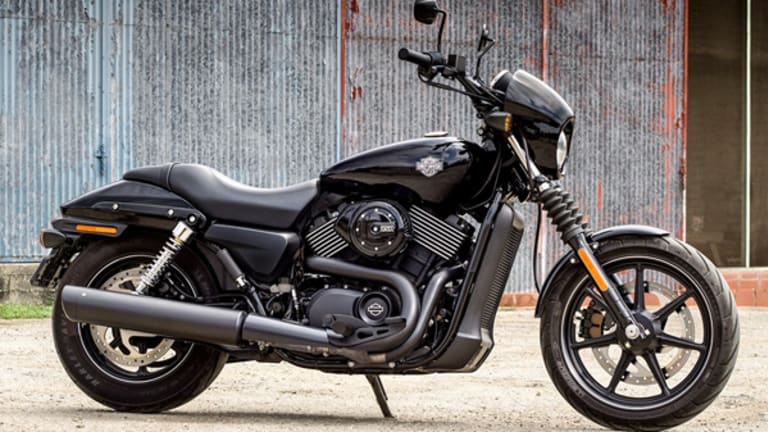 Publish date:
Harley-Davidson CEO: Here's the Next Chapter for Our Storied Motorcycle Company
Harley-Davidson has given its investors a lot to consider this week.
Harley-Davidson has given its investors a lot to consider this week.
Harley-Davidson (HOG) - Get Harley-Davidson, Inc. (HOG) Report delivered more for investors to consider than a first quarter earnings beat.
The legendary bike maker reported first quarter earnings Tuesday of $1.05 a share, surpassing Wall Street forecasts for $1.02 a share. Revenue came in at $1.33 billion, slightly missing analyst projections for $1.35 billion.
Shares fell 4.1% to $56.91 in the trading session as Harley-Davidson only reaffirmed its shipment guidance for the year of flat to down modestly. Considering Harley shares up about 30% over the past year, outperforming the S&P 500's 12% gain, and host of recent upbeat analyst notes Wall Street was likely looking for stronger shipment guidance from the company.
"Dealers also continue to note that the new models are driving foot traffic and sales, and that increased customer familiarity with the new features (e.g., the Milwaukee-Eight engine) has generated more interest going into the Spring selling season," Goldman Sachs analysts wrote ahead of Harley's earnings.
Even still, Harley revealed two big longer term goals for investors to consider. By the year 2027, Harley says it plans to add two million new riders in the U.S. while also introducing 100 new bikes. President and CEO Matt Levatich told TheStreet in February that the company has a 50 new bikes in development for release over the next five years.
TheStreet caught up again with Levatich on Tuesday to discuss the quarter and the company's overall plans. What follows is a condensed and edited version of our conversation.
Q:Your stock has run-up pretty significantly, what do you think an investor should take away from the quarter?
Levatich: We feel really good about the market share position in the United States. The U.S. basically unfolded exactly as we expected, which seems to be a lot different than the analysts expected through their channel checks. I feel really good about our ability to read the market and deliver what we expected. I also feel good about maintaining market share, it's still a very competitive market and one that had the Victory [brand] liquidation built into it. That's particularly important considering the fact we withheld probably the hottest product we have had in years in the Milwaukee Eight power touring bikes to allow dealers to sell down the 2016 inventory they had leftover. We feel really good about our inventory position ahead of the spring selling season. 
One thing that was not as we expected was sales in Asia-Pacific, which were softer. There are a few reasons for that, it's in a few key markets. Market share in those markets are holding strong, but for various reasons industry growth in India because of the devaluation [was soft] and in Japan sales were more anemic than we expected. We expect those Asian markets to return to growth in the back half of the year. 
All in all, I think the quarter was actually quite strong. Is this reflected in the stock price, I don't know, it takes a long time for people to digest these things. We are setting out on a long-term plan, and our investors -- the buy-side -- really appreciate that view. I think it's harder for sell-side analysts to wrap their minds around ten year objectives.
Q:Being a sell-side analyst years ago, I remember thinking like that. Have to build those spreadsheets.
Levatich: I think a 115-year old company isn't built in one quarter, and we aren't running quarter to quarter. We have put out what we call the next chapter in our company, which will take us to the eve of our 125th year. We feel the objective is not only appropriate, but also inspiring and motivating for employees and dealers. We can all get our minds around building riders as the fundamental strength of the business. 
Q:When we talked in February, you mentioned launching 50 new bikes by 2022. Now you revealed a plan to release 100 new bikes by 2027. What do these other 50 new bikes look like?
Levatich: Lots of people like to fixate on the number, but it's just a number. What's important is the impact these bikes have and how they make a difference for an existing rider or inspire a potential rider. The two examples out of the 100 that we can speak to were launched in the first quarter: the Road King Special, which has been incredibly inspiring to existing riders, and the Street Rod, which is heavily tuned up from power, torque and handling perspectives. It's a product that is more inspiring to the urban population around the world, and people that are looking to enter the sport.  
Q:The Trump administration's focus on products made in America, how do you see that influencing Harley-Davidson over the next several years? Harley is a U.S. manufacturer. 
Levatich: I think a lot of what the administration talks about we have always been about. The visit to the White House was a recognition of companies like Harley-Davidson doing things the way the adminstration would like more companies to do. We have never wavered on that strategy. The strategy comes from what our customers value in Harley-Davidson, and not just the U.S. customer, but also around the world. They value the American qualities of a Harley-Davidson. I think that is unchanged and not going to vary significantly in the future. 
I don't think our international customers will feel any differently about Harley in the scenario you mention. But, our U.S. customers may actually have a newfound appreciation for what we have always done. I think they are pretty well aware. We have factory tours, you can walk into our factories and see the degree of work we do and also the amount of supply from companies that often are right down the street from our plants. 
People are proud of that when they see that. To hear the sentiment turn to the value of real manufacturing jobs in America, Harley is a great example of doing it the way it should be done. 
Q: One of our hottest stories this week is on Harley-Davidson recently offering rebates on bikes. But, Harley has notoriously not given discounts on bikes. Can you explain this decision?
Levatich: We put a set of conditions together to help our dealers sell down the 2016 inventory. So we had some financing things that expired in February. We held back the supply of new motorcycles to help, which is a big step. There was an incentive at wholesale for the dealers to address certain 2016 model years so we had a clean position ahead of the spring selling season. 
Q: So offering rebates is not a strategy going forward?
Levatich: Absolutely not. We are a abundantly clear that the situation we got into with carryover inventory last July was a big problem we had to work through and to make sure we never repeat it. We got into it because the second half of 2016 radically shifted, and we couldn't switch off the amount of product fast enough. 
Editor's Pick: Originally published April 18.