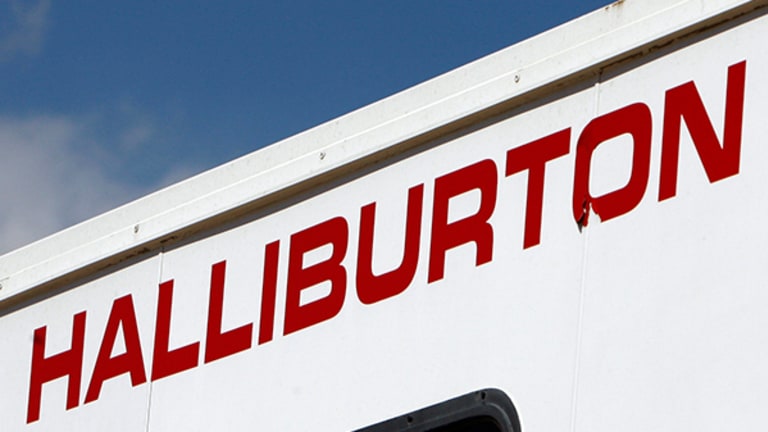 Publish date:
Halliburton's New Focus on Profitability Will Richly Reward Investors
The oil drilling giant should also benefit from the rebound in oil prices.
The oil drilling giant should also benefit from the rebound in oil prices.
Halliburton (HAL) - Get Report , the world's biggest fracking provider, recently executed smart strategic moves that should lead to outsized gains for investors.
The company said it was determined to hike prices for its services to lock in profits in the clearest signal that it is ready to sacrifice a portion of market share to boost profit over the long haul. Halliburton shares sank slightly in Monday trading.
This focus on profit follows up the penny-a-share, third-quarter gains that surprised many on Wall Street. Experts had penciled in another loss for Halliburton.
The decline in oil prices to historic lows forced Halliburton to discount prices, along with much of the oil and gas industry, including rival, Schlumberger. 
With oil prices on the upswing, Halliburton's decision to rescind such discounts is clever strategy.
As recently as fiscal 2014, Halliburton maintained its 16%+ gross margins to deliver record profits of $3.5 billion. Revenues touched $32.8 billion.
But 2015 was a shocker as oil prices plummeted. During the depths of this decline, oil explorers scaled back on drilling wells. This resulted in Halliburton's topline crashing to $23.6 billion. It was the first loss in many years.  
Halliburton's game-plan during the downturn was simple: control costs, keep afloat and live within its operational cash flow. With WTI crude having rebounded about 15% year-to-date (YTD), Halliburton wants to return to its solid record of profitability.
Third-quarter results have reflected a surge in oilfield drilling as crude prices have continued to strengthen from February depths. Customers are returning to work. While posting a mixed third quarter, Schlumberger said North American activity is headed for recovery.
Halliburton is one of your best options to leverage this North American oil services revival.
Baker Hughes chairman and CEO Martin Craighead recently said that maintainable oil prices in the upper 50s per barrel range are necessary for a recovery in North America. Halliburton is positioned to outperform in this scenario.
Halliburton's shares, which have gained 42.27% YTD, are poised to do well.
To be sure, the company offers a modest 1.49% dividend yield, but with cash flow gradually improving, expect dividends to keep increasing.
In short, Halliburton will benefit from a:
High North American exposure 
Competitive position globally (the Middle East and Russia/Caspian regions)
Focus on efficiency and aggressive approach to the coming up cycle.
The current consensus among most analysts is a "Buy" for Halliburton and deservedly so.
---
As we've just explained, Halliburton is a smart bet now. If you're looking for other growth opportunities, we've found a genius trader who turned $50,000 into $5 million by using his proprietary trading method. For a limited time, he's guaranteeing you $67,548 per year in profitable trades if you follow his simple step-by-step process. Click here now for details.
The author is an independent contributor who at the time of publication owned none of the stocks mentioned.