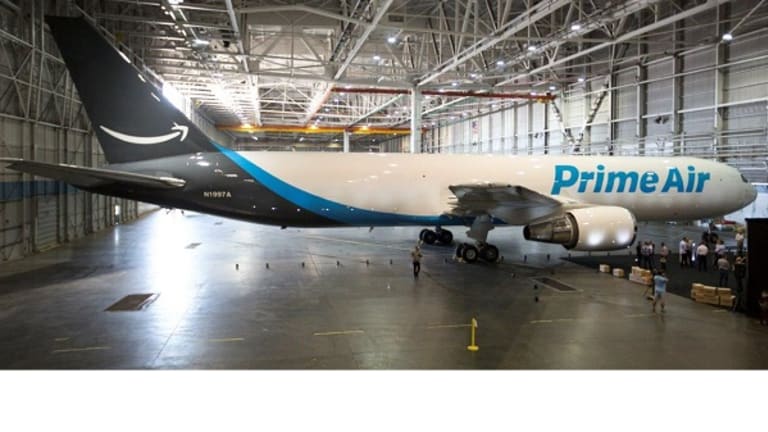 Half the U.S. Will Have Amazon Prime Soon, Cowen Analyst Predicts
The soaring membership numbers show that Amazon is well on its way to taking over the U.S. Here is why this ecommerce superstar still has plenty of room for growth.
The soaring membership numbers show that Amazon is well on its way to taking over the U.S. Here is why this ecommerce superstar still has plenty of room for growth.
By now, we all know how popular ecommerce superstar Amazon (AMZN) - Get Report  has become.
However, we have gotten more specific insight into just how far Amazon's popularity extends. And the answer is pretty incredible and bodes well for investors in the online shopping pioneer.
On Monday, analyst John Blackledge of Cowen said that by the end of the year, half of U.S. households will likely have Amazon Prime memberships.
It is no secret that Amazon is taking over and redefining how Americans shop. The online behemoth has not only outpaced other online retailers such as eBay and Walmart's Internet presence, but it has practically single-handedly brought about the decline of brick-and-mortar retail.
The company has proven that it is unstoppable even in departments where it had previously been predicted to fail. Apparel, which has historically been a notoriously hard sell online, has fallen to the ecommerce overlord, with the company poised to overtake Macy's in sales of accessories and clothing as soon as next year.
According to Blackledge, 49 million Americans subscribe to Amazon Prime, and together they are worth an estimated $143 billion over their lifetime.
But that number is still growing.
This year, the company is on track to add an additional 12 million members.
That is an incredible number of newbies, when taking into account the volume of members with which Amazon began the year. And it demonstrates that Amazon Prime is still in growth mode.
In 2014, 7 million members were added, and last year, the company added 10 million.
Blackledge estimates that about 44% of all U.S. households hold Prime memberships. And he expects the percentage to increase to 50% by the end of the year.
On top of subscription fees, Prime customers contribute heartily to Amazon's bottom line.
Prime member households spend an average of $193 per month on the site, according to Blackledge.
These numbers come as a stunning revelation because Amazon is notoriously tight-lipped when it comes to disclosing just how many subscribers it has. And investors are clearly still smitten with the stock, as analysts continue to predict price targets well above $1,000 a share.
There is still plenty of room for more growth, as impossible as that may seem.
A large part of Amazon's business lies in convincing non-Prime members to join. And with a campaign that includes physical pop-up stores in shopping malls across the country, the company clearly has an idea of how to woo consumers into shopping online.
Plus, don't forget that once customers join Prime, the subscriber retention rate is above 90%.
Continue to hold Amazon for the long run. It is looking as if it could indeed be unbeatable.
---
85% Accurate Trader gives his Personal Guarantee: "Give Me 9 Minutes a Week and I Guarantee You $67,548 a Year." What if I told you I know a way you can see a $67,548 per year - or more - in profitable trades just by following this simple step-by-step process? The trader who is sharing this secret has been right more than 8 out of 10 times, turning $5,000 into more than $5 million for himself. Click here to see how easy it is to follow his lead and collect thousands of dollars in "Free Money" every month.
This article is commentary by an independent contributor. At the time of publication, the author held no positions in the stocks mentioned.