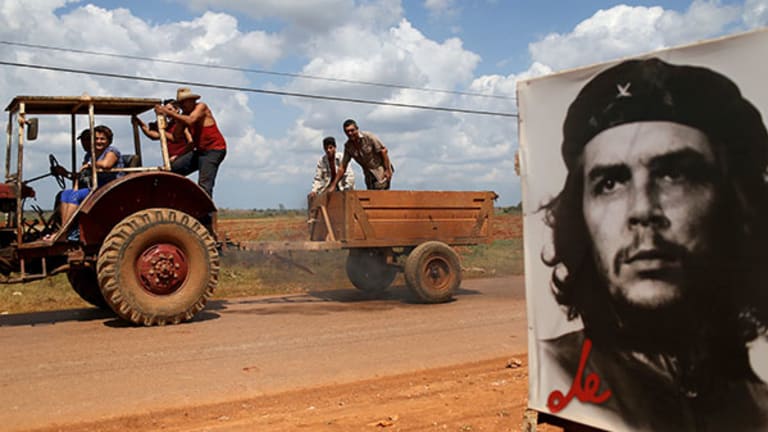 NEW YORK (TheStreet) -- A new, unprecedented poll conducted in Cuba shows that about half of all Cubans want to leave the country, and of those, about half want to go to the U.S.
The poll, by the Miami based firm Bendixen and Amandi, and commissioned by Univision Noticias/Fusion and the Washington Post, was conducted unbeknownst to the Cuban government. It's a rare data set about a country that doesn't allow nearly the same freedom of expression we have in the U.S.
It found that 55% of Cubans want to leave, and of those, 52% want to come to the U.S. Roughly 11 million people live there.
According to Fernando Amandi, a partner and founder of Bendixen & Amandi, this is the first such poll conducted. Information about how regular Cubans feel about daily life and major issues often comes from the same sources.
"Usually we read the opinions of government officials, athletes, people living in the exile, but never of the Cubans talking freely from the Island. This is the first time I know of," he says.
Part of the dissatisfaction in Cuba has to do with the strict control of information that the government imposes.
"We can not talk freely and we always run the risk of spending a couple of nights behind bars," a prominent artist-dissident who asked not to be identified told TheStreet via telephone from Havana.
He's not alone in feeling stifled. Three quarters of those surveyed said that they have to be careful about what they say for fear of retributions while only one in five Cubans feel free to express whatever they think.
As one could imagine, getting Cubans to speak freely when they responded to the poll was hard.
"Our job was logistically challenging," says Armendi. "We conducted interviews for months, going door to door with 15 courageous interviewers. We polled people in secret places. It was not easy. We had to replace some of them, so they won't get burned."
Nearly all Cubans welcome normalized relations with the U.S., the poll showed, likely for the economic relief that it could mean for the country's poor citizens. About a third receive money from family or friends residing in other countries.
Taking steps to normalize those relations has catapulted President Obama to popularity in the communist island nation
Obama is more popular in Cuba than either one of the Castro brothers, who have held the reins of power on the communist island for more than five decades. Some 80% of Cubans have a favorable opinion of Obama while Raul and Fidel Castro's rates are 47% and 44%, respectively.
Obama's popularity has probably increased since last December, when the he announced the first steps in half a century to normalized relations between the two countries and put an end to the long-standing embargo.
"Obama's popularity is a direct reaction to his decision to improve relations with Cuba," says Amandi.
The survey found that 96% of Cubans think that the embargo should end. 
"The vast majority think the blockade -- that's what the government calls the embargo -- should end. It has not worked in 50 years and people want to improve their daily life. There is a direct correlation between Obama's popularity and his decision to lift the embargo," says Amandi.
Surprisingly, Pope Francis is more popular than Obama in a country in which less than 45% of residents are Catholic and just 70% have a favorable opinion of the church.
Meanwhile, more Cubans disapprove of their leader, Raul Castro, than approve of him. The 48% who have a very or somewhat negative view of him edges out the 47% who have a very or somewhat positive view.
The poll was conducted between March 17 and 27 among 1,200 Cubans residing in the island. It has a margin of error of plus-or-minus 2.8 percentage points.
This article is commentary by an independent contributor. At the time of publication, the author held no positions in the stocks mentioned.