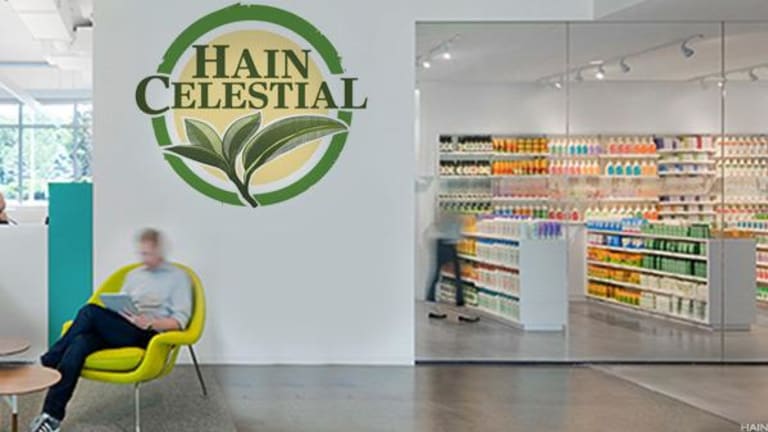 Hain Celestial Finally Reports Earnings After Year-Long Accounting Probe
Guidance falls short of expectations.
Hain Celestial Group Inc. (HAIN) - Get Report reported earnings on Thursday, June 22, for the first time since May 2016, and while guidance fell short of analysts' expectations the news that an accounting probe had been concluded without the need for any material restatements sent the stock up 6% in premarket trading.
Hain shares settled down 3.8% to $31.91 in midday trading. 
For the fourth quarter, analysts expect earnings of 54 cents a share on revenue of $724.8 million, while Hain said it expects earnings of 40 cents to 43 cents on revenue of $715 million to $735 million. Full-year guidance, with adjusted 2017 earnings of $1.19 to $1.22 a share and revenue of $2.84 billion to $2.86 billion, was also short of analysts' expected $1.94 a share and $2.91 billion, respectively.
The "immaterial" restatements include reductions of net sales of 2.1% in fiscal 2014, 2.9% in fiscal 2015 and 1.9% in the first nine months of fiscal 2016; reductions in GAAP earnings per share of 7% in 2014, 1.2% in 2015 and 0.8% in the first nine months of 2016; and reductions of non-GAAP earnings of 5% in 2014 and 2.7% in 2015. Accordingly, results from 2012-2015 were revised. On an analyst call, Simon called these "a lot of one-offs that added up to a lot of money."
"We believe investors will need to assess how much HAIN's FY17 was impacted by discrete factors (accounting review, SKU rationalization, etc.), vs. structural issues around pricing, marketing spend, and competitive activity, which could well have longer-term implications," Barclays analyst Andrew Lazar wrote in a note.
Hain's accounting probe, pertaining to potentially improper revenue recognition related to concessions granted to distributors, was disclosed on Aug. 16, 2016, and Hain later revealed a Securities and Exchange Commission probe with which it is cooperating.
"It's been a while since you've heard from us," founder and CEO Irwin Simon said on the call, adding that he's glad the probe is behind him and defending the lengthy process as evidence of its comprehensiveness.
Hain also announced a $250 million share buyback and cost savings expected to total $350 million through fiscal 2020.
Simon touted Danone S.A.'s recently closed acquisition of WhiteWave and Amazon.com Inc.'s (AMZN) - Get Report pending $13.7 billion acquisition of Whole Foods Market Inc. (WFM) to highlight the future opportunities in the organic foods space. The latter acquisition was a particularly exciting opportunity, he said: "We are one of Whole Foods' largest suppliers of organic products across categories, and Amazon is one of our fastest-growing customers."
Gary Tickle, CEO of Hain North America, added that over 1200 Hain products sold in Whole Foods locations in the last twelve weeks, and Hain representatives serve on a Whole Foods advisory counsel. Expected Amazon improvements to the business should "increase availability and household penetration for our range" of products, he added. 
Also on Thursday, Hain appointed James M. Langrock as executive vice president and chief financial officer, effective Friday. Langrock joined Hain in November 2015 as treasurer; he succeeds eight-year veteran Pasquale "Pat" Conte, who's pursuing unspecified other opportunities. Other new hires include a new U.S. controller, U.S. head of finance, global controller, head of internal audit and chief compliance officer.
Last month, Tickle, a Nestle S.A. veteran who became Hain's chief operating officer in September, became Hain's North America CEO.
Hain owns several dozen organic and better-for-you brands, including Celestial Seasonings teas, Arrowhead Mills grains and MaraNatha nut butters.