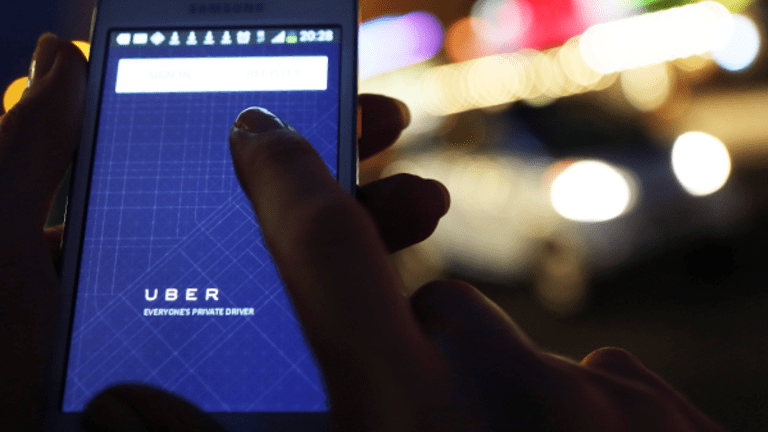 Are Uber, Grab and Didi Being Overvalued? TheStreet Examines Exploding Ride-Sharing Valuations
The booming ride-share market has sent startup valuations skyrocketing. But how long can it last?
Investors can't seem to get enough of ride-sharing companies. 
To start, look no further than the last 24 hours. The Wall Street Journalreported on Tuesday that Japan's SoftBank Group Corp. (SFTBY) is in talks with Uber Technologies Inc. about taking a multi-billion dollar stake in the sprawling ride-sharing startup, citing sources close to the situation. And on Monday, Grab, the top ride-hailing service in Southeast Asia, snagged $2 billion in new funding from investors SoftBank and Chinese ride-hailing giant Didi Chuxing. It marks the largest-ever single round of fundraising in Southeast Asia. 
As billion-dollar investments continue to flow into the ride-hailing sector, startups are seeing their valuations explode. Uber and Didi, most recently valued at $68 billion and $50 billion, respectively, now sit among an exclusive category of so-called "decacorns," or startups that are worth $10 billion or more. They're also the two most highly-valued tech startups in the world.
11 People Who Could Replace Travis Kalanick as the Next CEO of Uber
Unlike other tech sectors, Didi and Uber's monster valuations haven't led to a duopoly in the ride-share space. Far from it, in fact, as more and more players enter the market every year. Three other ride-hailing startups are currently valued at $1 billion or more: Lyft ($6.9 billion), Grab ($6 billion) and India's Olacabs ($3.65 billion). But other, smaller services, such as Brazil's 99Taxis, Indonesia's Go-Jek and Russia's Yandex exist on a local level but still serve as a legitimate competitor against the big players. Some of the local players are said to be capitalizing on Uber's many PR controversies as an opportunity to secure big checks from investors. 
Earlier this month, Uber ceded the Russian market to Yandex when it merged with the Russian search giant's ride-hailing division. That's after it sold Uber China to Didi for a stake in Didi, seemingly adopting the mantra that if you can't beat 'em, join 'em. 
The more diversified the ride-hailing market becomes, the more investors seem to get excited about its potential.
More of What's Trending on TheStreet:
As of June, Uber has raised $15.1 billion, giving it an implied valuation of $68 billion. But what are investors betting on? According to market experts, Uber's valuation is built on the assumption that it will win the ride-hailing market, as well as on the promise of self-driving technology.
The reasons are pretty similar across most ride-hailing startups. Investors justify the sky-high valuations because they believe that everyone will be using ride-hailing services in the near future. On top of that, once self-driving car technology hits the mass market, the overhead cost of drivers' salaries (a huge cost for ride-hailing companies) could be almost entirely eliminated, said Santosh Rao, head of research at Manhattan Venture Partners. 
"When self-driving cars come into play, the cost of drivers is less, so they will be profitable much faster and at much [higher] rates," Rao said. "If you believe that, OK the market is infinite. But at this point, it's not a sure thing." 
In terms of funding, Rao said the ride-share sector is at a land grab stage where it's all about controlling as many markets as possible. Ride-hailing companies require a lot of upfront cash from VCs, which props up their valuations, but they're also burning through that cash quickly. Uber raked in $2.9 billion in revenue during its fourth quarter, but also saw its losses accelerate 6.1% to $991 million, according to Bloomberg. Few ride-hailing companies are profitable at this stage.
"It's all about market share and surviving," Rao explained. "It needs heavy investments. It's about marketing, going into international areas, outspending the other guys and driving the other guys out." 
"It's easy to get in, but tough to survive," he added. 
Some players will be forced to consolidate in order to keep their head above water. Consolidation has already occurred in the sector, as ride-hailing service Gett acquired Israel-based transportation app Juno for $200 million in April. 
But analysts contend there's room for more than just two big players in the ride-sharing space. Uber isn't going to own the market, either, and may require a more conservative valuation, possibly somewhere south of $53 billion based on discounted cash flows, Rao said. 
"The valuation seems to be getting ahead of itself, there are a lot of factors that need to be proven for Uber's valuation to come true," he added. 
And Uber's not the only ride-share startup that has something to prove. 
"I feel the ride-hailing companies and on-demand companies are here to stay in one shape or another -- that trend is irreversible," Rao said. "But at what shape and at what value is the question as this point."
Watch More with TheStreet: