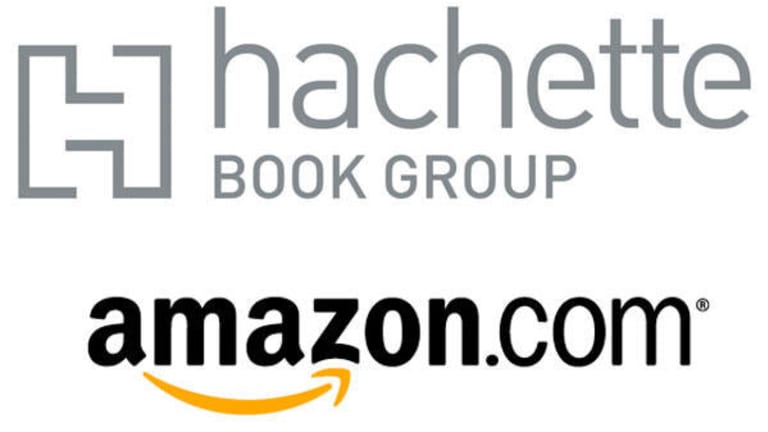 Publish date:
Hachette's Problems Deepen as Simon & Schuster Inks Amazon Deal
Book publisher Hachette's problems are deepening as its trade dispute with Amazon.com drags on.
Book publisher Hachette's problems are deepening as its trade dispute with Amazon.com drags on.
NEW YORK (TheStreet) -- Book publisher Hachette could face problems recruiting and retaining authors if its dispute with Amazon.com (AMZN) - Get Report continues to drag on.
Amazon has been battling with Hachette over who controls the price and revenue share of e-books. The conflict was brought into sharp relief this week when Amazon signed a multiyear deal with Hachette rival Simon & Schuster, a subsidiary of media conglomerate CBS (CBS) - Get Report . Other major publishers such as Penguin Random House and Macmillan have not signed new agreements with Amazon, and their contracts are rumored to be up soon. 
The dispute is significant because Amazon controls 41% of new book sales in the U.S., according to book research firm Codex Group. In the U.S., sales of Hachette titles have fallen by 50% in some cases because of the Amazon dispute, a group of influential authors including Stephen King and James Patterson has said. 
The new deal ensures that Simon & Schuster books and e-books will be sold by the world's biggest book retailer under terms both companies approve of. Meanwhile, Hachette titles are going without preorder capabilities on Amazon and without being discounted by the retailer -- tactics that have hurt sales for potential hits such as J.K. Rowling's The Silkworm (written under pen name Robert Galbraith) and cut into Hachette's bottom line. Conversely, Hachette products make up less than 1% of Amazon's sales.
Each day the dispute continues, Hachette loses out on potential revenue, and in light of an Amazon deal with one of Hachette's rivals, the publisher could start to have new problems recruiting and retaining authors as well. 
Authors and agents weighing a publishing deal with Hachette may consider going elsewhere as long as the publisher's ability to generate book sales with Amazon is in question. 
"It looks a little more like Hachette is 'least-favored nation'," says publishing industry consultant Mike Shatzkin.
Prior to the Amazon deal with Simon & Schuster, agents and publishing industry observers figured that all publishers would eventually wrestle with Amazon and that it was just Hachette's turn. Now they wonder why Hachette hasn't done a deal. 
"It looked O.K. when it was only them and they took a principled stand," says Andrew Rhomberg, founder of book publishing start-up Jellybooks. "But now they look irrational and exposed. Others can find accommodation on reasonable terms, but not Hachette. Authors could turn on Hachette in a second."
Simon & Schuster was quick to point out to its authors that its deal with Amazon will keep sales flowing.
"Our new deal assures that your books will be continuously available for sale at this major retailer through this year's holiday book buying season and well beyond," wrote Simon & Schuster CEO Carolyn Reidy in a letter to authors, obtained by The Street. "It is not our usual practice to announce such agreements, but our publishers and I feel that the high level of public speculation over the status of these talks made it important to let you know about this positive development." 
To be sure, Hachette represents some of the world's biggest authors, including David Baldacci, Kate Atkinson, Robin Roberts, Joshua Ferris, and hundreds more. Agents who did not want to be named because of the extreme sensitivity of the subject have said that the agent community is behind Hachette in its dispute with Amazon. The company is also bullish on its ability to acquire new content. 
"Hachette Book Group's six publishing divisions have made major acquisitions all year long from the biggest and best literary agencies, often for less than other houses offered, as well as contract renewals with many of our biggest authors," says a Hachette representative.
Regardless of how and when Hachette makes peace with Amazon, the company has already lost out on sales for important bestsellers. Rowling's new book, which many thought would be one of the year's biggest hits, debuted at No. 2 on the New York Times bestseller list, a triumph for nearly any author, but not for Rowling.
-- Written by Jeremy Greenfield in New York.