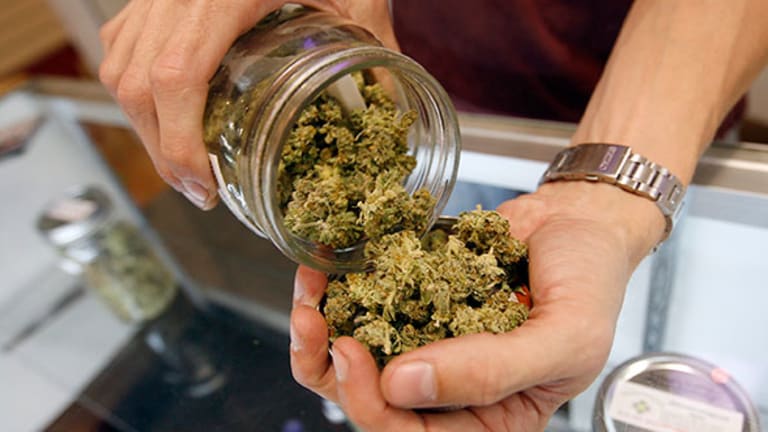 Publish date:
GW Pharmaceuticals Stock Can Make Even More Gains -- Here's Why
The company's share price has increased 1,500% since 2013.
The company's share price has increased 1,500% since 2013.
When it comes to biotech, the profit potential for investors can be "outta sight." However, the key is to find the strongest players in the hottest fields.
And now, few fields in the biotech sector are as hot as cannabis-derived therapies. The overall marijuana industry, including both pharmaceutical and recreational uses, is the fastest growing in the U.S., with some analysts predicting the legal pot market to hit $6.7 billion in sales this year. 
One of the prime players in medical marijuana has been GW Pharmaceuticals (GWPH) - Get Report . This U.K.-based company develops treatments for devastating conditions such as Dravet and Lennox-Gastaut syndromes, severe forms of pediatric epilepsy), as well as multiple sclerosis (MS). While investors should not expect the phenomenal gains of the past three years, the company's share price still has room to grow. 
Over the past three years, the company's share price has rocketed from $8.50 per share in 2013 to more than $137 earlier this month -- a 1,500% increase. GW Pharmaceuticals' shares fell 1.40% in Tuesday trading. 
GW Pharmaceuticals has certainly hit the mainstream. Although there is plenty of growth left for the stock as the company develops new products, investors interested in gains of huge magnitude will have to look elsewhere, although not at rival Insys Therapeutics, or Big Pharma firms Bayer and Novartis, which are developing their own cannabis-derived drugs. 
Their gains will be more gradual. Not so some of the small-caps that are developing cannabis-based products. The challenge for investors will be finding the right ones -- companies that have sufficient marketing resources to reach the public or that become takeover targets. 
As the medical uses of pot increases, investors will see more opportunities for profits in this industry.
---
85% Accurate Trader gives his Personal Guarantee: "Give Me 9 Minutes a Week and I Guarantee You $67,548 a Year." As you can see, Apple remains a great play for investors. But what if I told you I know a way you can see a $67,548 per year - or more - in profitable trades just by following this simple step-by-step process? The trader who is sharing this secret has been right more than 8 out of 10 times, turning $5,000 into more than $5 million for himself. Click here to see how easy it is to follow his lead and collect thousands of dollars in "Free Money" every month.
This article is commentary by an independent contributor. At the time of publication, the author held no positions in the stocks mentioned.