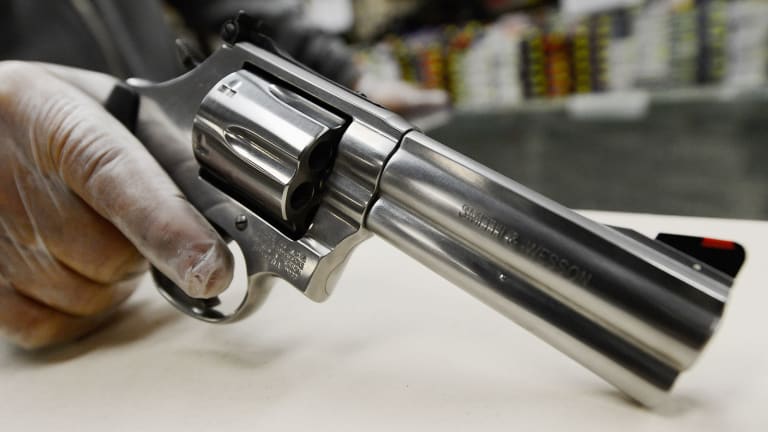 Gun Stocks Plunge Following Trump Victory
Shares of Smith & Wesson and Sturm Ruger were sharply lower on Wednesday morning after Donald Trump won the U.S. presidential election.
Gun stocks were tumbling on Wednesday morning after Donald Trump's presidential election victory.
Shares of Smith & Wesson (SWHC) were recently falling 11.55% to $25.17, while Sturm Ruger (RGR) - Get Sturm, Ruger & Company, Inc. Report stock was down 12.60% to $56.20.
Gun stocks have soared after recent mass shootings in the U.S., which ignited concerns that firearms may be harder to obtain as legislators call for more gun control.
Sturm Ruger said in its quarterly earnings report last week that it saw stronger-than-normal demand during the summer, which was likely supported by political campaigning for the presidential election.
However, Trump's victory could weaken demand as there is less concern about gun control measures.
Wunderlich Securities Analyst Rommel Dionisio said the market appeared to have predicted a Hillary Clinton win. Given her pro-gun control stance, the market expected a Clinton administration could enact gun control legislation regarding tactical rifles or high capacity magazine pistols, he explained.
"Typically the fear of such legislation prompts a near term surge in consumer demand for those types of firearms, as consumers flock to stores to stock up on such firearms before the ban is potentially enacted," Dionisio told TheStreet.
"Naturally with the Trump victory, such consumer fears would subside, so there will likely be no near-term demand surge any time soon for firearms," he added.
On the campaign trail, Trump said he would defend the Second Amendment. "The right of the people to keep and bear arms shall not be infringed upon. Period," his website reads. 
In September, Craig-Hallumsaid the current environment is "as good as it gets" for firearm demand. Based on past cycles, the firm noted that the November election and activity thereafter will likely be the peak of the current firearms cycle and Smith & Wesson stock will react as comparable sales become more difficult.
Earlier this week, Smith & Wesson said it will change its name to American Outdoor Brands as the company attempts to distance itself from gun violence.