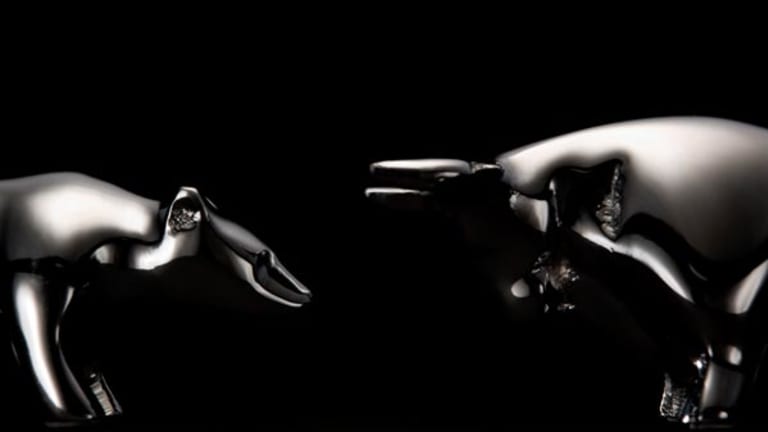 Gun Stocks Outperform Market Following Aurora Shooting
Concerns over a crackdown on gun sales -- however unfounded -- only seem to drive sales higher.
NEW YORK (
) -- Think the horrific shootings in Aurora, Colo., and subsequent discussion of tougher gun laws might worry shareholders of publicly traded gun manufacturers? Think again.
Shares of both
Smith & Wesson Holding Corp.
(SWHC)
and
Sturm, Ruger & Co.
(RGR) - Get Sturm, Ruger & Company, Inc. Report
have outperformed the broader market during the past two trading days since James Holmes allegedly walked into a crowded movie theater during a midnight premiere of The Dark Knight Rises and opened fire, killing 12 people and wounding 58 others.
As of Monday's market close, shares of Smith & Wesson were down by less than .01% since the close of trading Thursday, before the shooting took place. Smith & Wesson manufactured one of the weapons allegedly used by Holmes in the shooting, according to news reports.
Shares of Sturm, Ruger are up 3.6% over the same time period, while the Standard & Poor's 500 has fallen by 1.9% and the Dow Jones Industrial Average (DJIA) has fallen by 1.7%.
Smith & Wesson and Sturm, Ruger are the only two publicly-traded gun manufacturers, though their revenues comprise just 25% of total US commercial gun sales, as most firearms manufacturers are privately held, according to a report published Monday by The Benchmark Company.
The report, which previews Sturm, Ruger's scheduled release of second quarter earnings on Aug. 1, does not mention the Aurora shootings, but is bullish on prospects for both Sturm, Ruger and Smith & Wesson. It notes Sturm, Ruger has a "record backlog", but that "success for
Smith & Wesson does not necessarily spell failure for
Sturm, Ruger."
The report goes on to argue that "increased social acceptance will continue to drive new first-time firearm purchasers, and, depending on the outcome of the election in November, we could see continued political buying well into
fiscal year 2013."
The author of the report, analyst Mike Greene, did not clarify what he meant by "political buying," nor did he respond to a request for comment. However, some investors have lately been arguing that the strength in these gun stocks has paradoxically increased as a result of renewed debate over whether the U.S. should strengthen its gun laws.
Writing on Twitter under the handle @event_trader on Monday, one market watcher wrote, "not surprising to see $RGR and $SWHC green today - renewed gun control debates generally spark fear sales ahead of any potential ban."
Writing for the website
Seeking Alpha
, Nigam Arora
, linking the strong performance of both Sturm, Ruger and Smith & Wesson during the Obama presidency to stockpiling by "gun enthusiasts" afraid the President would try to enact tougher gun laws.
Indeed, since the start of 2008, shares of Sturm, Ruger and Smith & Wesson are up 425% and 61% respectively, compared to negative returns for the DJIA and the S&P 500 and a 7% return for the Nasdaq Composite index.
While the National Rifle Association has continued to push the image of Obama as "anti-gun," the Obama Administration has continued to defend the rights of gun owners even in the wake of last week's shootings
, notes
The Christian Science Monitor
.
--
Written by Dan Freed in New York
.
Disclosure: TheStreet's editorial policy prohibits staff editors, reporters and analysts from holding positions in any individual stocks.