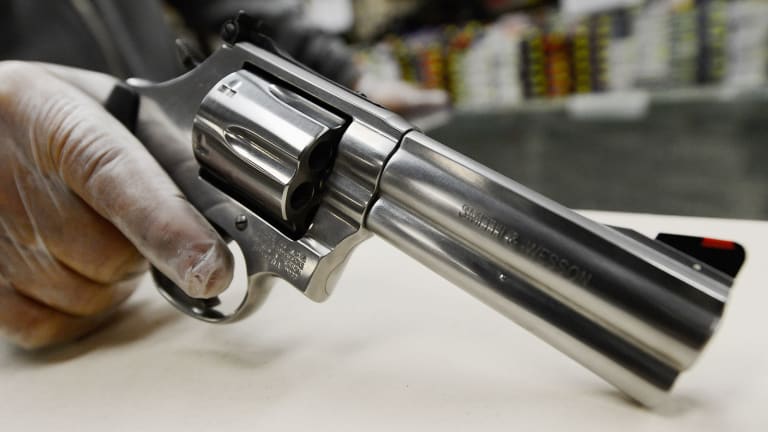 Gun Makers Look to Black Friday Deals to Propel Sluggish Sales
Gun makers have amped up promotions to clear out bloated inventory stockpiles, as fears of increased gun control laws appear groundless.
Gun makers have amped up promotions to clear out bloated inventory stockpiles, as fears of increased gun control laws appear groundless.
Gun control is a big-ticket issue, but it rarely makes much federal traction.
Still, fears that left-leaning lawmakers could at any moment take away gun owners' weapons and carry rights have historically sent gun sellers into overdrive. They fatten inventories to meet anticipated high demand ahead of tightened gun regulation.
Major federal overhaul of gun control laws doesn't look very likely the near future, meaning the crazy demand gun sellers had prepared for during previous administrations is on track to become groundless. To shrink their bloated inventories, sellers are now turning to Black Friday deals on their weapons.
Privately-held Remington Arms Co. is offering a "Pre-Black Friday Savings Event" for handguns and ammunition. The company will knock $100 off the price of handguns bought before Nov. 18, and offer $40 to $75 in cash-back offers on select rifles.
American Outdoor Brands Corp. (AOBC) - Get Report and its Smith & Wesson brand are offering a $50 gift card with the purchase of a revolver or M&P Bodyguard 380 Pistol. "We believe consumers right now are seeking compelling promotions and we fully intend to participate as required to protect and grow our market share," American Outdoor CEO James Debney said in September of the company's full-year outlook.
Storm Ruger & Co. Inc. (RGR) - Get Report said in its third quarter earnings call earlier this month that the company offered "more promotions that were moderately more aggressive than last year."
Bass Pro, LLC-owned Cabela's is offering a range of deals ahead of Black Friday, from $50 off rifles to $25 off ammo. Vista Outdoor Inc.-owned (VSTO) - Get Report Savage has a fall deal running through December that offers a $50 reward on the purchase of any Savage Mark II, Model 93, 93R17 or Rascal firearm.
Storm Ruger stock gained 1.33% to $49.40 Thursday afternoon. Shares are down 6.2% since the start of the year. America Outdoor stock increased 1.42% to $13.53, with shares down about 36% since the beginning of 2017. Vista Outdoor shares pushed higher 2.54% to $14.55 Thursday, down 60% since the start of the year.
Which retailers are kicking off Black Friday early? 
Is Your Wallet Ready for Black Friday?
10 Things Not To Buy on Black Friday
TheStreet's "Black Friday and Holiday Shopping Survival Guide" series aims to to help you, the consumer and the investor, navigate the holiday season, Black Friday, Cyber Monday and everything in between. Through a number stories, videos, graphics and other multimedia elements TheStreet takes a look at the biggest challenges of the season, the winners and losers from the shifting retail environment and much more.