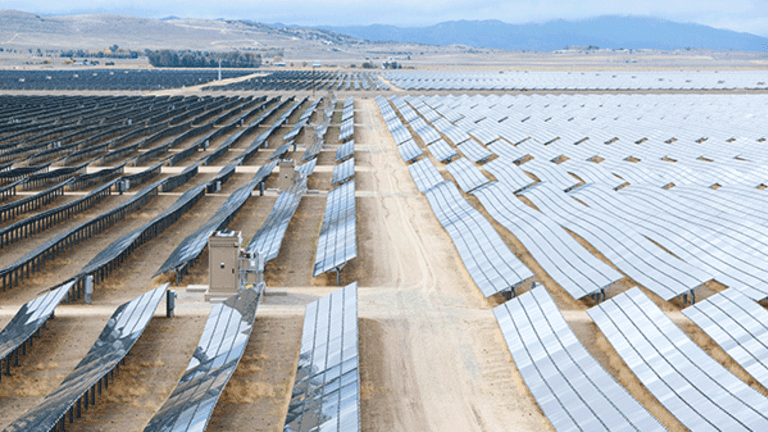 Guidance for 2017 Will Set the Tone for First Solar's Earnings
The solar company's initial guidance for the year ahead spooked investors.
First Solar (FSLR) - Get Free Report is set to report fourth-quarter earnings after the closing bell rings Tuesday, the company's first detailed update on its financial performance since it announced a series of costly restructuring initiatives in November.
Analysts surveyed by FactSet expect First Solar to record earnings of $1 a share on revenue of $404.4 million. Hitting those targets wouldn't do much to avert the company's earnings decline -- it recorded profit of $1.60 a share on revenue of $942.3 million in 2015's fourth quarter.
The company said in November that it expects to book a $500 million to $700 million restructuring charge as it lays off about 1,600 workers and accelerates its solar panel development cycle. However, investors may not be particularly concerned about the blow to First Solar's book value.
"The more relevant question for investors is: What's [earnings and cash flow] guidance going to look like for 2017?" said Raymond James analyst Pavel Molchanov. "First Solar has already given guidance for 2017 -- this was back in November -- and it was pretty rough."
That initial guidance from the company projected 2017 full-year earnings of breakeven to 50 cents a share on net sales of between $2.5 billion and $2.6 billion. First Solar posted full-year earnings of $5.37 a share on $3.58 billion in net sales in 2015 and is expected to report full-year earnings for 2016 of $4.71 a share on net sales of $2.87 billion..
"Obviously, [First Solar's initial guidance] is now priced in," Molchanov added, "so the question is: Is there any change in that outlook? Will they increase it and how is the year going to begin when they give guidance for Q1?"
Shares of First Solar were rising 4% to $36.27 on Tuesday afternoon, well off the $70-per-share range the stock occupied last March.
The entire solar industry took a hit in 2016 as global oversupply concerns roiled panel manufacturers like SunPower (SPWR) - Get Free Report , which reported earlier this month a fourth-quarter loss of 73 cents a share on revenue of $1.08 billion.
First Solar is exposed to the panel-manufacturing industry's struggles, hence its decision to ramp up development of its large-area Series 6 panels with the goal of achieving three gigawatts of production by 2019. Yet it still does brisk business as a project developer.
"With the company's technology strategy laid out for the next several years, we believe the critical variable for First Solar shares will be how its downstream business is moving projects from pipeline into backlog and construction," Oppenheimer analyst Colin Rusch wrote in a research note circulated to investors Tuesday.
The company has inked module supply contracts in France and Australia over the past two weeks that total up to 310 megawatts in production.
"The fact that First Solar recently is predominantly a project developer, that actually insulates it from some of those manufacturing headwinds," Molchanov said. "Anything that hurts manufacturers is actually good from the standpoint of pure project developers. The cheaper the modules get, the better the economics are, all else being equal.
"First Solar, of course, does both. First Solar manufactures its own modules, but primarily it's been building its own projects using those modules. You might say that it has a natural hedge."
data by