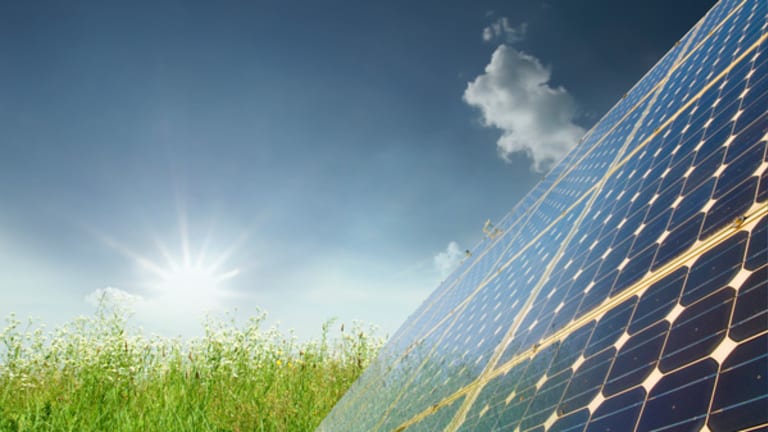 GT Solar Spikes; Analysts Unconvinced
Shares of GT Solar flare Wednesday after a Tuesday after-hours earnings guidance revision, but the fiscal 2011 outlook has actually been revised downward.
(GT Solar story updated for Wednesday closing price, pre-market trading Thursday and volume)
MERRIMACK, N.H. (
) --
GT Solar
(SOLR)
was up on Wednesday just under 7% at the close after its latest earnings, reported in the after-market session on Tuesday.
Trading in GT Solar shares was huge on Wednesday, with more than 8 million shares traded, versus an average daily volume just under one million shares. The stock continued to slide higher in pre-market trading Thursday morning, up by 0.8% to $6.45 a few hours before the opening bell.
Still, the select group of analysts who cover the stock reacted to the earnings with mixed feelings: better-than-expected short-term sales, but the longer-term demand outlook still somewhat negative.
The spike in GT Solar's shares can be attributed to the solar-equipment maker narrowing its earnings guidance to the higher-end of its previously stated range. Fiscal 2010 earning will be in a range between 52 cents and 60 cents per share, as opposed to the previously stated range of 45 cents to 60 cents. What's more, revenues for fiscal 2010 will be in the range of $500 million to $550 million, versus a previous guidance range of $450 million to $550 million.
Still, a closer look at the GT Solar third quarter 2010 earnings provides reason for investors to be cautious. Coming into earnings season, GT Solar had already announced a $40 million deal with Chinese polysilicon player GCL-Poly Energy Holdings of $40 million. Analysts had said to look for new-order growth beyond that GCL-Poly deal since it had already been accounted for in the stock price.
GT Solar reported a net orders number of $59 million -- including the $40 million from GCL-Poly, which represented two-thirds of the new orders. Since GT Solar already got a bump from the GLC-Poly news when it was announced, it should not have received another bump by re-reporting the same deal.
What's more, while the $19 million that was on top of the GCL-Poly deal would still be greater than total new orders for GT Solar in previous quarters, analysts also said investors should look for the level of cancellations and adjustments to orders in the quarter, which could make the new orders a wash.
And that's exactly what happened. GT Solar reported that while it had $59 million in new orders, this level of orders was offset by an equal number of cancellations and adjustments.
Adam Krop, an analyst at Ardour Capital Management, said his net takeaway from the earnings was two-fold. On the one hand, GT Solar did indicate a level of furnace orders that was higher than expected. What's more, the $59 million number was higher than GT Solar had seen since the third quarter of 2009.
However, Krop does not believe that represents a sustainable trend in orders, and simply means that business Ardour expected in the next quarter had been pushed up to this third quarter 2010 reporting period. "The fourth quarter expected number and the third quarter number, essentially, should be a flip-flop from what we thought would happen with the revenue recognition," Krop said.
GT Solar's revenue equation is difficult for analysts to track quarter to quarter, because its order payments are spread out between a percentage paid at the time of the order and a percentage paid later after the order is completed. In the case of reactors, the timeline from order to delivery can be nine to 10 months, while in the case of GT Solar's furnaces, the timeline from order to delivery is generally one month.
The bigger issue for Ardour Capital's Krop was that GT Solar actually reported a wider range of guidance for the 2011 fiscal year than Ardour had expected. "It was below what we were looking for and that forced us to bring our numbers down for 2011," Krop said. While GT Solar saw increased order flow in the quarter, the extent to which customers can increase capacity will be limited, Krop argued, adding, "I don't see major backlog growth."
FBR Capital Markets' analyst Mehdi Hosseini wrote in a GT Solar research note on Wednesday morning that GT Solar has exhibited good business execution amidst a poor demand outlook. The FBR analyst raised his price target on GT Solar from $4.50 to $5. Hosseini also increased his fiscal 2010 guidance on GT Solar, but like Ardour's Krop, sees the longer-term outlook as still unfavorable.
The FBR analyst revised his fiscal 2011 earnings per share and revenue estimate for GT Solar downward to $570 million in revenues and 55 cents per share. Previous fiscal 2011 estimates from FBR had been revenues of $634 million and 60 cents per share earnings. FBR has GT Solar at market perform.
Piper Jaffray analyst Jesse Pichel reiterated his sell on GT Solar, saying that while the third quarter 2010 numbers were surprisingly strong, it was "less important than a shrinking backlog and its outlook for declining F11 revenue and EPS."
Piper Jaffray did raise its price target from $3 to $5, though. GT Solar was trading at $6.30 on Wednesday morning.
Piper Jaffray also believes that there are some large headwinds that GT Solar faces headed into fiscal 2011. The Piper analyst noted that GT Solar's declining backlog and its outlook for a declining fiscal 2011 confirm that the company is beyond its cyclical polysilicon equipment revenue peak.
While GT Solar narrowed fiscal 2010 revenue to $500 million to 550 million, it issued fiscal 2011 guidance of $400 million to $600 million, indicating a 5% revenue decline year over year.
"This is 15% below fiscal 2011 street consensus of $587 million in revenue. Fiscal 2011 earnings per share guidance of 30 cents to 60 cents has a midpoint that is 12% below street consensus of 51 cents.
Analysts look at
GT Solar as an indication of the supply/demand balance in the solar sector, as its furnace and reactor equipment is used to make solar wafers and cells.
There have been major concerns about overcapacity in the solar industry ahead of Germany's decision to reduce its feed-in tariff support for solar, and big solar shares like
First Solar
(FSLR) - Get Free Report
,
Yingli Green Energy
undefined
,
Trina Solar
(TSL)
,
JA Solar
(JASO)
, and
Suntech Power
(STP)
have taken a beating in recent weeks.
The solar stocks have stabilized somewhat this week, with most of the solar players showing positive share-price trends through Monday and Tuesday. On Wednesday, however, solar stocks ended the day mixed. While the solar selloff may have subsided, the climb back up over the past few days may have also reached its point of exhaustion, until the big solar earnings start to be reported.
Given Krop's sober outlook on the GT Solar earnings, why would GT Solar shares spike by 19% between yesterday's after-market session and Wednesday's pre-market?
Krop thinks it may be an indication of short interest on the stock needing to be covered more than a generally positive reaction to the earnings news. "The short interest on the stock is in the range of 10 million shares, and with a stock that only floats 37 million shares, when they print a better number, the short covering has to occur," Krop explained.
"One quarter doesn't represent a trend, and we are still on the sidelines when it comes to GT Solar," Krop said.
-- Reported by Eric Rosenbaum in New York.
RELATED STORIES:
>>Germany May Bend a Bit for Solar
>>Brave New Solar, or Grave New Solar?
>>Should Investors Buy Solar's Growth Prospects?
>>Solar Winners and Losers: JA Solar, Trina Solar
>>See our new stock quote page.
Follow TheStreet.com on
and become a fan on
Copyright 2009 TheStreet.com Inc. All rights reserved. This material may not be published, broadcast, rewritten, or redistributed.