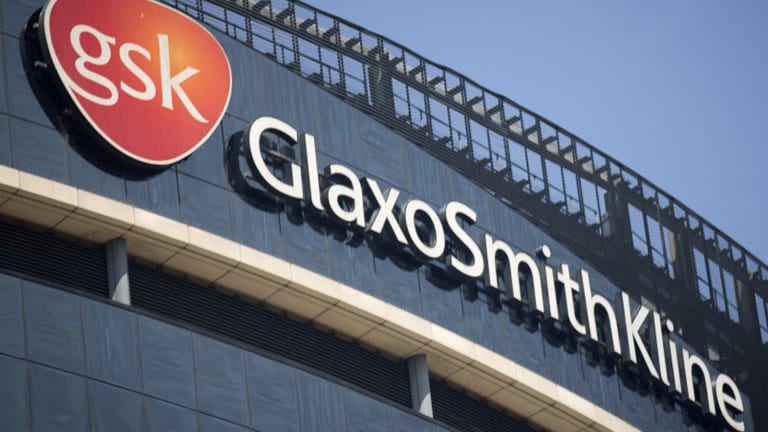 GSK Stock Falls on Reduced Guidance
Higher investment in HIV led GSK to cut earnings guidance
GlaxoSmithKline's  (GSK) - Get GlaxoSmithKline Plc Report stock fell Wednesday after it delivered an in-line set of second-quarter results but reduced its guidance for full-year earnings growth.
The drugmaker said that increased investment in HIV treatments has shaved two percentage points off of its expected growth for the full year. Full-year growth in adjusted earnings per share is now expected to be between 3% and 5%.
GSK reported second quarter sales of £7.2 billion ($9.36 billion), which were up 3% on the period one year ago and broadly in line with the Factset consensus, while operating profit was also in line at £2.02 billion. Adjusted earnings per share of 27.2 pence were moderately ahead of the analyst consensus of 26 pence. 
GlaxoSmithKline shares fell in response, down 1% to 1,570 pence. This was in contrast to the broad gains seen across the drug space in Europe Wednesday. GSK shares have gained just 0.45% over the past three months. 
"Our priority for the second half of the year is to maintain this momentum and prepare for the successful execution of several important near-term launches in Respiratory, Vaccines and HIV," said new CEO Emma Walmsley. 
The reduced guidance may come as a surprise to some given that GSK had previously said it could see earnings per share grow by as much as 7% if there was no Advair generic introduced to the U.S. market this year.
Both Hikma (HKMPY) and Mylan (MYL) - Get Viatris, Inc. Report saw their Advair generics, which are copy-cats of a blockbuster asthma treatment, knocked back by the Food and Drug Administration earlier this year, leaving GSK with a clear field in the states. 
Glaxo has been investing heavily in its HIV franchises to offset the effect of expected challengers to its Advair drug, which accounts for nearly 15% of sales.
In June it sought approval from U.S. and European authorities for its dolutegravir and rilpivirine combination, which is first of its kind treatment designed to reduce the number of tablets that HIV sufferers are forced to take on a daily basis, while also combating the disease. 
The filing was made by ViiV, a joint venture with Pfizer Inc. (PFE) - Get Pfizer Inc. Report and Japan's Shionogi & Co. Ltd. (SGIOY)
More of What's Trending on TheStreet:
Apple Moving Closer to Selling an American Made $1,000 iPhone, Trump Hints
How Birchbox Took on Macy's, J.C. Penney and the $500 Billion Beauty Counter