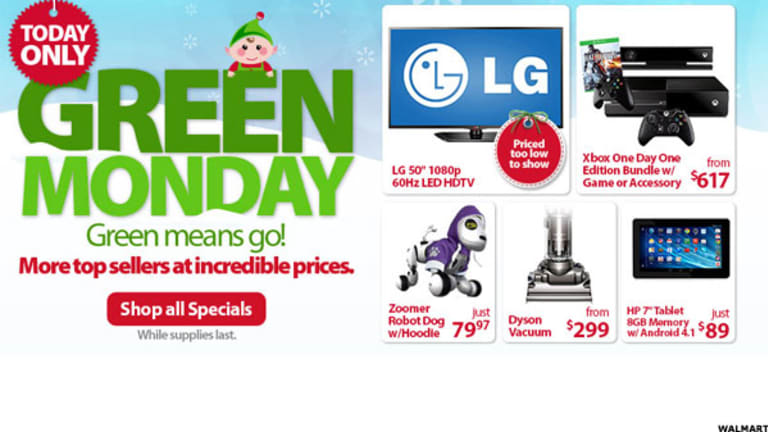 Green Monday Deals, Where Are They? At Wal-Mart
Haven't had enough shopping yet? Green Monday is Monday, Dec. 9.
NEW YORK (TheStreet) -- Now that we're past Brown Thursday, Black Friday, Cyber Monday and Giving Tuesday, next up in the list of named holiday shopping days is "Green Monday" set for Monday, Dec. 9.
Green Monday, the name coined by eBay (EBAY) - Get eBay Inc. Report in 2007 to signify its largest sales day in December, has been steadily growing to one of the biggest online retail shopping days of the month, though still behind Cyber Monday sales. Green Monday usually falls two weeks after Cyber Monday and at least 10 days before Christmas.
Last year the day topped out at $1.27 billion, up 13% from 2011 and the third heaviest online sales day for the season behind Cyber Monday and, randomly, Dec. 4, 2012, according to comScore.
"We will certainly see over $1.5 billion [in online sales] for Green Monday," says Andrew Lipsman, comScore's vice president of marketing and insights, adding that the next two weeks, all the way through Dec. 20, "will see a lot of billion-dollar days."
Cyber Monday online sales set a new record of $2.29 billion, up 16% from 2012, according to the Adobe Digital Index 2013.
"As consumers have embraced online shopping, more purchases have been made on Green Monday in recent years," says BeFrugal.com founder Jon Lal. "This is underscored with a move toward conducting even more holiday shopping online this year; Black Friday -- traditionally a time to be at the mall -- has become an online event in 2013."
So could Green Monday surpass dollars spent on Cyber Monday? The answer is less straightforward than you would think. 
This year's calendar is tricky. Thanksgiving was at the end of November, eliminating six shopping days between turkey day and Christmas leaving consumers less time to shop and bringing Green Monday closer to other large shopping days. 
More broadly speaking, much has changed for the retail industry since 2007.
First, improved technology has now allowed for consumers to essentially shop where they want, when they want on their mobile devices and that's making specific days for shopping, like Black Friday less of the big blockbuster day it had been.
This year, we also see evidence of the flattening out of sales with more retailers extending promotions in response to the changing consumer trends.
The National Retail Federation estimates that spending during the Thanksgiving weekend fell 2.9% to $57.4 billion as consumers spent, on average, 4% less this year compared to last year.
A host of big department and discount stores opened their doors on Thanksgiving and extended deals not only through Cyber Monday, but even throughout the week after. Retailers will be pulling out the Hail Mary passes to get shoppers in the door -- or to the Web site or mobile device app -- all month long.
The question remains though, are shoppers already shopped out from the ongoing holiday promotions that started even before Thanksgiving? Could it be that this year's Green Monday is too close to Cyber Monday, given there are typically two weeks between the days to give consumers a reprieve before fulfilling the rest of their holiday shopping needs?
BeFrugal.com's Lal says to expect to see more shoppers looking for deals and using online coupons when they make purchases on Green Monday.
Even though Wal-Mart (WMT) - Get Walmart Inc. Report said Walmart.com had its best dales day ever on Cyber Monday this year, the world's largest retailer is using Green Monday as another wholly separate promotional day.
Wal-Mart will be offering more than 300 online specials for Green Monday, with 10 popular deals returning from Black Friday weekend, which includes five of Walmart.com's top sellers from last weekend.
The five top-sellers being featured again for Green Monday include:
LEGO Fun with Bricks Building Set, 600 pieces for $15 (a $14 savings)
Canon Black PowerShot SX160 IS 16MP 16x Optical Zoom Digital Camera for $79 (a $90 savings)
HP 7" Tablet Intel Atom Processor with 8GB Memory featuring Android 4.1 (Jelly Bean) for $89 (a $40 savings)
SCEPTRE X405BV-FHDR 40" LED Class 1080P HDTV with ultra slim metal brush bezel, 60Hz for $249 (a $150 savings)
Zoomer Robot Dog with Bonus Hoodie for $79 (a $20 savings)
Wal-Mart is also inviting customers via email, Facebook and mobile to an early shopping event on Sunday, Dec. 8, to be the first to shop 20 of the best Green Monday items before they are widely available.
"The second Monday in December, known as Green Monday, was Walmart.com's highest traffic day in December for two years running, and has always been one of the highest trafficked days of the year," said Joel Anderson, the head of Walmart.com U.S. "With just over two weeks until Christmas, customers who missed out on the great deals last week still have a chance to get the best prices on the hottest gifts, still in stock, one more time."
And once you're done shopping on with Green Monday, don't forget to shop on "Free Shipping Day," set for Dec. 18.
-- Written by Laurie Kulikowski in New York.
Disclosure: TheStreet's editorial policy prohibits staff editors, reporters and analysts from holding positions in any individual stocks.