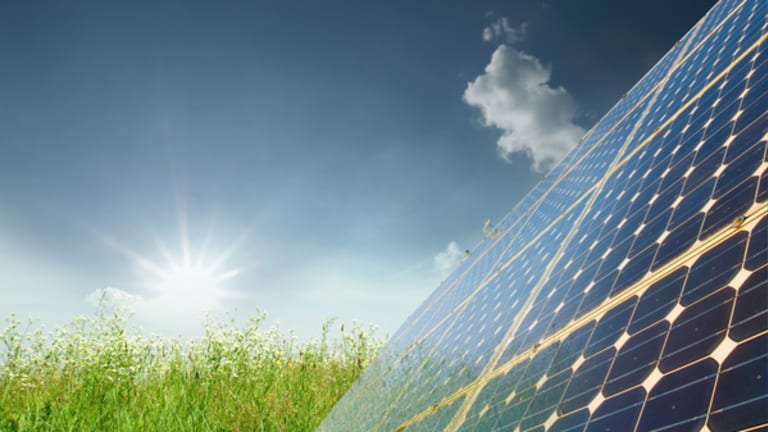 Green Energy Winners: Veeco Confident on Growth
LED sector company Veeco Instruments provides a bullish outlook on coming earnings, but investors are hesitant to send shares of the LED company higher.
NEW YORK (
) -- LED sector equipment play
Veeco
(VECO) - Get Free Report
provided an outlook for order growth in the next two quarters that was bullish, and Veeco shares were up by 3% in trading on Tuesday. The rally in Veeco shares, though, towed a valuation line that Veeco has not been able to break out above. Analysts indicated it may be a signal that investors remain concerned about a looming capacity glut in the LED sector and a slowdown in Chinese subsidies to support the purchase of MOCVD equipment sold by Veeco and its main competitor
Aixtron
(AIXG)
.
On Monday, Barclays downgraded Veeco from buy to hold and set a new price target of $50, down from $60. On Tuesday, after strong results coming in ahead of Wall Street estimates, and a revenue and earnings outlook that was in line with the Wall Street view for the second quarter and full year 2011 -- the guidance also reaffirmed the company's previous outlook -- Veeco shares ended trading at $50.02. It was looking for the moment like Barclays drew the right line in the sand as far as investors versus Veeco. Just last Thursday, before Veeco's bullish outlook and beat, shares had been at the same "pushing $50" level.
On Monday,
TheStreet
explored some Veeco trading triggers, and all were reflected in the earnings and commentary on coming quarters.
>>Green Energy Losers: Veeco Instruments
Veeco reported earnings of $1.32 per share on revenue of $255 million, ahead of the Wall Street consensus of earnings at $1.22 and revenue of $247 million.
For the June quarter, Veeco forecast revenue between $255 million and $285 million. Veeco earnings per share are forecast to be between $1.20 to $1.45. The Veeco guidance mid-point matches the Street consensus of earnings at $1.34 on revenue of $270 million.
For the full year, Veeco reaffirmed its guidance of earnings above $5 and revenue above $1 billion.
John Peeler, Veeco CEO, said in the earnings release, ""We currently forecast Q2 2011 orders at 25% or more above the Q1 level, and we have visibility for continued order strength through Q3," added Peeler.
Patrick Ho, analyst at Stifel, who remains concerned that the Chinese subsidy death knell is coming, said he gave Veeco credit for its order growth outlook on the June quarter, which surpassed his expectations. However, analysts also noted that while Veeco's orders are going up in the June quarter by 25%, in the just-reported quarter orders fell by nearly the same percentage.
In noting the first quarter order drop at Veeco, analyst Mark Miller of Noble Financial, who went to a hold on Veeco after its last quarterly results, said, "Still neutral, while we expect some lumpiness due to the subsidy situation in China, over the next year MOCVD tool bookings will continue to trend down. The question for investors is for how long and how far down will they trend?"
In addition to the order decline in the first quarter, Veeco's backlog declined from $555 million to $530 million in the first quarter, and its book to bill rate declined from .98 to 1 to .91 to 1.
One analyst on the conference call after the Veeco earnings who did not want to be quoted on his fears about the coming capacity issues he sees for the LED sector, expressed frustration with the Wall Street response to the bullish Veeco outlook, saying, "No one had the guts to ask Peeler if he thought the industry was showing signs of or headed to an industry capacity glut!"
There were analysts who remained firmly on the bullish view of Veeco, such as Kaufman Brothers Jeff Bencik, who wrote on Tuesday, "VECO reported a book-to-bill ratio of .91 to 1. However, we believe the shortfall was a result of customer orders coming in toward the end of the quarter that has rolled over into the second quarter. The positive takeaway is that the company noted it expects orders to increase 25% sequentially from 1Q11 levels. In fact, VECO noted that it is already seeing strength in 3Q11 orders. This should lead to acceleration in the book-to-bill ratio well above 1. This order growth and a $530 million backlog, coupled with continuing Chinese subsidies, give us increased confidence in our Street-high 2011 estimates."
The Kaufman Brothers analyst raised his price target on Veeco from $55 to $60, yet Veeco trading, at least on Thursday morning, seemed more in line with the neutral view of the company, in spite of the bullish outlook from its CEO.
Analysts noted that it was the first time CEO Peeler has provided quantified order growth guidance for the coming quarter, and while that was encouraging, it also is a sign of how nervous investors are about the outlook. "Veeco is still seeing growth, and without the numbers, investors might have gotten freaked out," said one analyst who could not be quoted without compliance approval. Yet other analysts noted that Veeco was vague about order growth in the third quarter, and that that was a positive, but that the vague comments about strong conditions in the third quarter will keep those already on the sidelines, on the sidelines.
There is also the belief among analysts that some of the short-term order growth could be related to the classic demand pull-in ahead of the looming subsidy cuts in China, which only pushes out the glut issue, as opposed to solving it.
"This stock shouldn't go down because its valuation remains fairly cheap, but it's hard to dive in and pay up more than $50, so I think Veeco shares are stuck around here," said the LED analyst who could not be quoted without compliance approval. Analysts noted that in the past year Veeco has never been able to break out above $55.
Noble Financial's Miller wrote on Tuesday, "We believe the MOCVD tool market will be facing a capacity glut situation beginning in the second half of this year. Four factors that will contribute to significantly lower MOCVD tool shipments and revenues are the rush in China to order tools before subsidies are reduced or disappear this year; recent introduction of higher throughput MOCVD reactors and tools; entry of new competitors in 2012;
and growth of OLED display market beginning in 2013.
"We believe the Cree and SemiLEDS reports indicate that demand expectations may already be running ahead of capacity adds in the industry and the growing number of competitors along with the expected shipment of over 900 MOCVD tools this year will only serve to further pressure the industry," Miller concluded.
-- Written by Eric Rosenbaum from New York.
RELATED STORIES:
>>Green Energy Losers: Veeco Instruments
>>Citi Takes Aim at Veeco, Again
>To contact the writer of this article, click here:
Eric Rosenbaum
.
>To follow the writer on Twitter, go to
.
>To submit a news tip, send an email to:
.