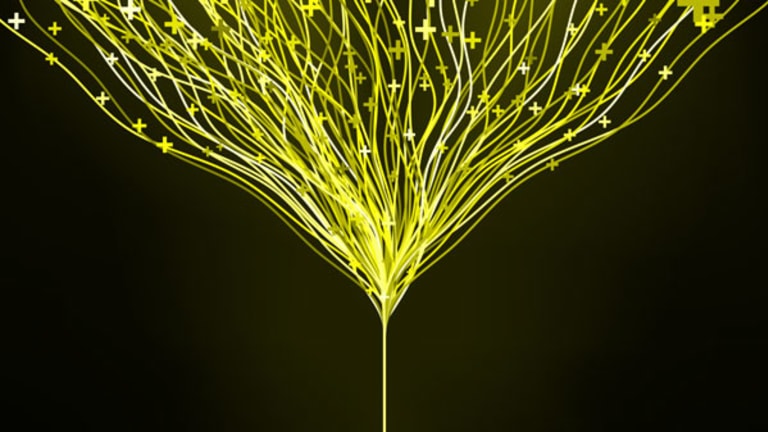 Green Energy Stocks: Electric Cars Stall
The electric car market holds a lot of promise for makers of lithium ion batteries, but that promise hasn't yet paved a road to profitability.
NEW YORK (
) -- In 2010, negative news flow had the upper hand on positive news flow for the lithium ion battery makers, even if the Chevy Volt's media ride kept electric cars in the headlines.
If turning the corner is to be the 2011 story for lithium ion battery stocks, though, the sector stalled this week on a couple of negative items, and trading remains volatile for stocks in the space.
Consumer Reports
released its 2011 car buying issue this week and among the big headlines in the annual ranking was the decision to not recommend
General Motors'
(GM) - Get General Motors Company (GM) Report
Chevy Volt. In fact,
Consumer Reports
advised car buyers looking at an electric car alternative to buy the $23,000 Toyota Prius over the $40,000 Volt.
"We would have really liked to have loved it," David Champion, director of
Consumer Reports
auto test center told
Reuters
this week, adding, "It was fun to drive and the ride quality was pretty good. But when you look at the finances, for us it doesn't make any sense."
If the
Consumer Reports
raining on GM's electric car parade was the macro downer for the electric car market, on Tuesday,
A123 Systems
(AONE)
, the GE-backed U.S. lithium ion battery maker, provided an equivalent micro downer, reporting a quarterly earnings loss greater than the loss expected by the Street.
For analysts covering the lithium ion battery makers, the latest results from A123 Systems continue to highlight the disconnect between the promise in the electric car market and the reality of ramping production to a profitable level in a nascent industry before running out of cash.
If
Consumer Reports
doesn't want people to invest in the Chevy Volt, analysts remain split on recommending A123 Systems to investors, though the prevailing concern this week from the analyst community seemed to be the company's cash burn rate.
Shares of A123 Systems have declined this week post-earnings on elevated trading volume - more than 8 million shares traded over the past two days, versus a typical two day volume of 3 million shares. Shares were rebounding on Thursday as equities surged, up by as much as 7%, but were still down by a double-digit percentage drop for the week. A123's closest U.S. competitor,
Ener1
(HEV)
, was down more than 5% this week, though also finally rebounding on Thursday.
"I've covered A123 Systems since it went public, and there has never been a quarterly report after which I could take numbers up. They keep going down every quarter," said one analyst who covers the lithium ion battery maker but did not want to be quoted on potential revisions of his financial model of the company before it was official.
Theodore, O'Neill, analyst at Wunderlich Securities, was willing to talk openly about his view of the A123 model specifically, and the analyst sees nothing but risk in the cash burn profile of the company.
"AONE will functionally run out of cash by the end of 2011. How much will it need?...The company will need to fill a $300 million hole in 2012," the Wunderlich analyst wrote.
The green energy analyst who did not want to be quoted on a revised model for A123 said that the "back of the envelope" math suggesting a $300 million hole for A123 was realistic. "They missed the revenue number, and the EBITDA loss will be higher in 2011 than in 2010. The fundamentals get worse before they get better, in my view, and it's a question of how fast they burn through cash and as a result, potentially need to raise more money," the analyst added.
Wunderlich's O'Neill and Mark Heller, an analyst at CLSA who covers green energy, said that it's hard to predict in what form A123 will raise money, but the need to raise money is written on the wall, and it could keep an overhang on shares as investors fear a secondary offering of shares and the dilution risk.
"Even with half of the company's capital spending reimbursed from a Department of Energy grant, given the magnitude of the loss in cash from operations, the company will need more capital," Heller said. "There are a host of things that can go wrong. The company is generating negative gross margins and it's not clear to me they can even get costs down to a level where they generate return on capital, and at the same time they are competing with conglomerates in Asia like Samsung and LG," the CLSA analyst added. LG's Compact Power has the contract for the Chevy Volt.
At its current share price an offering may not be likely, but it is a volatile stock and positive headlines can sent shares much higher in a hurry also, analysts noted.
A123 Systems had cash and cash equivalents of $216.8 million at December 31, 2010, compared to $300.8 million at September 30, 2010.
The lithium ion battery maker noted in its earnings, "While costs for our capacity expansion are higher than originally anticipated, they support plans that we believe will enable A123 to be a leading market share supplier in each of our target markets. We expect to see an inflection point in our revenue in the second quarter of 2011 with several customer programs scheduled to enter volume production."
Speaking to production ramps at its partners, CLSA's Heller noted that A123's problems are compounded by the fact that it can't control the execution risk at its car market partners, the most significant being
Fisker Automotive
.
A123 Systems can send the message to the markets that it will be a back-end loaded year as Fisker and other customers ramp, but any hiccup in the production ramps pushes out profitability even further, and sets up A123 for another earnings headline miss.
The Wunderlich analyst wrote in his A123 earnings post-op evaluation that he believes it was a mistake for the company to provide specific revenue guidance given that its performance is dependent on the execution of production partners, and that embeds more risk in the stock.
"Unfortunately, it has no control over the production ramp of its largest automotive customer, Fisker, and it is depending on Fisker to ramp such large volumes that if we followed management's guidance for revenue, it would push 76% of it into the second half. We are unwilling to make the assumption that there will be no execution risk."
In an ironic twist showing the extent of the cash burn issue, the Wunderlich analyst told
TheStreet
that from another perspective, A123 would actually be better off if Fisker and other partners ramped more slowly. The execution risk might push out profitability, but it would lead to less immediate cash drain since A123 would be spending less.
"The company is in negative cash flow land either way, but it's more negative if they have to increase receivables, and benefitting cash-wise from a slower production ramp at partners is like being the tallest midget in a room," O'Neill said.
The analysts also remain concerned about the rate of adoption in the electric car market, especially during a week when
Consumer Reports
pushed car buyers away from the Volt.
CLSA's Heller says it's yet to be proven that there will be mass appeal for electric vehicles, and for cars like the Volt, the
Consumer Reports'
recommendation to buy the Prius over the Volt hits the nail on the head for the time being: on cost alone there is no reason to choose the Volt over the Prius.
The only major contract that A123 Systems has at the moment, for an electric car manufactured by
Fisker Automotive
and that retails for over $100,000, is described by analysts as a luxury market toy. "Fisker is cool and different but it won't be the difference maker for A123 Systems," said an electric car market researcher that couldn't be quoted by name because he is no longer in active securities industries research coverage on the company.
The electric car market researcher made a few important points about the differences between companies with cool technology and companies that should trade reliably as equities. He explained that right now the major automakers want to fuel too much capacity in the lithium ion battery market, keeping all the embryonic companies in competition against each other and seeing where the chips fall in the coming years, but that means companies like A123 Systems continue to lose money for "a long while."
"If I had to pick based on technology, I would say A123 is a leader, but with the cash burn rate it's completely possible that A123 Systems is not even around in five years," the electric car market researcher said.
A123 Systems announced alongside its earnings disappointment and weak outlook that is has a deal slated for 2013 with a major North American manufacturer. This comment has stoked rumors that A123 is in line for a deal with Chevy. The auto maker has previously said that it plans to use multiple battery companies. Yet it's using LG's Compact Power today, according to analysts, because it knows that LG will still be around in 10 years, and some analysts are not willing to make the same claim for A123.
"The industry is doing a lot to keep players in the market, but the market won't take off tomorrow," the electric car market researcher said. He added that the
Consumer Reports
issue highlighted another problem for electric cars: temperature has a significant impact on performance.
GM said in response to the panning of the Volt that
Consumer Reports
should have test driven it in warmer climes. However, the electric car researcher that while it's a valid point, it means that a car like the Volt could not just be a niche car, but a niche car limited to a geographic niche like Southern California. He added that a skeptic could interpret GM's words to mean that in certain parts of the U.S. it will be natural gas or biofuel vehicles that ultimately prove most competitive.
A123 Systems' announcement that it had a big deal lined up in North America for 2013 didn't help this week, though when a partner name is announced, it's shares are likely to receive a trading pop, even if it doesn't answer the question about the road to profitability and the ticking clock of the cash burn and where, exactly, electric cars find success in the U.S. market.
"Automakers are not rushing to embrace the electric vehicle market and the one notable U.S. entrant, the Chevy Volt, just got panned by Consumer Reports as not worth the price. A123 batteries aren't in the Chevy Volt, but its brightest prospect is the U.S. auto market," the Wunderlich analyst concluded.
Indeed, whether a lithium ion battery stocks is bleeding, like A123 Systems was earlier this week, or making up ground like it was on Thursday, the volatile trading magnifies the issues for a company at its stage of development: not only is short-term cash burn an issue, but the long-term trend on which future profitability is predicated is far from a sure thing.
Electric cars don't yet have the pole position, and investors are still years away from knowing which lithium ion battery companies will be along for the ride, if electric cars like the Volt are ultimately lapping competition like the Prius.
-- Written by Eric Rosenbaum from New York.
RELATED STORIES:
>>$100 Oil Prices: U.S. Energy Policy Impact
>To contact the writer of this article, click here:
Eric Rosenbaum
.
>To follow the writer on Twitter, go to
.
>To submit a news tip, send an email to:
.