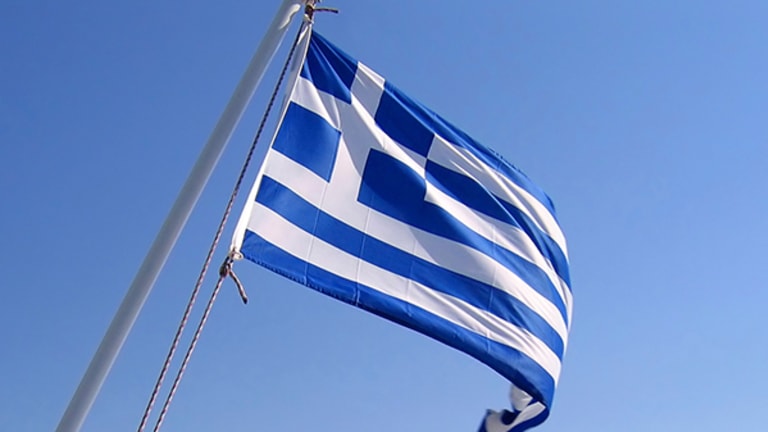 NEW YORK (TheStreet) -- Running a small business isn't easy even in normal times, so imagine what it's like when your country is in the midst of a crippling debt crisis and you're not even sure what currency it will be using in the future.
That's the situation being faced by many small business owners in Greece, and it's hitting exporters particularly hard.
TheStreet caught up with several of them at this year's Summer Fancy Food Show, a gathering that brings specialty food-makers from around the world together with potential customers ranging from small caterers to warehouse giant Costco (COST) - Get Costco Wholesale Corporation Report.
Olive and preserved fruit producer Intercomm Foods, for example, is looking to find its first U.S. partners. But the company has had to comfort uncertain customers, who worry that Intercomm might be unable to fulfill orders due to the Greek debt crisis.
"We've told them we can supply them as we do normally," said Ioanna-Alexandra Saitis of Intercomm's export department, adding that the company has "done its homework" and purchased many imported inputs it needs in advance, from packaging to sugar, to reassure customers.
Another food manufacturer at the show seeking to make its first sales in the U.S. is Violanta, a company that specializes in cream-filled cookies, and which already exports its products to Europe, Asia and the Middle East.
Export manager Philip Zouros said the cookie-maker has achieved a 50% growth rate for the past five years, through the worst of Greece's debt crisis. He proudly showed off the business cards of retailers he had pitched that day, among them Trader Joe's.
But despite developing a new peanut butter-flavored cookie designed to cater to American tastes, Zouros worried about the consequences if Greece were to stop using the euro.
"We may have customers very wary of giving us advance deposits toward an order," he said. That would force them "to first ship the merchandise and be paid after."
But Violanta is in better shape than some of its peers, Zouros suggested, noting that his company has enough cash on hand to afford an arrangement like that with its customers.
For many Greek vendors, a return to the country's old currency, the drachma, would be the most significant and immediate consequence of a possible exit from the eurozone. Since the Greek drachma would almost certainly be valued lower than the euro, Greek food products would be cheaper for the rest of the world, but would also be more expensive to produce.
"The agricultural sector is going to be affected because a lot of inputs -- like fertilizer and packaging -- are imported," said Xenakis Stylianos, managing director of Kayak, an ice cream and frozen yogurt maker.
Stylianos said Kayak is hoping to expand its 50 year-old family business by capitalizing on the Greek yogurt craze in the U.S., but so far, he's only found one retailer in Texas to distribute his goods. Switching to the drachma would make expanding to the U.S. even harder, since it would be more expensive for the company to import feed for its cows and packages for its frozen treats.
"For me, it would be a disaster," said Stylianos.
Still, some businesspeople held out hope that a catastrophic crisis would be avoided.
"Look, we all get worried," said Saitis of Intercomm. "But all we can do is focus on what we're doing and keep doing our jobs."
Apart from the economic issues, though, some vendors complained that criticisms of Greece during the debt crisis have felt personal.
"When they say Greeks are lazy and all that, it makes me mad," said Melina Grigoriadou, export manager at the canned fruit company P. Pavlides. "I don't owe anyone money, I never bought a loan from the bank, I work for money and bring it home. How can you tell me I am lazy?"