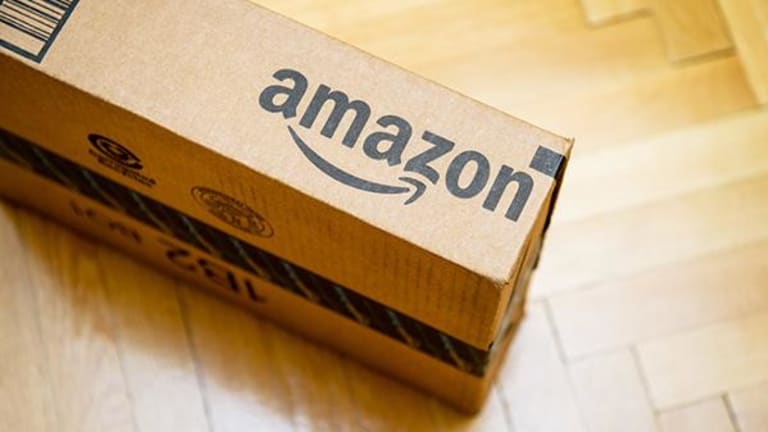 Amazon's Scorching Hot Stock Is Due to Plunge From the Sky, New Chart Hints
This chart should be a red flag in this tech giant's momentum.
What a year to own Amazon.com Inc. (AMZN) - Get Report.
Simply put, Amazon's business is hot right now. But before you buy your next share of Amazon, hold on. There's a red flag that's showing up on this stock's chart.
Jim Cramer talks about oversold retail stocks on Real Money. Get his insights or analysis with a free trial subscription to Real Money.
Since the start of 2017, this online retail behemoth has managed to rally more than 30% higher, elbowing its way to lifetime highs above $1,000 per share.
And along the way, Amazon has been transforming itself further, growing its Amazon Web Services business dramatically and more recently surprising investors with a $13.5 billion deal to acquire Whole Foods Market Inc. (WFM) earlier this month. Amazon is already the undisputed king of e-commerce in the Western hemisphere -- now it's setting its sights on brick-and-mortar.
While it's hard to question all of the amazing successes Amazon has been pulling off lately, it might be worth questioning the price you're paying to own a piece of those successes. Amazon's stock is expensive from a valuation standpoint -- and the price action is signaling that investors are starting to pause as shares hover just below $1,000.
As I write, Amazon trades for 183-times earnings. That's one of the highest P/E ratios of any S&P 500 component. Only Netflix (NFLX) - Get Report has a higher P/E ratio among large-cap S&P components with at least four consecutive quarters of profitability.
To put that into context, Amazon's $2.6 billion in profits in the last 12 months put it 112th place in the S&P, but its massive market cap puts it fourth.
Here's what the price action looks like:
It's been pretty hard to miss the uptrend in Amazon's shares in recent months. Shares have added more than $100 billion to their market value since December alone.
This week, however, shares have been cooling off. But stretching back to mid-May, Amazon has been signaling that a more substantial correction might be on the way.
The pattern in play in Amazon right now is a double top, a bearish reversal pattern that looks just like it sounds. The double top is formed by two swing highs that peak out at approximately the same price level, separated by a low that marks the line in the sand that triggers the downside risk for the trade. In Amazon's case, that breakdown level is $960.
What makes that $960 level in particular so significant for Amazon? It all comes down to buyers and sellers. Price patterns, like this double top, are a good quick way to identify what's going on in the price action, but they're not the actual reason it's worth trading. Instead, the "why" comes down to basic supply and demand for shares of the stock itself.
The $960 support level in Amazon is a place where there has been an excess of demand for shares since May; in other words, it's a spot where buyers have been more eager to step in and buy shares than sellers have been to take gains. That's what makes a breakdown below $960 so significant -- the move means that sellers are finally strong enough to absorb all of the excess demand at that price level.
Price momentum, measured by 14-day RSI at the top of Amazon's chart, is an extra red flag to pay attention to in this price setup. That's because our momentum gauge rolled over in late May, making lower highs on the pair of peaks that make up the double top pattern. Momentum is a leading indicator to price, and the lower peaks create bearish divergence that suggests buying pressure is waning here.
To be clear, this doesn't mean that Amazon looks likely to free-fall from here.
Amazon has always been the poster child for price leading fundamentals anyway. But it does look like this prolonged rally that investors have been enjoying in 2017 is starting to run out of steam -- if and when shares violate $960, it makes sense to take some gains off the table.
Likewise, if you're looking for a buying opportunity this summer, wait for the test of $960 to completely play out before trying to buy shares of this tech giant.
Visit here for the latest business headlines.
Read More Trending Articles:
Nike Officially Arrives on Amazon, but Then Adidas' Stock Does Something Bizarre
Apple Has Dropped Another Beta Product That No One Is Talking About -- Here Are Its Top 5 Features
This article is commentary by an independent contributor. At the time of publication, the author had no positions in the stock mentioned.