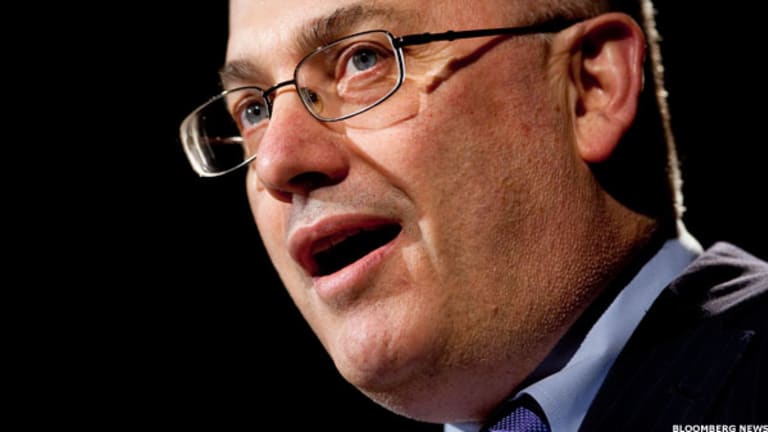 SAC Success Can't Redeem Bank Pussyfooting
The government's SAC Capital case can't undo the damage done by their lack of prosecutions against big banks and their executives.
NEW YORK (TheStreet) -- In case you are keeping score at home, the government is now 77-0 in prosecuting a multi-year insider trading probe, after former SAC Capital Advisors portfolio manager Michael S. Steinberg was convicted by a New York jury on Wednesday on five counts related to criminal insider trading.
Government prosecutors have also won a guilty plea by SAC Capital Advisors, once one of the mightiest hedge funds in the world, in their dragnet of insider trading on Wall Street
But before we begin comparing Preet Bharara, U.S. Attorney for the Southern District of New York, to the likes of Joe DiMaggio or Bill Russell's Boston Celtics, it is important to point out that the government's perfect record on insider trading is marred by its failure to prosecute the largest U.S. banks or their executives for the alleged widespread fraud at the heart of the housing bubble and the 2008 financial crisis.
Yes, insider trading is an appalling abuse of financial markets and undermines the system by which many companies raise capital and most Americans save for retirement. But the losses caused by the alleged and admitted crimes of SAC Capital and its perceived ring of market abusers pales in comparison to the trillions of dollars that were lost by investors and ordinary Americans as a result of the housing bubble and bust.
Unfortunately, the government has been reluctant to define the faulty misrepresentations to homeowners, shareholders and mortgage bond investors as fraud or as crimes that can be prosecuted. The nation's largest banks, including JPMorgan (JPM) - Get JPMorgan Chase & Co. (JPM) Report, Bank of America (BAC) - Get Bank of America Corp Report and Citigroup (C) - Get Citigroup Inc. Report, have spent years paying billions of dollars in fines to the Securities and Exchange Commission, Department of Justice and state attorneys general to settle charges related to their pre-crisis lending, financial disclosures, and securities sales, but have yet to face criminal charges or be asked to admit to fraud.
In JPMorgan's $13 billion settlement with a host of federal and state regulators, New York State Attorney General Eric Schneiderman feigned the notion that the bank had admitted fraud and misrepresentation, however, the Jamie Dimon-run bank made sure to impress upon investors that no such admission had actually been made.
The growing number of convictions in the government's SAC Capital case begs the question of whether it should have taken a much tougher stance against the Wall Street banks at the heart of the crisis.
Judge Jed Rakoff of the Federal District Court in Manhattan, one of the most influential minds on Wall Street fraud, recently excoriated the SEC and DoJ for not bringing cases against the major banks at the heart of the crisis.
Sitting judges don't often speak about ongoing cases that might be brought onto their dockets, but Rakoff expressed the belief that five years after the crisis, the window of opportunity had passed for criminal cases against any major bank.
"[Not] a single high level executive has been successfully prosecuted in connection with the recent financial crisis, and given the fact that most of the relevant criminal provisions are governed by a five-year statute of limitations, it appears very likely that none will be," Rakoff said.
For Rakoff, a lack of prosecutions against individuals revealed alarming and systemic failures of the criminal justice and regulatory system. Explanations for not prosecuting Wall Street executives, such as difficulty in proving intent to defraud investors, the sophistication of Wall Street counterparts, and instances where prosecutions could undermine the economy, were "hollow" and "lame," in Rakoff's words.
Indeed, according to Rakoff, if there was widespread fraud in the mortgage market, prosecutors should have been able to prove executives acted with criminal willful blindness. Government prosecutors, meanwhile, wouldn't need to prove that sophisticated investors relied on disclosures made by a firm for a fraud to have been committed.
Rakoff also characterized ongoing criminal prosecution of insider trading -- including the SAC Capital probe -- as easy and in-process cases that might appeal to an ambitious prosecutor. That would contrast to building a criminal case from scratch against a top Wall Street banker, which could anger government officials who had brokered bailouts, shotgun marriages among failing banks, and also were responsible for misguided de-regulatory policies that helped bring the crisis about in the first place.
It is hard to have more negative perspective on the work of a prosecutors office that now boasts a 77-0 record when trying insider trading.

What is even worse is that the future prospects for prosecuting systemic Wall Street fraud are equally bleak. One recent development comes to mind.
When the so-called Volcker Rule, a controversial piece of the 2010 Dodd Frank Wall Street Reform and Consumer Protection Act, was implemented it asked that bank chief executives personally guarantee to investors that their firms were in compliance with the rule, which seeks to restrict proprietary trading.
From the outset, that CEO certification proved to be among the most troubling pieces of the Volcker Rule. If a CEO certified to investors that their firm was in compliance with the Volcker Rule, only to be found out later to be out of compliance, they could be exposed to criminal charges. Had the Volcker Rule been implemented with such stipulations in 2011, regulators might have seen JPMorgan's so-called "London Whale" trade as reason to bring a case against the bank's top executives.
But fear not JPMorgan, the rule was watered down.
Now a CEO only has to sign off on the notion that their firm has the systems and procedures in place to ensure compliance with the Volcker Rule. Whether or not they comply, or whether a CEO ensures to investors they are in compliance, is now a moot point.
The moral of the story is: good luck bringing Volcker Rule related criminal cases against top bank executives. No top JPMorgan executive has faced criminal charges for the $6.2 billion London Whale trading loss, as investigators focus on junior staff and line managers.
Senators Carl Levin of Michigan and John McCain of Arizona, who investigated JPMorgan's trading loss, have said publicly they believe a case can be made against the bank's upper management. Whether the U.S Attorney's office is willing to do so is still a matter of speculation.
Back to the SAC Capital case.
Michael S. Steinberg is the highest ranking member of the hedge fund to have been convicted of insider trading. Still, the government has yet to charge Steven A. Cohen, the fund's billionaire founder, and it likely only has one or two more shots at doing so.
Matthew Martoma, another former SAC Capital trader, faces criminal charges and maybe Steinberg's conviction may turn the former hedgie into an informant, as many are now speculating.
Even if the government does wind up with a 79-0 record in prosecuting insider trading, it wouldn't make amends for the status of their entirely defeatist case against the banks at the heart of the 2008 crisis.
-- Written by Antoine Gara in New York