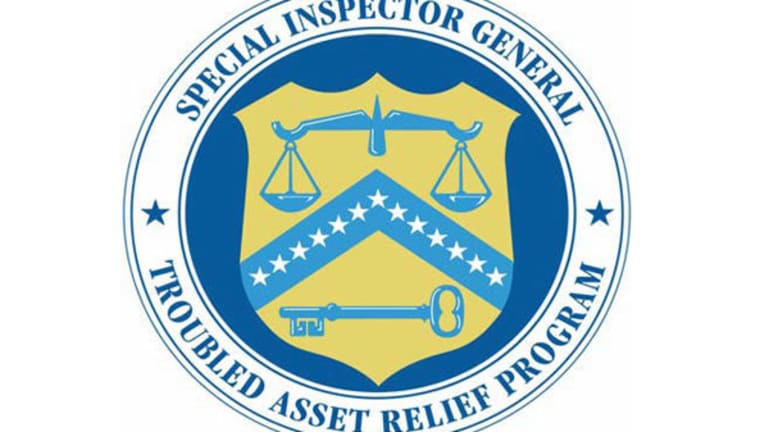 Publish date:
Government Modification Program Has High Re-Default Rate, Watchdog Says
The HAMP program is in need of improvement, the Office of the Special Inspector General for TARP said in its quarterly report to Congress.
The HAMP program is in need of improvement, the Office of the Special Inspector General for TARP said in its quarterly report to Congress.
NEW YORK (
) -- Borrowers who have received mortgage modifications under the government's Home Affordable Modification Program (HAMP) continue to re-default at a startlingly high rate, the Special Inspector General for TARP (SIGTARP) highlighted in its quarterly report to Congress.
HAMP was launched in 2009 to help as many as "3 to 4 million financially struggling homeowners avoid foreclosure by modifying loans to a level that is affordable for borrowers now and sustainable over the long term."
Yet, the government program is woefully short of its target, the watchdog said. As of April 30, 2013, of the 865,000 borrowers who had received permanent modifications, 306,538 had re-defaulted. Of the remaining borrowers in active HAMP permanent modification, 88,000 or about 10% have missed a payment or two and are in danger of re-defaulting.
Worse, the longer the borrower is in the government modification program, the greater his risk of default. Modifications made in 2009 have reached a 46% default rate. Modifications that were made in 2010 are re-defaulting at 38%, the report said.
Twenty-two percent of the borrowers who re-defaulted on their HAMP moved into the foreclosure process, while 12% lost their homes via a short sale or deed-in-lieu of foreclosure process.
The high rate of defaults not only fails to help borrowers, it also costs taxpayers money. Taxpayers have lost $815 million in TARP funds paid as incentives for non-GSE HAMP mortgage modifications for 163,811 homeowners who later redefaulted.
Given that HAMP has been recently extended until 2015, the government program could still be improved, the watchdog said.
SIGTARP found that there were "clear patterns" among those who re-defaulted. Homeowners who were most likely to default were those who received the least reduction in their monthly payment and overall debt, were underwater on their mortgage and/or have sub-prime credit scores at the time of their modification.
It recommended that the Treasury conduct more research into the causes of re-default and find ways to reduce the number of re-defaults.
Treasury should also require servicers to develop an early warning system to identify HAMP borrowers who were at risk of re-defaulting and offering them counseling services and additional assistance. It should also require servicers to direct defaulting borrowers to other alternatives that will help them stay in their homes.
The Treasury defended the HAMP program Wednesday. "...
Mortgage modification programs include an inherent risk of homeowner default, given the difficult situations homeowners face when they seek assistance (like job loss). One of the policy challenges of designing a program like HAMP, particularly given the severity of the recent housing crisis, is giving as many struggling homeowners as possible the chance to keep their home while recognizing that not all will succeed," Mark McArdle,Acting Chief of Homeownership Preservation at the U.S. Department of the Treasury wrote in a post.
He noted that the Treasury has made changes to the program that have helped lower the re-default rates in later years. He also drew attention to studies by the Office of the Comptroller of the Currency that showed that HAMP modifications exhibited lower re-default rates than private modifications, reflecting "HAMP's emphasis on the affordability of monthly payments relative to the borrower's income, verification of income, and completion of a successful trial-payment period."
HAMP had taken steps to encourage principal reduction in order to meaningfully lower monthly payments and reduce negative equity for underwater borrowers. It is also reaching out to borrowers early in their delinquency stage to provide them help under HAMP.
"While re-default remains an unfortunate outcome for some borrowers, clearly without HAMP, national foreclosures rates would have been much higher and many borrowers would not have received the assistance they needed," he wrote.
Currently, private modifications far outpace HAMP modifications, though the program is credited with providing the industry with a template for loan modifications.
-- Written by Shanthi Bharatwaj in New York.
>Contact by
.
Disclosure: TheStreet's editorial policy prohibits staff editors and reporters from holding positions in any individual stocks.