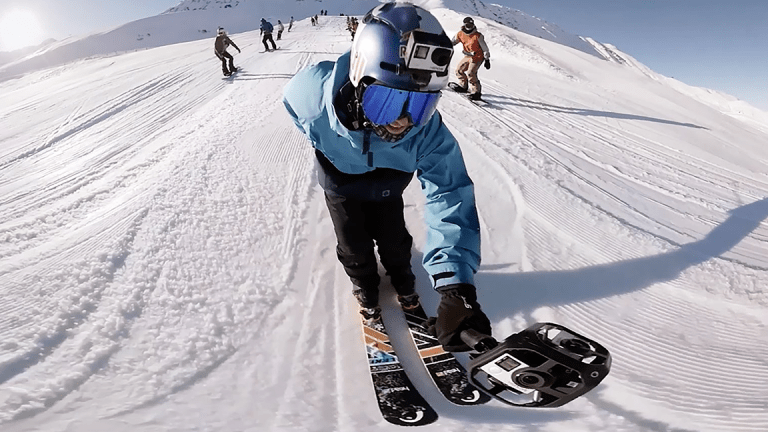 GoPro Will Move Higher -- If It Can Execute This Tricky Maneuver
The action camera maker has recently been releasing improved products on time, but its strategy to smooth out its growth and profitability carries some risk.
GoPro Inc. (GPRO) - Get Report seems to have stopped the bleeding in its sales and growth, but a true turnaround will depend on it pulling off a maneuver worthy of an extreme athlete sporting one of its action cameras. 
On its last earnings call, GoPro CEO Nicholas Woodman announced that the company was going to curtail supply and inventory levels in order become more predictable in its growth and profitability outlook. "...we are building specific inventory levels to achieve low double-digit revenue growth and profitability. And if there is demand that exceeds this, we won't be able to realize it, but that's okay," Woodman said.
While this is a tactic GoPro has used before, it may not please investors looking for a quicker turnaround. But evidence suggests that GoPro returning to its operating roots has produced results. For example, the decision to trim the product lineup in April 2016 from six camera models to three, as it had historically, seems to have stopped the steep decline in sales. It would make sense, then, that another similar move could bear fruit.
However, GoPro investors have not been patient with the turnaround process as the stock remains stuck in the high single digits. So is moderating growth the right approach? '
In recent months there has been an improvement in expectations as the company has released new products on time, and increased guidance. This seems to have put a floor on shares around $9 with that level being tested in the last month and bouncing back above $10. So with updated guidance now expecting sales in the high end of the range and a return to non-GAAP profitability, expectations are heading in the right direction for those betting on a turnaround.
This momentum may be short-lived, however, if management decides to only produce enough product for mediocre growth in the holiday quarter, which historically generates the most revenue. The market may be itching to see the company return to its former glory and show it can be a serious sales force again. The idea is that GoPro should be getting all it can while it's performing for the first time in a few years.
But GoPro's latest strategy is already known to the market, and analysts on average are expecting fourth-quarter revenue of  $520.5 million,  a 3.7% decline year-over-year. GoPro is not likely to move higher if guidance for the next quarter merely meets this. But if GoPro issues Q4 revenue guidance above $540 million, which is what it took in in 4Q 2016, it can achieve both revenue growth and moderation of its supply into the first quarter of 2018.
The only way the market will appreciate GoPro's approach is for it to exceed tempered expectations and prove it can achieve year-over-year growth, while executing on its historically proven strategy. This combination would drive GoPro's price higher in the holiday quarter and into next year -- but it all rests on the guidance issued on Wednesday afternoon.
Now Here's What Jim Cramer Expects from GoPro:
More of What's Trending on TheStreet:
Don't miss the best videos of the week. Put Wall Street on Rewind and sign up for our weekly newsletter.
At the time of publication, the author had a long position in GPRO.