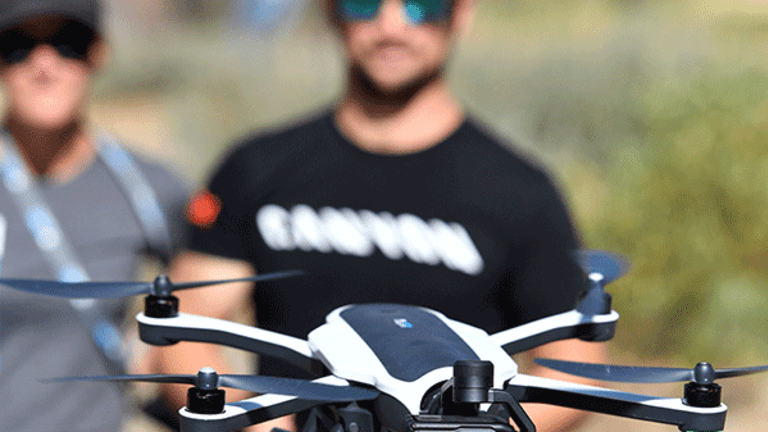 GoPro's Much Hyped $800 Karma Drone Is Getting Raked Over the Coals on Amazon by Buyers
Here's a roundup of the Karma's reviews ahead of GoPro's earnings on Thursday.
GoPro Inc (GPRO) - Get GoPro, Inc. Class A Report recalled its Karma drone product in November, but the camera has continued to receive bad reviews since it was re-released in February, suggesting the addition to the product lineup won't be enough to swing GoPro into the black when it reports earnings Thursday.
The Karma drone was meant to trigger a turnaround for the company, but analyst Travis McCourt of Raymond James said the current product lineup won't be able to return GoPro to "sustainable and profitable growth," according to MarketWatch.
Customers on Amazon.com (AMZN) - Get Amazon.com, Inc. Report rate the $799.99 Karma three out of five stars. One reviewer wrote, "There are no Pros with this drone. That is a shame on GoPro." Others say the stabilizer doesn't work or the battery doesn't fit in any charging port.
Here are some of the worst Karma reviews online.
This Explains Why an iPhone 8 Delay Could Actually Be a Good Sign for Apple
Another reviewer on Amazon: "This is the WORST DRONE EVER!!! I feel sick I spent so much money on this [piece] of JUNK!!! Do NOT buy a Karma. Worst product ever."
And one from a customer who bought the original recalled version, only to be disappointed with the replacement device as well: "If there was an option for zero or negative stars I would have clicked that! DO NOT buy this drone. JUNK!"
And one customer whose long history buying GoPro products was marred by the crashing Karma: "GET A WARRANTY cause you will break this. Doesn't fly intelligent at all."
Though most reviews are lackluster, some customers have been happy with their Karma purchases.
"Great system and easy to use," wrote one pleased customer. "A great drone for starters," wrote another.
And one particularly satisfied Karma owner: "MY BEST AMAZON PURCHASE BY FAR!!!!"
FactSet analysts expect GoPro to report a loss of 25 cents a share when the company reports second quarter results after the bell Thursday. Analysts forecast drone sales of $20 million for the period ended June 30.
GoPro stock traded down over 2.5% early-afternoon.
More of What's Trending on TheStreet:
Watch More with TheStreet:
5 Ways Companies Are Using AI to Secretly Change Your Life
Around the World in 5 Insane Pizza Hut Pizzas
Tesla's Elon Musk Is All Jokes as the Model 3 Accelerates into "Production Hell"