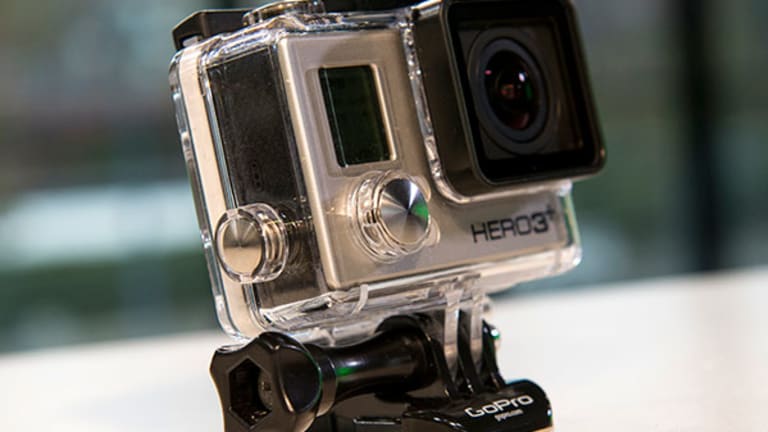 GoPro's Holiday Season Looks 'Better Than Feared' and Now the Stock Is Booming
Here are all the details.
Wall Street might be positively surprised when GoPro (GPRO) - Get Free Report reports fourth-quarter earnings on Thursday, Feb. 2.
The action-camera maker appears to have sold more cameras than expected for the quarter ended December 31, with a "healthy" seven to eight days of inventory at Best Buy (BBY) - Get Free Report , Pacific Crest analysts said in a note today.
The firm raised its fourth-quarter estimates to 2.1 million units from 1.9 million units.
"Checks indicate the fourth quarter turned out better than feared, which could give GoPro a near-term reprieve given high short interest and negative sentiment," analysts Brad Erickson and Elliot Arnson said in the note.
Shares were surging 9.5% to $10.24 on heavy trading volume Tuesday afternoon. More than 7 million shares already have been traded today, well above the average trading volume of 3.6 million shares a day. 
The analysts added that GoPro's $799 Karma drone should begin to ship again in the fiscal 2017 second quarter. 
GoPro recalled the drone in November after battery issues caused some of the units to lose power mid-flight. 
Pacific Crest estimates that the San Mateo, Calif.-based company will ship 150,000 drones in 2017 contributing $88 million in revenue.
The firm nonetheless reiterated its "sector weight" rating on the stock. 
"We think action cameras remain saturated despite some near-term growth due to easier comparisons," the analysts said.
The stock has plunged more than 70% over the past 12 months amid concerns of slowing demand.