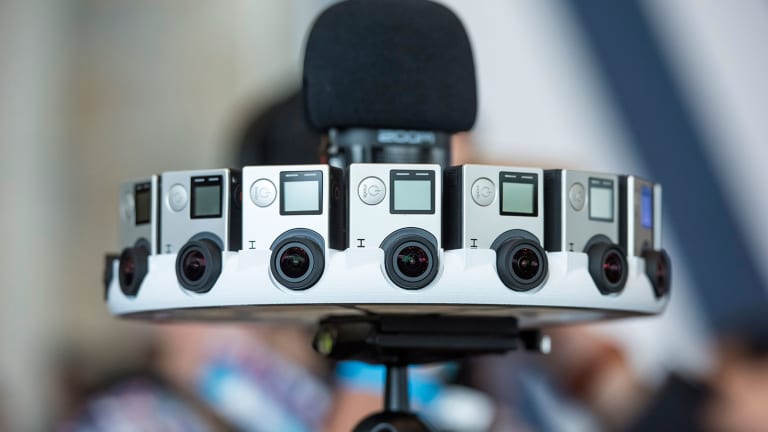 GoPro Stock Craters on Terrible Q4 Sales Estimates, Layoff News
The struggling action camera maker also announced it's exiting the drone business, although founder and CEO Nicholas Woodman predicted a turnaround in 2018.
Action camera maker GoPro, Inc. (GPRO) - Get Report said Monday morning that it will lay off about 20% of its workforce as part of a rough preliminary fourth-quarter earnings announcement. The company also said it would exit the drone market as part of a restructuring, although founder and CEO Nicholas Woodman predicted that performance would improve in the second half of 2018.
After an initial halt on trading Monday, GoPro were down almost 20% to $6.07. The stock is down 38% in the last three months.
Updated from 9:41 a.m. with additional information.
GoPro said Monday it expects $340 million in revenue for the quarter, citing an $80 million hit for "price protection" moves on the Hero6 Black, Hero5 Black and Hero5 Session cameras, as well as the Karma line of drones.  Wall Street expected $472 million in sales, according to FactSet. 
Woodman, who is cutting his cash compensation to $1 for 2018, cited soft demand for the HERO5 Black camera during the holidays, but said profitability and revenue growth will return in the second half of the year.
"Despite significant marketing support, we found consumers were reluctant to purchase Hero5 Black at the same price it launched at one year earlier," Woodman explained in a statement. "Our December 10 holiday price reduction provided a sharp increase in sell-through." Sales of the Hero5 "more than doubled" in the two weeks following the price cuts. GoPro also reduced prices on the Hero6.
GoPro said it is cutting its global workforce from 1,254 employees as of Sept. 2017 to less than 1,000.
While GoPro said its Karma drone is the second-best-selling drone on the market, the company plans to exit the drone business after it sells its current inventory. GoPro attributed the move to challenging margins and a "hostile regulatory environment in Europe and the United States" that have made the drone business "untenable."
The Fusion 360-degree cameras were one bright spot for GoPro, which did not disclose specific sales numbers for it but indicated that sales were better than expected.
More details will come in early February when the company reports its final fourth-quarter results and outlook for 2018.
More of What's Trending on TheStreet: