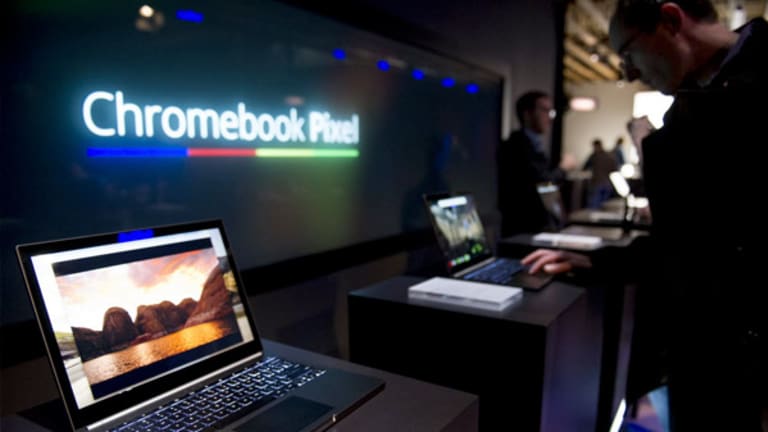 Google Takes Classroom Lead, While Apple and Microsoft Fight for Second Place
You'll find more of Google's Chromebooks in schools than Apple or Microsoft products.
Alphabet's (GOOGL) Google has edged out Apple (AAPL) and Microsoft (MSFT) to become the most popular tech name in U.S. classrooms. 
This position is valuable because the tech market in schools is expected to reach $21 billion by 2020, according to research firm Ibis Capital. However, being the go-to name for tech used in classrooms is even more valuable for the long-term effect, namely introducing students to a company when they're young so they keep purchasing products from that company into their adult life.
Alphabet and Apple are holdings in Jim Cramer's Action Alerts PLUS Charitable Trust Portfolio. Want to be alerted before Cramer buys or sells GOOGL or AAPL? Learn more now.
Google has been able to trump its two big cap tech rivals by offering affordable laptops known as Chromebooks, as well as an admin console that lets teachers control their students' devices and a collection of free apps crafted for the classroom setting. Chromebooks are produced by Samsung (SSNLF)  , Lenovo, Acer and other computer manufacturers and  cost between $150 and $550, vs. Apple's MacBooks that  start at $1,299.
Since Apple's laptops are seen as too expensive for the average classroom, it has made a push to market its iPads to teachers with some success. Apple has even marked iPads down to $299 for schools versus $329 for individual consumers, The New York Times reported. However, while iPads work well for younger students, they lack an attached keyboard for older students who need to write papers and perform more complicated tasks. 
The Chromebooks come with a regular keyboard and are easy to use because they run on Google's Chrome operating system. They also are equipped with useful productivity tools for students, like the Google Docs app that lets students collaborate on a document from different devices. 
Teachers first started purchasing Chromebooks in bulk in 2013. Three years later, Chromebooks made up 58% of the market share for the annual shipments of mobile computers for the grades K through 12, according to research company  Futuresoure Consulting. Windows computers came in second place with 22% market share and Apple came in third place at 19% market share.
More of What's Trending on TheStreet:
A year after its Chromebooks took off in classrooms across the country, Google decided to up its appeal in schools by launching its popular Google Classroom app. Teachers use Google Classroom to take attendance, give assignments and hold discussions. In 2016, Apple followed up with its own Apple Classroom App for iPads, but this was a full two years after the Google Classroom app came out and has already permeated schools. Apple Classroom lets teachers connect to their students' devices so they can launch the same app on all students' devices or to lock all students' screens to keep their attention. 
When Google approaches a school, it can offer the school the complete package, including Chromebooks, classroom apps and even the free version of its Gmail to replace an expensive internal email service. A district spokesperson said Chicago schools have saved about $1.6 million each year on email and associated expenses since switching to Gmail and other Google apps, The Times reported. 
Google can offer this made-for-classrooms package so cheaply because it makes most of its money through advertising, whereas Apple and Microsoft are relying on device sales for the bulk of their revenue, the Times reported. This strategy has led to some questions on what Google does with the data it collects on students. Google maintains that it only collects data it needs to keep offering its services to students and that it doesn't use this data to produce targeted ads. 
Microsoft may be behind Google, but it has managed to quietly overtake Apple in the classroom with a variety of new initiatives, including sending free packages of experiments to schools for students to try out, a new software system that blocks downloads that haven't been approved as safe by Microsoft, and the option to quickly connect a new computer to a school's network by simply inserting a USB memory stick. The company also created an admin system known as Intune that lets teachers block web surfing during tests to limit cheating. 
Unlike Apple, Microsoft also offers more affordable laptops, such as the Surface Laptop that retails for $999 that can be used to run Microsoft's complete Office app package, which the company has started offering to schools for free. 
As the new school year starts, it will be interesting to see how far the three tech giants are willing to go to cater to schools' needs and hook impressional students onto their products and services. For now, Google is doing the best job of giving schools what they need when they need it.