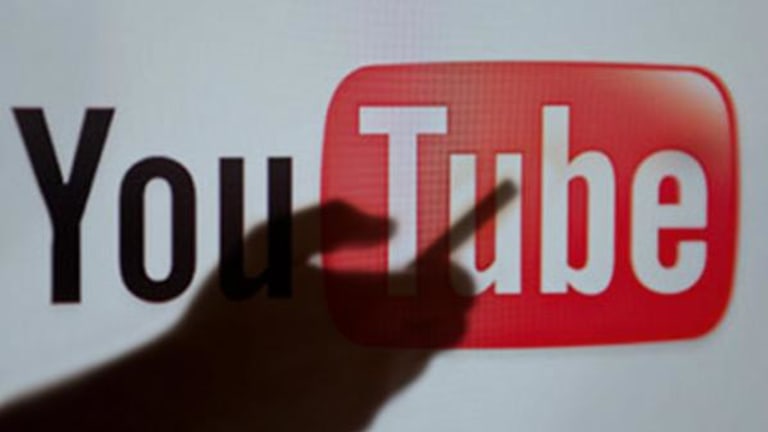 Google's 'Very Very Very Small' Advertising Problem Is Anything but for Some Marketers
Among others, GlaxoSmithKline, which suspended its ads from YouTube, said it will continue boycotting the site until Google can fully resolve its issues with offensive content.
Updated from April 3 with additional analyst notes.
Google's Chief Business Officer, Philipp Schindler, defended his company recently, saying YouTube has experienced a "very very very small" number of cases where advertisements are running alongside the kinds of controversial content discovered earlier this month, such as videos that promote hate speech, violence and racism. 
The offensive videos represent about one one-thousandth of a percent of advertisers' total ad impressions, but Schindler said in an interview with the New York Times that the Alphabet  (GOOGL) - Get Alphabet Inc. Class A Report unit is still taking the issue seriously. 
"We take this as seriously as we've ever taken a problem," Schindler told the Times. "We've been in emergency mode."
Google has been reassuring a slew of major, multinational brands that YouTube remains a safe place to advertise by rolling out account-level protections and updating its ad policies. Schindler told Bloomberg that since companies including AT&T (T) - Get AT&T Inc. Report , Coca-Cola (K) - Get Kellogg Company (K) Report and Verizon (VZ) - Get Verizon Communications Inc. Report announced they'd be halting advertisements on YouTube, Google has allocated more of its high-level machine learning technologies to ferreting out offensive content on the video website.
And the company is taking big steps for a good reason: According to FBN Securities analyst Shebly Seyrafi, Alphabet stands to lose as much as $1 billion in revenue (or 4% of its total ad sales) in the fiscal second quarter as a result of the brand safety issues. Google's advertising revenue will continue to be impacted in the fiscal third quarter, but should recover by the end of 2017, Seyrafi said in a note to clients on Tuesday.  
Shares of Alphabet were falling 0.8% to $849.82 in morning trading on Tuesday. 
BMO Capital Markets analyst Daniel Salmon argued in his own note on Tuesday, however, that the financial impact of the controversy should be in the "low hundred millions," and that some brands have actually increased their ad spending on the site. That's because they've used the protest as an opportunity to capture market share from the companies who are boycotting YouTube. Salmon said that he expects the boycotts to end in the next several weeks. Additionally, he downgraded Alphabet's stock to Market Perform from Outperform, citing increased competition from Amazon's (AMZN) - Get Amazon.com, Inc. Report ad business. 
In communications with media buyers, Google said its new policy and product changes have resulted in the company detecting five times the number of inappropriate videos as before. Additionally, Google on Monday announced that it's working with third party organizations such as DoubleVerify and comScore to keep track of how often ads are appearing alongside controversial videos.
But even that doesn't seem to be enough for some advertisers, who said they've chosen to continue keeping ads off of YouTube until Google can demonstrate that the ad problem has been definitively addressed. 
Alphabet is a holding in Jim Cramer'sAction Alerts PLUS Charitable Trust Portfolio. Want to be alerted before Cramer buys or sells GOOGL? Learn more now.
"We are encouraged by the enhanced brand safety measures Google has outlined today, but our suspension of advertising through specific technology platforms will remain in place while these are further developed and implemented," a GlaxoSmithKline (GSK) - Get GlaxoSmithKline plc Sponsored ADR Report spokesperson told TheStreet. "We will continue to work with Google to ensure adequate safeguards are put in place as soon as possible."
The pharmaceutical giant said earlier this month that it had raised concerns about the advertising issues directly with Google, and that the possibility of their brands being placed next to "extremist content" is "completely unacceptable."
Representatives from Verizon and AT&T didn't comment on whether they had resumed advertising yet on YouTube, but Johnson & Johnson (JNJ) - Get Johnson & Johnson (JNJ) Report said it is bringing advertisements back to YouTube and Google's display advertising business, Bloomberg reports. Eric Schiffer, CEO of digitalmarketing.com, who provides crisis management to brands including Coca-Cola, Intel (INTC) - Get Intel Corporation (INTC) Report and GlaxoSmithKline, said that one of his clients, a "major consumer goods company," has resumed advertising on YouTube. Other brands, however, are holding off on making a decision for now. 
"Some are still in wait-and-see mode," Schiffer said. "There are a few that have really benefited from YouTube that can't wait any longer [to resume advertising]."
That said, media buyers would be "foolish" to permanently ban advertisements from YouTube, Schiffer noted, because YouTube receives "tremendous" levels of advertising impressions from millennial audiences. 
"The advertisers will definitely be back, unless they want to risk going out of business," Schiffer explained. "You would risk hurting your brand to not be there once they clean this up."
eMarketer analyst Paul Verna said the ad controversy definitely won't serve as a "fatal blow" to YouTube, rather as a wake up call for all tech giants (Facebook (FB) - Get Facebook, Inc. Class A Report , Snap (SNAP) - Get Snap, Inc. Class A Report and Twitter (TWTR) - Get Twitter, Inc. Report ) that these are issues that must be addressed with automated advertising systems. 
In a statement to TheStreet, Google said that "as part of our commitment to provide even more transparency and visibility to our advertising partners, we'll be working with trusted vendors to provide third party brand safety reporting on YouTube."
DoubleVerify, one of the data analytics companies working with YouTube, said that its technology had helped 85 million brand ads from appearing alongside "inflammatory and fake news" sites in March. The company said in a statement that it works with AT&T, as well as hundreds of global automotive, financial services and consumer goods companies to provide advertising placement data. 
Mike Henry, CEO of video analytics firm OpenSlate, said Google and many of its advertisers have to work as quickly as possible to resolve the issue, as many marketing teams are starting to plan their advertising campaigns for the fall season and 2018. Media buying agency GroupM said last week that it hired OpenSlate to help advertisers buy "brand safe" ads on YouTube.
OpenSlate has also been working with Google for the past five years to help keep brands away from offensive content, said Andrea Ching, OpenSlate's chief marketing officer, who added that the company's business has increased "tenfold" since Google's ad issues first arose earlier this month. 
Marketers on average spend $100,000 on their YouTube campaigns, where their advertisements can run across more than 250,000 videos, Henry said. In total, there are more than three million ad-supported YouTube channels, or accounts, he added. That makes for a lot of content that data companies are charged with analyzing. 
"The thing that's wonderful about YouTube is anyone can go there and publish a video and make money doing that," Henry explained. "But the challenge is also that anyone can publish a video and YouTube is required to provide that monetization proposition every time."
Schiffer and other critics argue that Google should be allocating more humans to analyzing and monitoring YouTube content, but Schindler, Google's business chief, told Bloomberg that the problem can't and shouldn't be solved by humans. Schindler added that Google won't consider limiting its monetization policies either. 
"Cutting away the ability for brands to truly interact with consumers by asking for one hundred percent safety is very, very, very unrealistic," Schindler said.