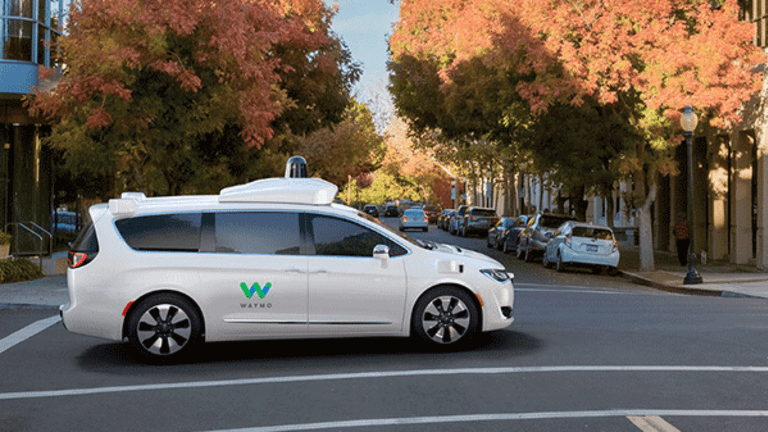 Google's Uber Lawsuit Reflects the High-Stakes Battles Over Intellectual Property
Waymo's lawsuit makes charges similar to those Zenimax brought against Oculus and Facebook.
Alphabet (GOOGL) - Get Alphabet Inc. Class A Report unit Waymo's request that a federal judge in California halt Uber from using its self-driving automotive technology reflects the high stakes placed on intellectual property that is fueling the emerging businesses of Silicon Valley.
As Waymo charges that an ex-manager took IP to recent Uber acquisition Otto, Tesla (TSLA) - Get Tesla Inc Report has filed suit against the former director of its self-driving car unit for allegedly trying to poach staff and steal data for a rival startup. Meanwhile, Zenimax recently argued successfully that a former ace programmer took its IP to Oculus, which Facebook (FB) - Get Facebook, Inc. Class A Report  later acquired for $2 billion.
Alphabet and Facebook are holdings in Jim Cramer's Action Alerts PLUS Charitable Trust Portfolio. Want to be alerted before Cramer buys or sells GOOGL or FB? Learn more now.
The disputes represent the strategic importance and the high price tags placed on IP.
"We live in an age where that is where the value of companies resides," said one tech lawyer. Disputes over staff defections and IP are likely to continue for reasons that range from human nature to professional mobility to developments in patent law.
The suits brought by Waymo and Zenimax allege that staffers downloaded company files before walking out the door. Waymo charges that former manager Anthony Levandowski took 14,000 or so documents when he left the company in January 2016 for Otto, a startup that Uber acquired months later for $680 million.
Zenimax argued that software unit technical director John Carmack downloaded "thousands of documents" after he left the company for Oculus in August 2013, less than a year before Facebook bought the virtual reality startup for $2 billion. Zenimax said it "invested tens of millions" over "many years" to develop the technology that Carmack downloaded onto a USB drive.
Developing autonomous cars or virtual reality systems can take years and can be slow-moving projects. When a staffer has solved some of the bottlenecking issues, the tech lawyer said, it can be tempting to go to a startup that operates at a fast pace and may attract a dizzying valuation.
Even engineers with impressive resumes and experience can leave "a trail of breadcrumbs that are not that hard to find" when downloading intellectual property, the lawyer said. "Its remarkable that people before they leave a job, no matter how technologically advanced they are, think downloading, storing and leaving with information on a removable drive or on a Dropbox won't be tracked or found out later," he said. "People don't expect to be caught and don't understand that these things are tracked."
Waymo suspected that its IP had been accidentally Cc'd on an email from an Uber suppler that detailed a circuit board. "This circuit board bears a striking resemblance to Waymo's own highly confidential and proprietary design and reflects Waymo trade secrets," pleadings by the self-driving car business show. The Google unit then says that it uncovered Levandowski's efforts to "raid Waymo's design server and then conceal his activities."
Similar cases have occurred in other sectors that rely on technology. Goldman Sachs (GS) - Get Goldman Sachs Group, Inc. (GS) Report alleged that former programmer Sergey Aleynikov took proprietary computer models for high-frequency trading, for instance. The New York state appeals court upheld Aleynikov's conviction in January.
If companies fear that their IP is at risk, they can invoke the doctrine of inevitable disclosure to prevent an employee from moving to a rival. The argument goes that a staffer on sensitive work could not help but inevitably disclose that information. "It's a tough area of law," said the tech lawyer.
IBM (IBM) - Get International Business Machines (IBM) Report won a preliminary injunction in 2008 stopping server executive Mark Papermaster from going to Apple (AAPL) - Get Apple Inc. (AAPL) Report to run the iPod and iPhone businesses. "IBM's intellectual property is its most valuable asset, and, in this case, Papermaster is a 'top expert' in one of IBM's key areas of technical know-how," Judge Kenneth Karas wrote, even though the companies compete in different markets. Apple serves consumers while IBM sells to large enterprises. Papermaster, who had a non-comptete clause, also has been given access to sensitive strategic information, the judge observed. IBM also had to pay him a year's salary if he agreed not to work at Apple.
Apple is a holding in Jim Cramer's Action Alerts PLUS Charitable Trust Portfolio. Want to be alerted before Cramer buys or sells AAPL? Learn more now.
The parties ultimately settled in 2009. Papermaster left Apple the next year after the wireless antenna problems that hit the iPhone 4 and other issues. 
Director Oliver Stone's "Snowden" illustrates that advances in technology make technology easier to steal. In Stone's film, Edward Snowen, played by Joseph Gordon-Levitt, conceals an SD card with purloined information in a Rubik's Cube as he exits a government building through a security checkpoint. Whether or not the scene is accurate, it reminds us how easily data is moved. The cloud, of course, is even more ephemeral. 
While Moore's Law enables employees to walk out of a company with gigabytes of intellectual property, the Supreme Court's June 2014 ruling in Alice v. CLS Bank has made it more difficult to enforce software patents.
Meanwhile, the fast-moving autonomous car market keeps moving ahead despite the slow-turning wheels of justice. Chinese ride-sharing outfit Didi Chuxing, which acquired Uber's operations in China, is starting an R&D center in Mountain View, Calif., where Alphabet is headquartered.
The high-stakes battles for tech talent and cutting-edge intellectual property are only increasing.