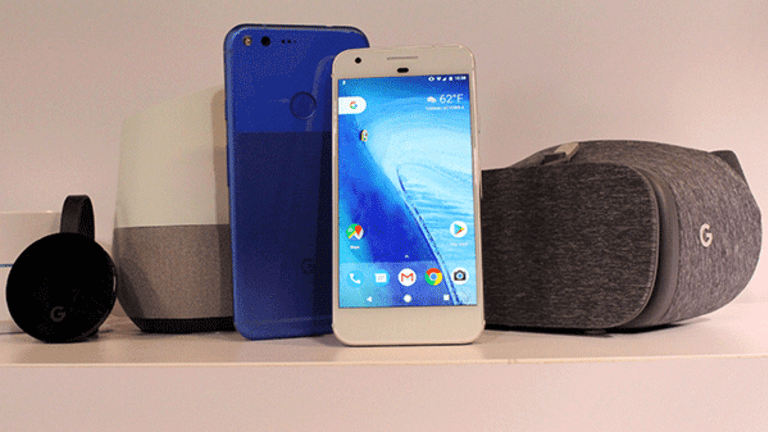 Google's Reported Plans to Invest in LG Display Show How Big It's Thinking With the Pixel
If a new report is true, Google is looking to significantly ramp Pixel sales this year via new models. Expanded distribution could be part of the plan.
When Alphabet/Google (GOOGL) - Get Report first launched its Pixel and Pixel XL phones last October, skeptics argued that the move didn't represent a big change from Google's traditional phone strategy, in which it partnered with the likes of Huawei and LG to offer phones (under the Nexus brand) that ran "stock" Android and weren't sold via carriers. In the skeptics' eyes, phones were still just a sideshow for Google, one meant to showcase its vision of what Android hardware should be rather than any serious attempt to compete with Apple (AAPL) - Get Reportor Samsung (SSNLF) .
But Google's heavy spending on ads promoting the Pixel showed that it was taking the business seriously, as did its resale deals with Verizon (VZ) - Get Report and certain international carriers and its willingness to temporarily make the Google Assistant service a Pixel exclusive. A new report provides yet another sign that Google is hungry to grow Pixel sales, and perhaps also that the company plans to offer this year's models through more carriers.
South Korea's Electronic Times reported Google has offered to invest KRW 1 trillion ($880 million) in LG Display (LPL) - Get Report to help the latter create a production line for flexible OLED panels that would be used on second-generation Pixel phones. LG is said to be "carefully considering" the offer.
LG Display supplies OLEDs for smartwatches such as the Apple Watch, as well as for OLED TV sets, but the company hasn't been a notable supplier of OLED phone panels. Indeed, whereas Samsung -- the OLED panel market's dominant player -- extensively uses OLEDs within its phones, LG's G6 and V20 high-end phones use LCD panels.
Likely motivating Google to adopt flexible OLEDs: The 5.8-inch and 6.2-inch curved OLED displays of Samsung's new Galaxy S8 and S8-Plus phones that have turned heads. In addition, Apple is expected to launch an iPhone 8 with a 5.8-inch curved OLED display this September, and has reportedly ordered 70 million OLED panels from Samsung for its 2017 needs.
The first-generation Pixel and Pixel XL both use rigid OLED panels. Apple's apparently huge flexible OLED needs, together with Samsung's internal needs, might be motivating Google to secure supplies from a third party. It's also possible that Google is wary of becoming dependent on Samsung, since high iPhone and Android customer loyalty rates show that Samsung is arguably the Pixel's biggest rival rather than Apple.
And like many other U.S. tech giants, Google is sitting on giant stockpiles of offshore cash that -- at least until an offshore tax holiday arrives -- it's looking to find good uses for. Of the $86.3 billion in cash Alphabet had at the end of 2016, $52 billion was parked overseas.
Jim Cramer and the AAP team hold positions in Apple and Alphabet for their Action Alerts PLUS Charitable Trust Portfolio. Want to be alerted before Cramer buys or sells AAPL or GOOGL? Learn more now.
One other possibility for an LG alliance: Google could partner with the company to bring devices with flexible or foldable OLEDs to market further down the line. LG, like Samsung, has worked on experimental OLED panels that could be rolled up or folded. Samsung was previously reported to be planning to launch a low-volume foldable phone this year, but has tried to temper near-term expectations. Apple was reported last year to be exploring the use of flexible OLEDs within future iPads that would yield "revolutionary" changes in the tablets' design and user interface.
Alphabet doesn't break out phone sales by themselves. But the company did report its "Google Other" revenue, which covers all non-advertising revenue streams outside of Alphabet's "Other Bets" category, rose 62% annually in the fourth quarter to $3.4 billion. Pixel sales are believed to be the largest factor behind this increase, with Google Play and cloud service growth playing secondary roles.
Mizuho analyst Neil Doshi estimates Google sold 1 million to 1.5 million Pixel phones in Q4 -- not a bad start, and perhaps good for $700 million to $1 billion in revenue, but still a small fraction of the 78.3 million iPhones Apple sold during the quarter. The size of the reported LG investment offer suggests Google wants to sell a lot more Pixel phones this fall.
There's certainly a lot of room to grow the Pixel's distribution this year from its current modest levels. For now, the phones are only available in the U.S., the U.K., Germany, Canada and Australia, with Google typically partnering with just one carrier per country. Launching the phones in additional markets, and via multiple carriers per country, would likely do much to boost sales. Avoiding the supply issues that have marred first-gen Pixel sales also wouldn't hurt.
It's still unrealistic to expect Google's high-end phone sales to near Apple and Samsung's anytime soon. Apple and Samsung's brand power, distribution reach, marketing budgets and hardware R&D investments make it tough to take share in anything but an incremental manner, even when something like Samsung's Galaxy Note 7 fiasco is there to help. And Apple, of course, relies on a unique software and services ecosystem to keep users loyal.
But Google does seem to be thinking big. Confident that it can maintain the loyalty of Android OEMs even as it directly competes with them thanks to the operating system's dominant position, it sees no reason why it can't have its cake and eat it too, grabbing a healthy chunk of the lucrative high-end Android phone market while still more broadly profiting from the integration of Google's well-monetized services with its version of Android. Last year's Pixel launches may have simply been an opening salvo.