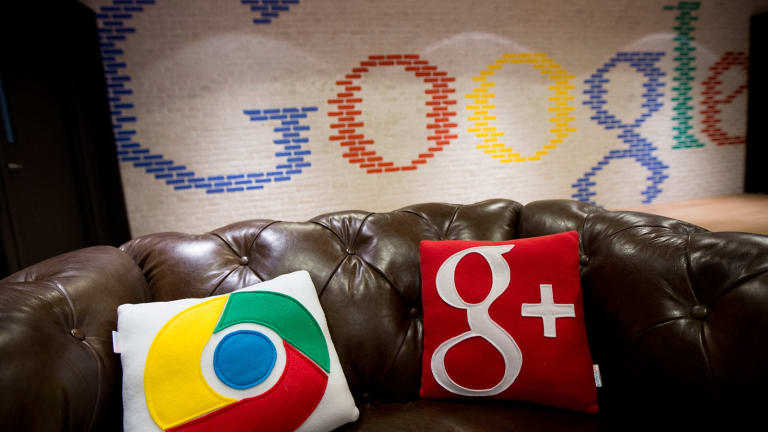 In a tech landscape where Microsoft (MSFT) - Get Microsoft Corporation (MSFT) Report is embracing open-source software and Intel (INTC) - Get Intel Corporation (INTC) Report is manufacturing ARM-based processors for third parties, maybe it shouldn't be that shocking to see a report that Alphabet/Google (GOOGL) - Get Alphabet Inc. Class A Report plans to bake an ad-blocker into its Chrome browser. Like Microsoft and Intel, Google realizes that likely-futile attempt to resist a big industry trend that threatens some of its existing businesses is less in its long-term interests than embracing the trend, while perhaps gaining some say in how it unfolds.
But in Google's case, the conflicts of interest created by its reported attempt to co-opt a threat could hurt its ability to successfully do so. That's both because consumers might decide that Google's offering is too compromised, and because regulators might view it as an attempt to use a leading position in one market to quash smaller rivals in another where it also looms large.
The Wall Street Journalreported on Wednesday evening that Google plans to integrate an ad-blocker into both the PC and mobile versions of Chrome that "could be switched on by default" and would block ads "deemed to provide bad experiences." The solution could be launched "within weeks," though it's also possible that Google might cancel its plans.
Importantly, the report said that Google's ad-blocker will only focus on blocking ads that failed to meet the Coalition for Better Ads' recently-announced standards. On PCs, such ads include "pop-up ads, auto-play video ads with sound, prestitial ads with countdown and large sticky ads." On mobile devices, they include "pop-up ads, prestitial ads, ads with density greater than 30%, flashing animated ads, auto-play video ads with sound, postitial ads with countdown, full-screen scrollover ads, and large sticky ads."
Based on those standards, Google's bread-and-butter AdWords search ads shouldn't be affected by its ad-blocker. Neither should many of the ads shown by the company's AdSense, DoubleClick and AdMob display ad platforms.
YouTube is a big question mark. The site often shows pre-roll video ads that appear before a video plays, and thus technically qualify as "auto-play video ads with sound." But Google could exempt them on the grounds that they're attached to a video rather than ads accompanying an article or some other content. Beyond that, it's hard to imagine Google damaging what's likely its second-biggest ad business after search.
Meanwhile, Google's ad-blocker could ignite a fresh battle with Facebook (FB) - Get Facebook, Inc. Class A Report, which recently began auto-playing videos with sound turned on by default. Facebook took steps to combat PC ad-blockers last year, and might try to deal with Google's ad-blocker the same way. Regardless, with Facebook having received 84% of its ad revenue from mobile devices last quarter, and the lion's share of this revenue believed to have come from its apps rather than its mobile site, its exposure to browser ad-blockers is limited.
Ultimately, Google appears to be hoping that consumers who have embraced ad-blocking will opt for its relatively limited solution than more comprehensive ones such as AdBlock Plus, which surpassed 100 million active users last spring thanks to the popularity of its PC browser plug-ins -- they "whitelist" Google's search ads, but block many other Google ads. Ad services firm PageFair estimates PC ad-blocker users grew by 17% globally last year to 236 million systems.
PageFair also estimates mobile ad-blocker usage rose by 30% to 615 million devices. But a large portion of these users are either in China, where Google's services are mostly absent, or in developing countries whose low per capita incomes limit their digital ad spend.
In developed markets, there has been some adoption of ad-blockers supported by mobile browsers from Apple (AAPL) - Get Apple Inc. (AAPL) Report, Samsung and Mozilla, but uptake hasn't been massive. The fact that so much mobile online activity involves using apps rather than browsers undoubtedly has a lot to do with this.
Jim Cramer and the AAP team hold positions in Apple, Facebook and Alphabet for their Action Alerts PLUS Charitable Trust Portfolio. Want to be alerted before Cramer buys or sells AAPL, FB or GOOGL? Learn more now.
Still, with rumors of the PC's death greatly exaggerated -- PC browsing still accounted for close to a third of U.S. digital time spent as of last summer, according to comScore -- there's plenty of incentive for Google to take on the ad-blocking threat. Especially since younger and higher-income users coveted by marketers are more likely to use PC ad-blockers in the U.S. and Europe.
And Chrome's enormous popularity guarantees that any ad-blocker built into the browser will be widely used. Google claimed last November there are over 2 billion copies of Chrome in active use. Research firm StatCounter estimates Chrome now a 52.8% global browsing share, and a 62.8% PC browsing share.
In addition, Google's effort could gain the backing of publishers whose ads meet the Coalition's standards. A growing number of web publishers have begun demanding that visitors disable their ad-blockers to see their content. Some might make an exception for Google's ad-blocker if they think it will do little harm, in the hopes that visitors will avoid using something like AdBlock Plus.
On the other hand, it's quite likely that many existing ad-blocker users will decide that Google's offering simply doesn't go far enough if they see that many video and animated ads are still appearing. For example, someone used to watching an hour of ad-blocked video each day on his or her PC browser is unlikely to stop using AdBlock Plus.
It's also likely that third-party ad tech firms depending on ads that falling short of the Coalition's standards will take umbrage at Google's move. These firms, many of whom are already struggling to contend with Google and Facebook's online ad dominance, could argue that a built-in Chrome ad-blocker that exempts most of Google's ads amounts to unfair competition. And it's not hard to imagine EU regulators that have already filed charges against Google over other ad practices hearing them out.
But even if regulators give Google a pass, its Chrome ad-blocker will need to be one part of a multi-part strategy to discourage the use of third-party ad-blockers. In addition to promoting an alternative, Google and third-party publishers will need to convince those relying on tools such as AdBlock Plus that it's no longer worth it to keep using them, due to things like workarounds and prompts demanding an ad-blocker be disabled for site access.
And that's going to cause more friction with web users than Google would prefer.