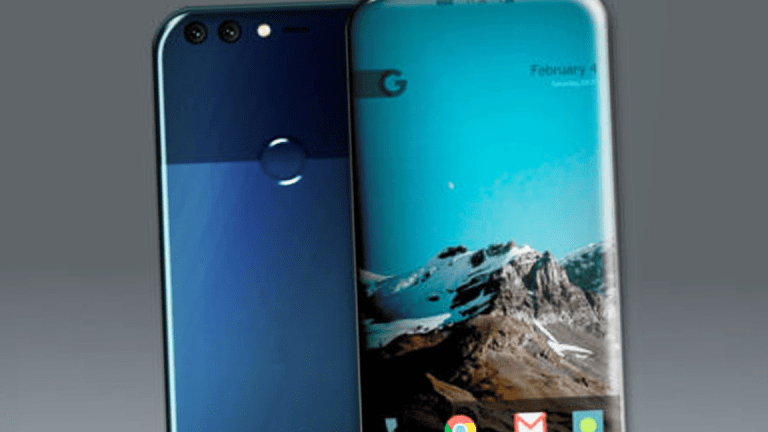 Publish date:
Google Big Pixel 2 Launch Event on Wednesday: Here's What to Expect
Google's latest high-end smartphones reportedly pack improved displays, but their cameras might be at a disadvantage compared to those of its top rivals, Apple and Samsung.
Google's latest high-end smartphones reportedly pack improved displays, but their cameras might be at a disadvantage compared to those of its top rivals, Apple and Samsung.
This column has been updated from Sep. 7 to note the launch date for Google's Pixel event, as well as to mention the iPhone X launch and Google's deal to buy phone assets from HTC.
For so many hit consumer electronics products, it has been the second-gen version of the product that has propelled it to stardom rather than the first. That's because its creators relied on customer feedback, technology advances and at times better distribution to deliver a mass-market hit the second time around.
For Apple Inc. (AAPL) - Get Apple Inc. (AAPL) Report , the iPhone 3G and iPad 2 each shipped in far greater volumes than the original iPhone and iPad. For Samsung (SSNLF) , it was the Galaxy S II far more than the original Galaxy S that made Samsung the undisputed leader of the high-end Android phone market. And it was the Galaxy Note II more than the original Note that made phablets a big part of this market. Likewise, Microsoft Corp.'s (MSFT) - Get Microsoft Corporation (MSFT) Report Xbox 360 console easily outsold the original Xbox.
Can Alphabet Inc./Google's (GOOGL) - Get Alphabet Inc. Class A Report Pixel phone line see a similar breakout via the expected fall launch of second-gen Pixel phones? While the new Pixels -- expected to be unveiled at an Oct. 4 event starting as 12 p.m. ET -- should benefit from better distribution, what has been reported about the phones to date, along with what's known and reported about rival hardware, suggests Google faces an uphill battle.
Reports indicate Google will sell a standard Pixel 2 sporting a 5-inch display that has a traditional 16-to-9 aspect ratio, as well as a 6-inch Pixel XL 2 featuring a wider 18-to-9 aspect ratio, close to what Samsung's Galaxy S8 and Note 8 phones use. Like rival 2017 Android phones featuring OLED displays, the displays reportedly support an "Always On" mode that makes useful information and controls quickly available with minimal battery usage.
The rumor mill also indicates that Google's Oct. 4 event will feature the unveiling of a $49 home speaker known as the Google Home Mini, a new Pixel-branded Chromebook and a revamped version of Google's Daydream VR headset (it works with certain Android phones). The company might also show off Bluetooth headphones with built-in Google Assistant support.
The new Pixel phones are expected to be powered by Qualcomm Inc.'s (QCOM) - Get QUALCOMM Incorporated Report Snapdragon 836 processor -- a slightly-improved version of its current Snapdragon 835 flagship -- and run Google's just-launched Android 8.0 (Oreo). And like some HTC phones, they'll reportedly have frames that can do things such as launch the camera app or bring up the lock screen when squeezed.
On Sept. 20, Google announced a $1.1 billion deal to buy much of HTC's struggling phone business and obtain a non-exclusive license to HTC's intellectual property. HTC has been Google's contract manufacturer for the original Pixels and (along with LG) is rumored to be one of the manufacturers for the second-gen Pixel. Acquiring HTC's mobile assets could provide Google with some useful hardware engineering talent, and also speed the pace at which the company can add new hardware innovations to future phones.
The second-gen Pixels look decent overall, and should find an audience with consumers partial to the Pixel line's uncluttered Android interface (technically, it's not "stock" Android) relative to custom interfaces that make bigger changes, such as Samsung's TouchWiz and HTC's Sense. Another appealing feature is Google's ability to quickly push Android updates to its phones.
In addition, should it leave starting prices for its smaller and larger Pixels at $649 and $769, respectively, Google should be able to undercut its top rivals. Samsung's Galaxy S8 and S8 Plus carry $750 and $800 starting prices, respectively, and the Note 8 -- which launched recently to good reviews -- sells for over $900. The iPhone 8 and 8 Plus start at $699 and $799, respectively, while the iPhone X will cost $999 and up.
Jim Cramer and the AAP team hold positions in Apple and Alphabet for their Action Alerts PLUS Charitable Trust Portfolio. Want to be alerted before Cramer buys or sells AAPL or GOOGL? Learn more now.
More of What's Trending on TheStreet:
This Nissan (NSANY) Leaf is also a cool tech gadget for $30,000.
Meanwhile, the Pixel's distribution will almost certainly improve. The first-gen Pixels are only available in the U.S., the U.K., Germany, Canada and Australia. And though they work on the networks of all four major U.S. carriers, Verizon Communications Inc. (VZ) - Get Verizon Communications Inc. Report is the only one to retail the devices. Carrier distribution is also limited in the U.K. and Germany. Supporting more countries and adding new carrier partners should provide a sales boost.
But in a couple respects, the Pixel 2 and XL 2 might come up lacking relative to major rivals. Their displays don't appear to wrap around a phone's edges the way that the displays on the iPhone X and Samsung's Galaxy S8, S8 Plus and Note 8 do. More importantly, whereas the Note 8, the iPhone 8 and LG's G6 and V30 high-end phones all sport dual rear cameras, Google is reportedly sticking with a single rear camera.
To be fair, the solitary rear cameras found on last year's Pixels got very high marks for image quality, and it's safe to assume this year's cameras will, too. But the primary rear cameras on Samsung and Apple's high-end phones are no slouches, either. And having dual cameras enables a number of features that consumers are warming to, such as optical zoom, the ability to take wide-angle shots (through a dedicated wide-angle lens) and the ability to create depth-of-field effects such as background blur. Outside of the display, there's no bigger selling point for a smartphone than its cameras, and Google could be at a disadvantage here.
In addition, the iPhone X has its TrueDepth front camera -- it supports 3D face-mapping abilities that enable the phone's Face ID face-unlocking system -- as a selling point. And the iPhone X, along with the iPhone 6S, 7 and 8, also supports Apple's ARKit augmented reality platform for iOS apps, which has a head-start on Google's ARCore platform for Android apps in being commercialized.
The fact that high-end Android loyalty rates, like iPhone loyalty rates, are pretty high, should keep a lid on how many would-be Pixel buyers end up getting an iPhone 8 or X. But the unique hardware and software features supported by Apple's next flagship are bound to tempt some Android users.
What makes such feature disadvantages especially worrisome is that Apple and Samsung are very much the incumbents in the high-end smartphone market, and Google, for all its brand power, is the upstart. By and large, Google is the vendor tasked with convincing millions of consumers who have long been loyal to some other smartphone brand with a giant advertising budget to jump ship, rather than the other way around. And as the likes of LG, Sony (SNE) - Get SONY GROUP CORPORATION SPONSORED ADR Report , Huawei and HTC will gladly tell you, that's not an easy thing to do -- especially if a rival phone can't claim a big edge in functionality.
The original Pixels have been moderately successful -- research firm BayStreet estimated 1.8 million sales as of June -- and the newer models will likely build on that success some. But unless the rumor mill is drastically underselling what the Pixel 2 and Pixel XL 2 will be capable of, one shouldn't expect fireworks.