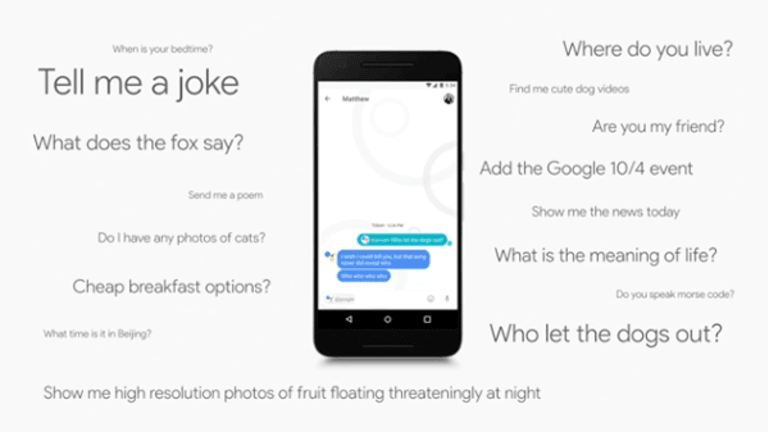 Google's New Smartphones Show It's Serious About Challenging Apple and Samsung
Google's decision to sell its new Pixel phones via carriers speaks volumes.
Though Tuesday's Google event was packed with product announcements -- see TheStreet's live blog for our initial coverage -- arguably the most important detail to come out of it didn't involve any particular feature for a revealed product. Rather, it involved how two of those products -- Google's Pixel and Pixel XL smartphones -- will be sold.
Whereas the Alphabet (GOOGL) - Get Alphabet Inc. Class A Report subsidiary's Nexus phones (apparently being discontinued) have been sold only by Google itself and a handful of retailers, major carriers will also sell the 5-inch Pixel and 5.5-inch Pixel XL. Verizon (VZ) - Get Verizon Communications Inc. Report is Google's exclusive U.S. carrier provider for the phones, and top British carrier EE appears to have a similar role in the U.K. The phones will also be available through Google's Project Fi mobile/Wi-Fi service, which relies on Sprint (S) - Get SentinelOne, Inc. Class A Report and T-Mobile's (TMUS) - Get T-Mobile US, Inc. Report networks. 
The relatively high prices being charged by Google are also a change of pace: The Pixel and Pixel XL, respectively, start at $649 and $769, or the same starting prices Apple (AAPL) - Get Apple Inc. Report has set, respectively, for the iPhone 7 and 7-Plus. Whereas Nexus phone buyers have typically had to pay the full price of a phone up-front, Pixel buyers will have access to carrier installment and smartphone upgrade plans, which in turn makes higher prices more palatable to consumers.
Another change: While hardware wasn't exactly an afterthought with Nexus phones, the main selling point of the devices, other than their reasonable prices, was the fact they ran "stock" Android. This meant they lacked a custom interface such as Samsung's TouchWiz, and could upgrade to the latest version of Android faster than most other phones. To a large extent, hardware design was handled by partners such as Huawei and LG.
This time, Google is selling users not just on stock Android, but also a premium end-to-end smartphone experience. While HTC is manufacturing the Pixel phones, Google insists HTC's role is no different from Foxconn's role in manufacturing iPhones.
Google and Apple are holdings in Jim Cramer's Action Alerts PLUS Charitable Trust Portfolio. Want to be alerted before Cramer buys or sells GOOGL or AAPL? Learn more now.
The phones feature 12.3-megapixel rear cameras that earned a record image-quality score for a smartphone camera in testing done by software firm DxO Labs. In addition, Google exec Dan Burke said during the event that the Pixel features Google-optimized chipsets that deliver unmatched photo-taking and touchscreen response times for an Android phone, as well as proprietary modem technology. This kind of under-the-hood hardware R&D is straight out of Apple's playbook.
Other notable features include support for Quick Charge 3.0 -- it's promised to provide up to 7 hours of battery life with just 15 minutes of charging -- a new app launcher that's exclusive to Pixel phones for now, Android 7.1 (Nougat), and the inclusion of unlimited photo and video cloud storage at a file's original resolution. Outside of a ho-hum 1080p resolution for the standard Pixel's display -- the Pixel XL has a 2K-resolution display -- it's hard to find fault with either phone's feature set.
Samsung (SSNLF) , which has dominated the high-end Android phone market for years, has to be on edge over the Pixel and Pixel XL launches, particularly since they come on the heels of its Note 7 fiasco. Apple can't be pleased either, but is relatively insulated by high iPhone loyalty rates and the "stickiness" of the iOS ecosystem.
With Android accounting for about 85% of global smartphone unit sales and iOS most of the rest, Google apparently feels it can step on the toes of its hardware partners without facing a major backlash. The strategy has its risks, but it has worked out well thus far for Microsoft (MSFT) - Get Microsoft Corporation Report and its Surface line.
Outside of the Pixel phones and their strategic implications, perhaps the most important reveal from Google's event was the outlining of the company's vision for its A.I.-powered Google Assistant service. Assistant is built into Nougat, as well as Google's $129 Home speaker, which competes against Amazon's (AMZN) - Get Amazon.com, Inc. Report Echo line.
CEO Sundar Pichai kicked off Google's event by declaring that we're moving from a mobile-first world to an A.I.-first world. And over the course of the event, Pichai and other Google execs backed up this assertion by lavishing attention on Assistant features such as its advanced conversational skills, ability to provide contextual information by analyzing a conversation and understanding of the nature of a voice interaction based on what appears on a smartphone screen.
Importantly, Google also unveiled plans to open up Assistant to third-party software developers, and to have it run on a wide variety of Google and third-party hardware. Google is simultaneously a leader and a laggard in the voice assistant space: Assistant's A.I., Google Search integration and ability to leverage all of the data Google has received from handling billions of voice searches are all differentiators, but Apple, Microsoft and Amazon all have a head-start in providing fully conversational interfaces, and Amazon's Alexa assistant claims a larger ecosystem for now.
Assistant has a lot of potential, but also some catching up to do. The service is about both protecting the flank of Google's search empire by lowering the number of searches that are lost to rival voice assistant services, and growing that empire by getting users to issue many kinds of voice commands and queries they normally wouldn't rely on Google Search for.
Regardless, those looking back at this event in a couple of years will probably best remember it as the point where Google's smartphone efforts went from being a sideshow with a cult following, to a business that's being taken seriously and squarely competes against the smartphone market's biggest names.