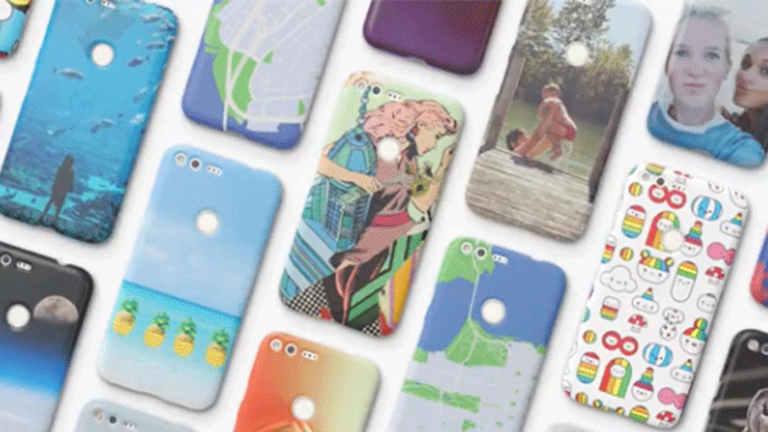 Publish date:
Google's New Pixel Phones Are Shaping Up to Be a Big Hit
Reviews for Google's high-end smartphones have been very positive, and pre-orders appear strong. Strong sales could move the needle even for a company as large as Google.
Reviews for Google's high-end smartphones have been very positive, and pre-orders appear strong. Strong sales could move the needle even for a company as large as Google.
Editors' pick: Originally published Oct. 19.
With the Note 7 literally going up in flames, Samsung has given Alphabet's (GOOGL) - Get ReportGoogle a golden opportunity to join an upper echelon of high-end smartphone makers that currently has just two names. Initial reviews and order activity for the company's Pixel and Pixel XL phones give reason to think the opportunity won't be wasted.
Two weeks after Google unveiled the first smartphones to bear the company's Pixel brand, a gaggle of reviewers have declared the devices to be the best Android phones available. "Google has come out of the gate with a top-flight phone and suddenly, there's no longer an Apple-Samsung duopoly in premium handsets," writes long-time Apple (AAPL) - Get Report fan Walt Mossberg.
"[The Pixel] changes my answer to the question I hear most often: What phone should you get?," saysWired's David Pierce. "The Android iPhone You've Been Waiting For," reads the headline of a review from The Wall Street Journal's Joanna Stern.
Though there are some points of criticism, the Pixel's hardware and software received high marks overall. The 12-megapixel rear camera, already proclaimed by imaging software firm DxO to be the best of any smartphone it has tested, was found to be as good as advertised. Pierce: "[T]he colors, dynamic range, and sharpness matched or exceeded every phone I've used. You don't get the cool zoom or soft-focus features of the [dual-lens] iPhone 7 Plus, but you get killer photos nonetheless."
The Pixel's OLED display -- similar to ones found on high-end Samsung (SSNLF) phones -- was also considered to be among the best available. Stern, comparing it with the iPhone 7's LCD display, wrote that "blacks are deeper, colors are more vibrant and the higher pixel density makes everything sharper." Apple's 2017 iPhones will reportedly feature OLED displays.
Alphabet and Apple are holdings in Jim Cramer's Action Alerts PLUS Charitable Trust Portfolio. Want to be alerted before Cramer buys or sells GOOGL or AAPL? Learn more now.
Performance was found to be top-notch, thanks to the phone's Qualcomm (QCOM) - Get Report Snapdragon 821 processor and various software optimizations Google has made. "On performance alone, these are easily the best Android phones you can buy," writes The Verge's Dieter Bohn.
On the software side, reviewers liked Google's streamlined approach to Android, which provides quick access to apps, settings, notifications and an A.I.-powered Google Now stream, but eschews including a custom skin and the unwanted apps pre-installed on many other Android phones. "[T]he Pixel addresses almost all of the annoying little things about Android," says Pierce.
Then there's Google Assistant, the Siri/Cortana/Alexa rival that -- not counting Google's Allo messaging app -- is exclusive to the Pixel for now. Mossberg, who recently bemoaned Siri's limited progress over the last five years, claimed Assistant "blew away every competitor I've tried." Among other things, he noted the service was able to handle on-phone voice commands well and understand the context of questions such as "Who's the governor?" or "What's the land area?" (Mossberg was asking about Maryland.).
Admittedly, some shortcomings were also found with the Pixel. Reviewers pointed out the phones lack the water-resistance of the iPhone 7 and high-end Samsung phones, and (though not harshly criticizing it) weren't blown away by its aluminum-and-glass build. And for all its strengths, Assistant is by no means perfect. Bohn observes that users can only communicate with Assistant via voice outside of Allo, and it doesn't yet support as many third-party apps and services as Siri.
But overall, it looks as if Google has a hit on its hands. All models of the the 5.5-inch Pixel are out of stock at the U.S. Google Store, as are some models of the 5-inch Pixel. Those Pixel models still available for pre-order are showing 4-to-5 week shipping times, and certain Pixel XL models are also out of stock in the U.K. It's a safe bet that a chunk of the early Pixel XL buyers would have been open to buying a Note 7, if one was available.
With the Pixel and Pixel XL featuring $649 and $769 starting prices, respectively, and with about 175 million $400-plus Android phones sold last year, per research firm IDC, the Pixel could be a substantial business even for a company of Google's size. For example, annual unit sales of 25 million -- less than one-ninth of the 231 million iPhones sold last year -- at a $700 average selling price would yield $17.5 billion in revenue.
Qualcomm might also benefit from strong Pixel demand. Whereas Samsung's high-end phones rely on a mixture of Qualcomm and Samsung processors and modems, the Pixel line is Qualcomm-only.
Markets appear to be figuring out the Pixel is more than just a sideshow for Google: Alphabet's Class A shares are up 2.6% over the last two days, easily outpacing the Nasdaq's 0.9% gain and making new highs along the way. Alphabet's third-quarter report and earnings call, due on the afternoon of October 27, might give us more details about how Google's high-end smartphones are faring ahead of the holiday season.