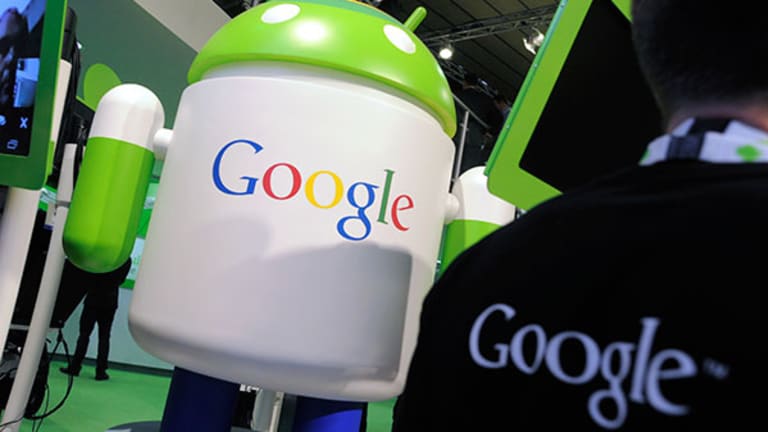 Here Comes Some Major Updates to Your Android Phone
Google is set to release the latest version of its mobile operating system, Android O, on Monday, Aug. 21.
The latest iteration of Google's mobile operating system, Android O, is set to be released on Monday, Aug. 21, after months of teasing the product. 
The Alphabet Inc. (GOOGL) - Get Alphabet Inc. Class A Report unit will debut Android O -- more prosaically Version 8.0 -- in New York at an event that coincides with the solar eclipse. The release will be live streamed starting at 2:40 p.m. EDT. It's unclear what the O stands for, but plenty of people have been speculating, saying it could be short for oreo, oatmeal cookie, orangina or octopus (all Android versions are named after desserts, which would seem to work against octopus -- how about orange popsicle instead?). Google likely will clear up the confusion on Monday. 
Users first got a taste of Android O in March, when Google put out a developer version of the OS, as well as at Google's annual I/O developers conference in May. Monday's event may be timed alongside the solar eclipse, but don't expect any earth-shattering updates to Android.
That said, Google is making some much-needed updates to preserve and improve battery life, putting it more in line with some of the battery-saving features long in place in Apple Inc.'s (AAPL) - Get Apple Inc. (AAPL) Report iOS. Android O puts automatic limits on what apps can do while running in the background, like implicit broadcasts, background services and location updates. These operations can be a huge drag on a user's phone battery for several reasons. Even if you're not actively using an app, it could still be running in the background, consuming valuable space in a smartphone's RAM, or memory. 
We'll also hopefully learn more about Android's newer, better notification system. Dave Burke, Android's vice president of engineering, gave some limited details about the new system in a blog post in March. Android O now has notification channels that let users categorize notifications from different apps into "channels," as well as block notifications they don't want to see. Additionally, the new OS brings notification dots to the home screen that show updates via a badge above an app, which means users don't have to pull down the drop-down menu to see what they've missed. 
Burke also mentioned another update that seems slightly less clear, but likely will be explained once Android O is made available to the public on Monday. 
"Android O adds new visuals and grouping to notifications that make it easier for users to see what's going on when they have an incoming message or are glancing at the notification shade," Burke noted. 
Another major feature that's set to roll out in Android O is picture-in-picture video viewing. PIP mode lets users continue watching a video in the lower corner of their screen even after they've switched to another window on their smartphone. This will allow for things like watching a YouTube video or receiving a video call while sending an email or text message. iPad users have had this feature for several years now. 
Users will probably appreciate Android O's new Autofill API feature, which adds the option of autofill to all apps. Autofill stores all user data, such as passwords, addresses and user names, for easy loading. It's similar to the autofill feature already enabled on Google Chrome and other web browsers.
Alphabet and Apple are holdings in Jim Cramer's Action Alerts PLUS Charitable Trust Portfolio. Want to be alerted before Cramer and the AAP team buy or sell GOOGL and AAPL? Learn more now.
More of What's Trending on TheStreet:
Why the World Isn't Ending: Market Recon
Today's Solar Eclipse Could Cost Companies a Mind-Blowing $694 Million