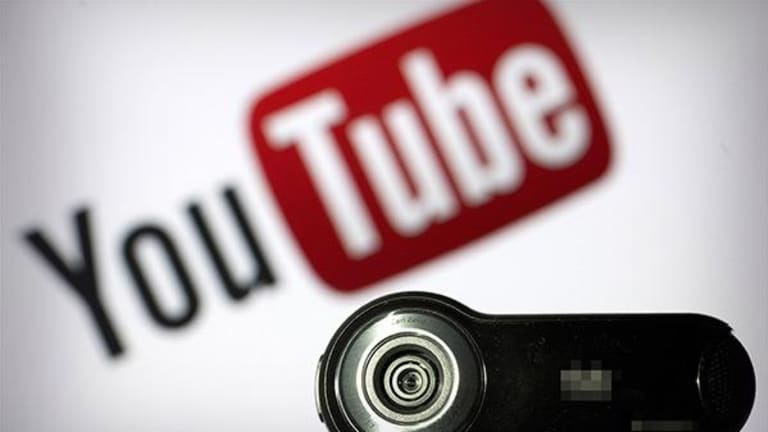 Publish date:
Google's Latest Content Controversy Is Messy, but Fixable
YouTube has the resources and tools to deal with its extremist content problem. And top brands have big incentives to keep spending on the site.
YouTube has the resources and tools to deal with its extremist content problem. And top brands have big incentives to keep spending on the site.
Ever since NBCUniversal asked YouTube to pull its first viral hit (a Saturday Night Live skit called Lazy Sunday) in early 2006, the online video giant and content controversies have gone hand-in-hand. And with YouTube now receiving more than a billion users every month and over 400 hours of video uploads every minute, it's easy to see why controlling what's shared on its platform, as well as how it's monetized, remains a challenge.
However, the Alphabet/Google (GOOGL) - Get Report unit wouldn't have gotten to where it is today without some talent for defusing such controversies. Nor without knowing how to convince major content providers and advertisers to keep supporting its platform in spite of known imperfections. That's worth remembering as YouTube's latest controversy -- arguably its biggest in years -- dominates tech media headlines this week.
Six days ago, the Times of Londonran an expose documenting how ads from the likes of L'Oreal, Mercedes-Benz, the BBC and Disney (DIS) - Get Report were running against YouTube videos containing hate speech and extremist content, including some that supported the Islamic State. As the article noted, such ad placements are often the result of ads being targeted to users based on their browsing history -- for example, someone who visited a car site or subscribed to auto-themed YouTube channels might later be shown a Mercedes ad -- rather than any conscious decision by brands to let their ads run against objectionable material.
Either way, several high-profile advertisers, including AT&T (T) - Get Report, Verizon (VZ) - Get Report, Johnson & Johnson (JNJ) - Get Report, L'Oreal and Volkswagen, have announced that they're halting their spending on YouTube, and in some cases also on third-party sites using Google's ad network, for the time being. For major brands, the PR problem goes beyond the embarrassment of having an ad run before an extremist video is shown: Since content creators typically get a 55% revenue cut on YouTube ad sales, there's a real risk that the brands are unwittingly providing money to extremist groups.
It's worth noting, though, that AT&T and Verizon may have an ulterior motive for their vocally-announced moves: Each company has made growing its digital video ad sales a priority, and YouTube is their biggest rival. AT&T has signaled it plans to sell targeted video ads against soon-to-be-acquired Time Warner's (TWX) content. Verizon is hoping to become a major online video ad player with the help of its pending acquisition of Yahoo (YHOO) , along with existing assets such as AOL and the Go90 mobile video service.
Alphabet is a holding in Jim Cramer'sAction Alerts PLUS Charitable Trust Portfolio. Want to be alerted before Cramer buys or sells GOOGL? Learn more now.
Regardless, the loss of some top advertisers from YouTube and Google's ad network could have a meaningful near-term impact on Google's sales, though probably not a massive one. YouTube, along with mobile search ad growth, were the top reasons Google's paid ad impressions and clicks rose 36% annually in the fourth quarter.
Such concerns appear to be why Alphabet's Class A and C shares fell 1.2% today to $839.65, while the Nasdaq was nearly flat.
Mizuho analyst Neil Doshi estimates YouTube could post $12 billion in gross revenue this year, a figure that's equal to 11% of a 2017 Google consensus revenue estimate of $106.3 billion. Morgan Stanley's Brian Nowak estimates YouTube and Google's display ad network collectively produce 21% of Google's gross revenue, but only 10% of net revenue since their partner payments are much higher on average than Google Search's. He observes that even if 10% of this revenue disappeared (something he doubts), it would only have a 1% impact on Google's net revenue.
Not surprisingly, YouTube has responded to its latest controversy by stating that it will now take "a tougher stance on hateful, offensive and derogatory content." It promises to tighten safeguards meant to ensure ads only run against videos from "legitimate" content partners, and says it's "taking a hard look" at existing guidelines on what kind of material is allowed.
YouTube has also changed its default setting for ads "so that they show on content that meets a higher level of brand safety and excludes potentially objectionable content." In addition, it promises to add tools that let advertisers be aware of each video their ads are run against, exclude specific sites and YouTube channels from their campaigns and fine-tune exactly where their ads show up. AI/machine learning, already used by YouTube to recommend videos, will be deployed to flag questionable content, and more people will be hired to review such content.
As it is, YouTube has long provided an ad service, known as Google Preferred, that lets brands run campaigns against videos from a hand-picked selection of popular creators whose content is grouped into categories such as Comedy, Music, and Beauty & Fashion. Last May, ad agency giant Interpublic committed $250 million alone to Preferred. Look for Google to pitch nervous brands on using Preferred as a stop-gap measure while its new efforts to combat unfortunate ad placements unfold.
The present controversy has more than a thing or two in common with the one YouTube had several years ago over the hosting of copyrighted material -- anyone else remember Viacom's $1 billion lawsuit? YouTube ultimately took care of that issue by creating an effective system (known as Content ID) that quickly detects when copyrighted material is shared, and lets rights holders set policies on whether they want their material to be removed or monetized.
As of last July, over $2 billion had been paid out to thousands of rights holders via Content ID. Over the years, YouTube has also been successful at cracking down on the uploading of adult content on its site, and at partially (though not fully) taming its unruly comment threads by stepping up its policing of threads, giving video creators more control over comments and prodding users to log in with their real names.
The resolution of YouTube's battle with rights holders is particularly relevant here since it was one in which the other party had strong motivation to find common ground, given YouTube's incredible popularity. With over one billion hours of video now viewed on YouTube daily -- up 10 times since 2012, thanks to YouTube's huge mobile growth, and also 10 times the video viewing that Facebook (FB) - Get Report currently receives -- major brands have at least as much reason to stay loyal to YouTube as Hollywood studios. That's especially true of those looking to reach younger consumers, many of whom are now more partial to YouTube than to traditional TV.
Thus, while the events of the past week have certainly given YouTube's image a black eye and will cost it some revenue in the coming months, it's quite unlikely that the bottom is going to fall out of its ad business. A year from now, this will likely be remembered as one more growing pain for a business that has had many on its way to becoming a video colossus.
Jim Cramer and the AAP team hold positions in Alphabet and Facebook for their Action Alerts PLUS Charitable Trust Portfolio. Want to be alerted before Cramer buys or sells GOOGL or FB? Learn more now.