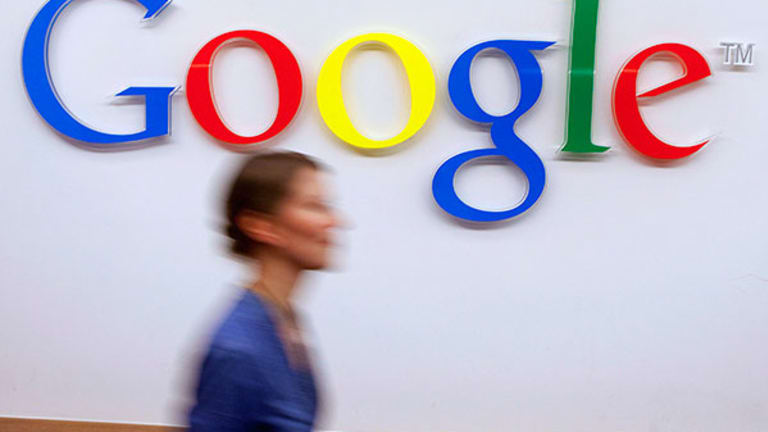 Google's Landmark Antitrust Fine Is Latest Chapter in EU's War With Silicon Valley
The $2.7 billion fine could be a sign of things to come for European charges against Apple, Amazon, Facebook and other major U.S. tech firms.
Silicon Valley may have been dealt a serious blow by the European Commission's decision to serve Google a historic $2.7 billion antitrust fine. 
On Tuesday, the European Union's foremost antitrust regulator handed the Alphabet Inc. (GOOGL) - Get Report unit a hefty fine for favoring its own shopping services in its search results over those of rivals. The fine is now the largest anti-competitive penalty ever issued by the European Commission, topping the $1.2 billion penalty given to Intel Corp. (INTC) - Get Report in 2009.
Google senior vice president and general counsel Kent Walker said in a blog post that the company is considering appealing the decision. The Mountain View, Calif.-based company has opposed the charges for several years, saying that it actively competes with Amazon in the search engine market, as well as other companies. Walker also explained why Google promotes its own search results over competitors. 
"When you use Google to search for products, we try to give you what you're looking for," Walker said. "Our ability to do that well isn't favoring ourselves, or any particular site or seller -- it's the result of hard work and constant innovation, based on user feedback."
Shares of Alphabet were sliding 1.8% to $954.47 on Tuesday afternoon. The stock has gained 21.3% so far this year, however. 
Google's woes mark the latest chapter in a longstanding fight between U.S. tech firms and the European Commission, which has spanned antitrust, tax and privacy matters. Apple Inc. (AAPL) - Get Report , Amazon.com Inc. (AMZN) - Get Report , Facebook Inc. (FB) - Get Report and Microsoft Inc. (MSFT) - Get Report face anti-competition charges that claim the Silicon Valley juggernauts used their dominance to stamp out competition from smaller firms. The European Commission maintains that the companies have denied European consumers "a genuine choice of services and the full benefits of innovation." 
Apple, Alphabet, Amazon, Microsoft and Facebook -- known as the frightful five or the FAAMG stocks -- may be based in the U.S., but they are indeed global forces. As a result, the European Union has become increasingly concerned about the growing role of big U.S. tech firms overseas. Those concerns were partly behind the European Union's Digital Single Market proposal, published in 2015, which aimed to improve European companies' chances of competing against U.S. tech companies.
Facebook, Apple and Alphabet are holdings in Jim Cramer'sAction Alerts PLUS Charitable Trust Portfolio. Want to be alerted before Cramer buys or sells FB,AAPL or GOOGL? Learn more now.
Florian Wagner-von Papp, director of the University College London's Institute of Global Law, said the EU's latest fine against Google shouldn't be viewed as a strategy to bolster European companies. 
"The decision is not to be interpreted as a protectionist measure," Wagner-von Papp said. "It is merely the case that in the EU, enforcement against unilateral abuses of dominant firms is more vigorous in general, and the dominant firms in the new economy tend to come from the U.S."
Many believe that the EU's latest ruling could be used as a precedent for its decision in Google's other ongoing cases. Peter Willis, co-head of competition and EU at Bird & Bird law firm, said it's "not unlikely that we will see similar decisions" in the two other cases, one of which deals with Google's Android operating system, another with its AdSense advertising service. The decision could also serve as a precedent for charges levied against other Silicon Valley giants.
Others say it may stifle further innovation among major tech firms. 
"The Commission has effectively decided that some companies have become too big to innovate," said Robert Atkinson, president of the Information Technology & Innovation Foundation, a tech policy thinktank, in a statement. "The Commission's actions have created a cloud of uncertainty that will make large tech companies overly cautious about making changes to the user experience and service offerings that would benefit consumers."
Not all U.S. companies disliked the EU's decision, however. Yelp Inc. (YELP) - Get Report , Oracle Corp. (ORCL) - Get Report , News Corp. (NWSA) - Get Report and several other companies published a joint letter in support of the charges, saying that Google has "undermined competition in the U.S. and abroad," according to Politico. In a statement on Tuesday, the Rupert Murdoch-controlled publisher News Corp (NWSA) - Get Report said it applauded the Commission's decision. 
"Google has profited from commodifying content and enabling the proliferation of flawed and fake news, to the detriment of journalism and of an informed society," the company said. 
The Commission's hefty antitrust fine against Google doesn't bode well for any company whose business has become as ubiquitous as the internet giant's. If companies such as Google or Apple have to treat their competitors' services no worse than their own, it could have "huge implications" for them, Wagner-von Papp said.
The decision also sheds light on the increasingly complicated question of who should regulate major multinational companies, said Bob O'Donnell president of TECHnalysis Research. 
"Arguably it falls on everybody and it falls on nobody," O'Donnell said. "A lot of these technologies are relatively universal...and so there is no easy answer, but moving forward, [fines] are going to be increasingly common."