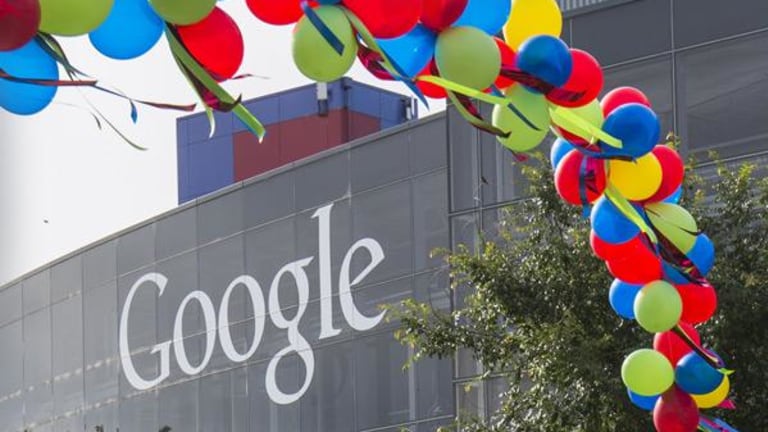 Google's Execution Remains Great, Even if Its Earnings Revealed Some Challenges
Alphabet's fourth-quarter earnings put some major concerns to rest, but there are still some areas weighing on the search giant's bottom line.
Going into Alphabet's (GOOGL) - Get Alphabet Inc. Class A Report fourth-quarter earnings report, all eyes were on whether the search giant could keep up its strong top-line momentum. Whether its search and YouTube ad momentum would continue and whether October's Pixel phone launches would provide a strong boost to its non-advertising revenue streams were also top of mind.
By and large, Alphabet's results put any worries about those areas to rest. However, its earnings report also revealed some pressures that are collectively weighing on its bottom line, at least for the time being.
The Google parent reported revenue of $26.1 billion (up 22% annually, better than Q3's 20%) and adjusted EPS of $9.36. The former beat a $25.3 billion consensus analyst estimate, but the latter missed a $9.64 consensus. Markets responded by sending Alphabet's Class A and Class C shares down slightly over 2% in after-hours trading.
Editor's pick: This article was originally published on Jan. 27.
The strong top-line performance was fueled in large part by a 36% annual increase in paid clicks (i.e. individual ad sales), an improvement from the third quarter's 33% clip and the second quarter's 29%. Paid clicks on Google's own sites rose an eye-popping 43% thanks to mobile search and, to a lesser extent, YouTube ad strength. Google's efforts to grow its shopping and local search ad businesses, to create larger and more effective smartphone search ad formats and to give marketers better tools for managing and measuring the effectiveness of ad campaigns all still seem to be paying off. As do its efforts to win over large brands with several different YouTube ad products.
Clicks on Google's ad networks rose just 7%, but that's better than the third quarter's 1% growth for a business that has been pressured for a while by ad policy changes and Facebook's (FB) - Get Meta Platforms Inc. Class A Report tremendous growth. The growth of programmatic (automated) ad-buying platforms and Google's AdMob mobile display ad network gave a boost.
Google also benefited from a 62% revenue increase for the "Google other" reporting segment, which covers non-ad businesses such as the Play Store, cloud app and infrastructure sales and hardware. Growth improved sharply from the third quarter's 39% thanks to the Pixel launches, with revenue of $3.4 billion easily topping a $2.9 billion consensus estimate.
So why did Google miss earnings estimates? A 41% annual increase in adjusted cost of revenue (to $5.5 billion) certainly played a role. Pixel manufacturing costs, YouTube content costs and greater depreciation expenses on past capital investments all contributed, as did $320 million in "one-time charges" related to "equipment and other adjustments." And going forward, cost of revenue could keep growing at an elevated clip due to the fact Google's capex is rising sharply again: It grew 46% in the fourth quarter to $3.1 billion thanks to data center investments.
In addition, traffic acquisition costs -- TAC, the payments Google makes to third parties for a portion of its ad revenue -- were equal to 10% of the ad revenue recorded on Google's sites, up from 8% a year ago. As ad sales continue shifting to mobile, where Google makes large traffic acquisition payments to Apple (AAPL) - Get Apple Inc. Report and others, this trend is likely to continue.
Alphabet, Facebook and Apple are holdings in Jim Cramer's Action Alerts PLUS Charitable Trust Portfolio. Want to be alerted before Cramer buys or sells GOOGL, FB or AAPL? Learn more now.
Also pressuring earnings were several factors. First, Google's effective tax rate grew to 22% from 16% in the third quarter and just 5% a year ago. Chief Financial Officer Ruth Porat says the geographic mix of earnings, together with "discrete items" affecting U.S. taxes, led to the increase. Secondarily, Google's cost per click (average ad price) fell 15% annually, a sharper decline than the third quarter's 11%. A mix shift towards smartphone search ads relative to PC search ads, along with YouTube and programmatic ad growth, has been weighing on ad prices.
On the other hand, greater financial discipline under Porat, along with favorable annual comparisons for Google's Other Bets reporting segment, led adjusted operating expenses to rise just 10%, to $7.3 billion. But there's still room to pare losses at the Other Bets segment: The business, which covers businesses such as Nest, Google Fiber, the Waymo self-driving car unit and the Verily life sciences unit, posted a $1.1 billion operating loss (down slightly from $1.2 billion last year) on revenue of just $262 million (up from $150 million).
How one perceives Google's earnings has much to do with whether one feels its top-line momentum overshadow the spending growth and price/margin pressures that the company has to accept in order to achieve this growth. Those taking a bullish view could take heart in a lot of the upbeat remarks made by Porat and CEO Sundar Pichai on the earnings call.
Pichai used the term "early days" to describe a number of Google efforts, including voice assistant services, video ads, the Pixel and the use of AI to improve ad monetization. He also forecast 2017 would be a strong year for Google's cloud services sales, as it has made the "table stakes" investments needed to get the business off the ground, and can now focus on pitching clients on differentiated analytics, AI, security, and app development solutions. And he insists there's still "a lot of headroom" to improve search ad monetization, as Google keeps adapting to growing mobile usage and other trends.
Throw in things like Google Play, Google Maps ads and Waymo, and the company still has quite a few potential growth levers. Just as long as its search ad business keeps up its recent strength and doesn't fall victim to pressures from the likes of Amazon (AMZN) - Get Amazon.com, Inc. Report and Facebook, there are a lot of reasons to think Google's top-line growth will allow its profit growth to remain solid even in the face of some ad price and spending headwinds.
TheStreet's Eric Jhonsa and Chris Nolter previously covered Alphabet's earnings report and conference call through a live blog.