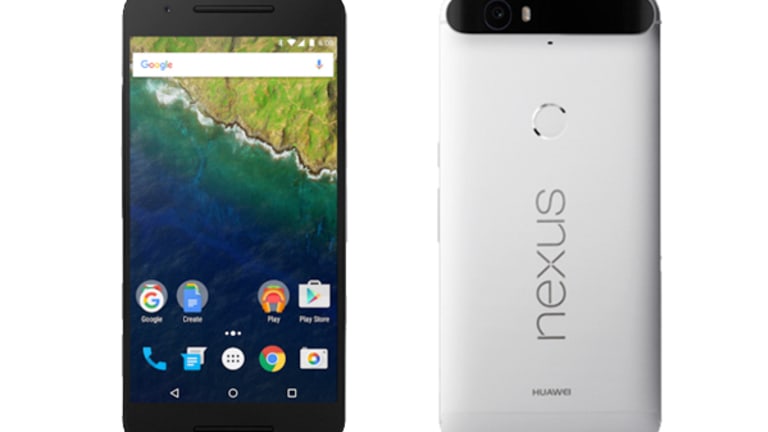 What to Expect from Google's Big Smartphone Event Today
In addition to new phones, Google might show off a VR headset and its long-awaited home assistant. Its mobile vision is now about much more than just phones and tablets.
This article has been updated from Sept. 20 to include details about an image leak for Google's upcoming phones, as well as information about Google's reported plans to discuss its Andromeda operating system, and Amazon's hiring efforts for its Echo speaker and Alexa voice assistant.
Alphabet's (GOOGL) - Get Alphabet Inc. Class A ReportGoogle has long treated its mobile hardware business less as a way to directly take on the likes of Apple (AAPL) - Get Apple Inc. Report and Samsung (SSNLF) , than as a showcase for what it considers an ideal Android experience to be like.
To a large extent, it doesn't look like this will change with the company's latest phones, which are widely expected to be unveiled on Tuesday at a special live event at 12 P.M. Eastern Time (TheStreet will be live-blogging the event so check our home page to follow it and submit questions).
But if recent reports pan out, Google is a little more willing to step on the toes of hardware partners, and will now try to push a mobile vision that goes beyond just smartphones and tablets. Other tech giants might want to take notice.
Two weeks ago, Google sent out invites for its latest event. An accompanying YouTube video, which shows a search bar turning into the outline of a smartphone, suggests at least one phone will be announced.
A recent leak from British phone retailer Carphone Warehouse has given us pictures for the devices, along with specs. Prior reports have pointed to the launch of a 5-inch device codenamed Sailfish, and a 5.5-inch device codenamed Marlin.
Alphabet and Apple are holdings in Jim Cramer's Action Alerts PLUS Charitable Trust Portfolio. Want to be alerted before Cramer buys or sells GOOGL or AAPL? Learn more now.

A leaked image for Google's upcoming Pixel phone (codenamed Sailfish).
The rumored specs for the phones are decent, but not jaw-dropping. Sailfish reportedly has a 1080p display, 4GB of RAM, a 12-megapixel rear camera and an 8-megapixel front camera, 32GB of storage and a fingerprint sensor on its back, along with support for rapid charging. Marlin reportedly has a 2K-resolution display, a larger battery and a 128GB storage option, but is otherwise similar on the inside.
HTC is the rumored manufacturer of the phones; Huawei and LG respectively produce Google's Nexus 6P and 5X phones, which launched a year ago. Like prior Google phones, Sailfish and Marlin are expected to run on the stock version of the latest edition of Android (in this case, Android 7.0, or Nougat), and feature no custom skins in the mold of Samsung's TouchWiz or HTC's Sense.
Nonetheless, for all the similarities with past phone launches, there will reportedly be two big differences in how Sailfish and Marlin will be sold:
Rather than Google's Nexus brand, they'll be sold under Google's Pixel brand, which to date has been used on a high-end tablet and a Chromebook. Sailfish will be known as the Google Pixel, and Marlin the Pixel XL.
Whereas Google traditionally hasn't sold Nexus phones via carriers -- the 6P and 5X are sold by Google and a handful of retail partners on an unsubsidized basis -- the Pixel phones will reportedly be sold by Verizon . Reports differ on whether Verizon will be selling them in the U.S. on an exclusive basis.
If Verizon is indeed a launch partner for the Pixel line, that raises the possibility America's biggest carrier will sell the phones via installment and smartphone upgrade plans, not to mention provide them with floor space at its many retail stores.
Samsung, Lenovo  (LNVGY) , Huawei and Google's many other Android licensees wouldn't be happy to see that. But then again, Microsoft's Windows licensees weren't thrilled to see the company launch the Surface tablet line, but ultimately put up with it.
If Google has decided to sell its phones via Verizon and other carriers, it could amount to a bet that Android and iOS have become so dominant that mobile OEMs not named Apple have no choice but to avidly support Android... even if the company responsible for the operating system is competing with them to a degree.
In addition to unveiling new phones, Google will reportedly use its event to share details about Andromeda, an upcoming version of Android that will include features associated with Chrome OS and run on PCs in addition to mobile devices. Should Google execute well, Andromeda could become a headache for Microsoft (MSFT) - Get Microsoft Corporation Report.
The company is also expected to show off an internally-developed virtual reality headset based on its new Daydream VR platform. Daydream, first announced at Google's May I/O developers conference, is more advanced than Google's original Cardboard VR platform. But like Cardboard, Daydream relies on paired Android phones to provide a headset's display and processor, among other things.
This approach enables much cheaper, albeit less powerful, headsets than ones that are paired with a high-end PC or gaming console, such as Facebook's (FB) - Get Meta Platforms Inc. Class A Report Oculus Rift and Sony's (SNE) - Get Sony Corp. Report PlayStation VR. A slew of Android OEMs have announced plans to launch Daydream headsets, but Google wants to sell its own product nonetheless. Samsung's Oculus-powered Gear VR headsets, which are paired with high-end Samsung phones, act as competition.
Lastly, Google also reportedly plans to show off a new Chromecast HDMI stick capable of playing 4K video, and share more details about its Google Home speaker/voice assistant, which will compete against Amazon's (AMZN) - Get Amazon.com, Inc. Reportincreasingly popular Echo line. Amazon currently has 400 job openings for the Echo and the Alexa voice assistant groups that power it, as the company tries to build on its early lead.
Home was also announced at its I/O developer's conference, but Google provided no pricing info or launch date at the time. The fact that Home will support various Google services, rely on the same "conversational" assistant service built into Android and leverage Google's big artificial intelligence investments could help it gain a following.
Thus from the looks of things, Google will be pushing a mobile vision in which VR headsets, smart home devices and other products seamlessly integrate with Android phones, whether from Google or third parties. Moreover, all of the devices would leverage a common set of cloud services that become smarter and more personalized as they take in more data.
It's a unique vision, one that could have Amazon, Apple and others rethinking their plans for a mobile landscape in which smartphones are evolving from powerful standalone devices to computing hubs that interact with many other intelligent, web-connected products.